Can you believe this plant-based raspberry mousse is made with tofu! It's so creamy and rich and dare I say, healthy?
This simple recipe starts with silken tofu. It gets blended together with frozen raspberries, maple syrup, lemon juice, coconut oil, and vanilla extract.
For dessert, I like to chill it in the fridge and top with coconut whipped cream and more raspberries. For a snack, skip the whipped cream and go heavier on the raspberries on top.
Tofu is made from soybeans. You'll notice various types at the supermarket, including extra-firm, which works well in stir-fry dishes or crumbled into scrambles and delicate, smooth silken tofu, ideal for sauces, dressings, and creamy desserts like this one.
Tofu is considered a "processed food." (Technically, it's categorized as an "ultra processed" food.) When you hear the term, "processed," red flags often go up. Right?  But, I eat "processed" foods all the time, and I'm a dietitian! Rest assured, that just because a food is processed and located somewhere down the center aisles of your local supermarket, doesn't mean it's not nutritious. Besides tofu, other so-called "processed" foods that make their way onto my family's table include:
> canned beans
> whole grain ready-to-eat breakfast cereals
> 100% fruit juices
> frozen fruits and vegetables
> dried herbs and spices
> salsa and jarred pasta sauces
> veggie burgers, nut butters
> extra-virgin olive oil
> canned salmon and tuna
The "processed foods" that I use every day deliver nutrients directly to my family's diet, and they also serve as the foundation for nourishing meals and snacks. Let me offer a few examples:
Extra-firm Tofu: Use as the main protein in a tofu stir-fry dish with carrots and broccoli
Canned Salmon: Combine with canned corn kernels, light mayo, bread crumbs, and reduced-fat shredded cheese for savory Corny Salmon Cakes
Canned Cannellini Beans: Turn into a simple salad with canned tuna, sliced red onion, parsley, balsamic vinegar, and extra virgin olive oil
Jarred Pasta Sauce: Incorporate into a one-pot pasta and beef dinner with zucchini, bell pepper, reduced-fat ricotta cheese, and whole grain pasta
100% Orange Juice: Blend together with baby spinach (it's often sold in a bag or plastic clam shell container), frozen mango, plain Greek yogurt, and banana for a Green Smoothie
Ready-to-eat shredded wheat or Chex cereal: Combine with oats, walnuts, dried fruit, and a few other ingredients for my homemade grab-and-go granola bars
Without these foods, meal planning would be a challenge for me, and everyone in my family would miss out on multiple sources of important nutrients.
Back to the tofu!
Tofu provides high quality, plant-based protein  and it has many health benefits.
Research shows tofu may help to reduce the risk of heart disease, lower blood pressure, improve cognitive function (I really appreciate this one!), and protect against certain cancers. Check out this complete Soyfoods Guide over at the Soy Nutrition Institute if you want to learn more.
As for my Raspberry Tofu Mousse, your taste buds are going to be blown away.

Raspberry Tofu Mousse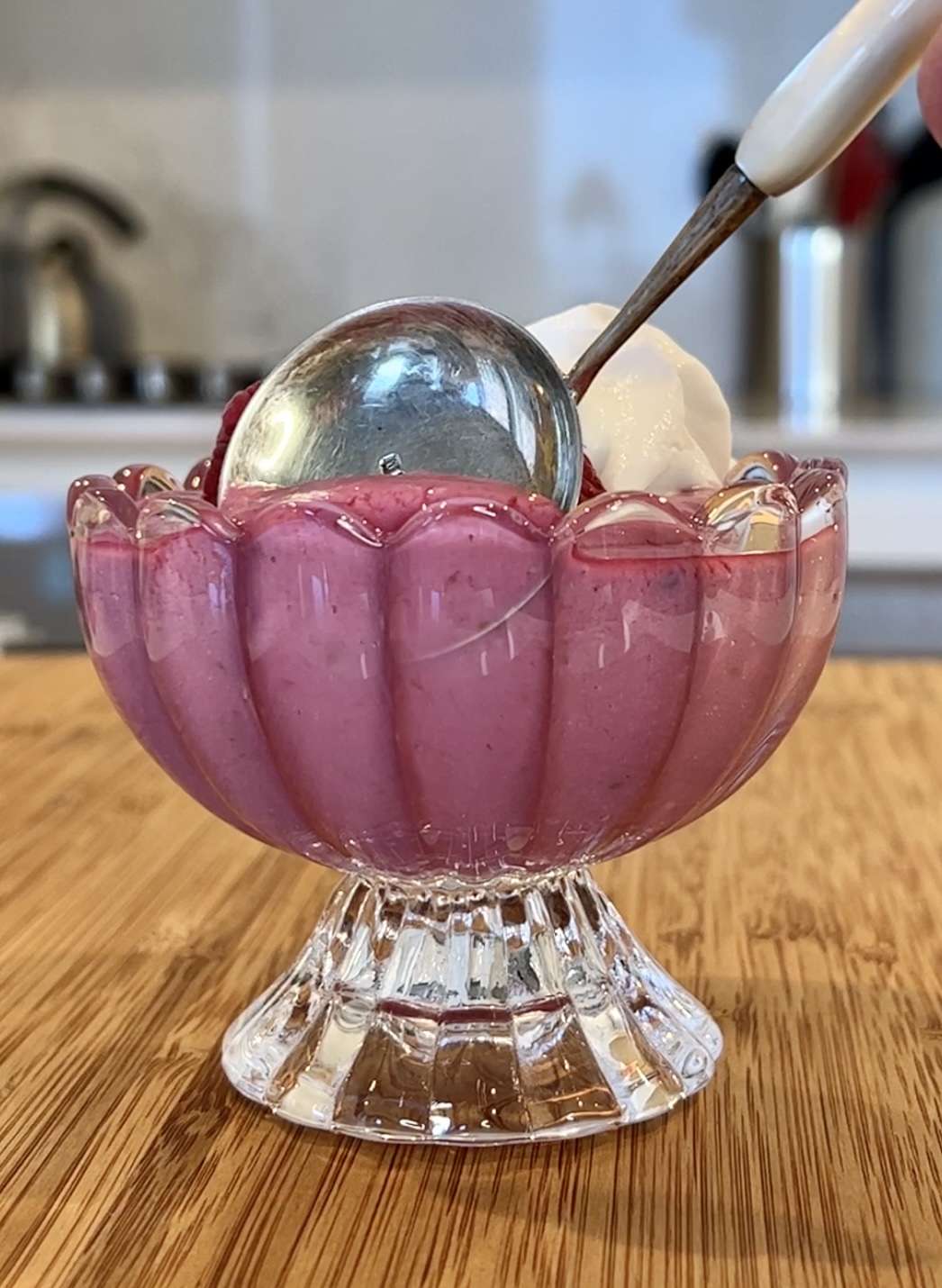 I created this recipe a few years ago for my temple's annual Mazon Dinner, a fundraiser aimed at raising money for hunger relief. I was in charge of dessert ... for 350 people! This Raspberry Tofu Mousse was one of several treats served on a very giant dessert bar. On its own, this mousse is sweet and luscious, but you can fancy it up by topping with whipped cream, fresh raspberries, a sprig of mint, and even some dark chocolate shavings.
Ingredients
One 16-ounce container silken tofu, well drained (*see note)
1½ cups frozen raspberries
⅓ cup pure maple syrup
1½ tablespoons vanilla extract
1 tablespoon melted virgin coconut oil
2 teaspoons lemon juice
Pinch salt
Instructions
Place the tofu, raspberries, maple syrup, vanilla, coconut oil, lemon juice, and salt in the bowl of a large food processor. Process until smooth.
Transfer into small bowls or ramekins and chill in the refrigerator until the mousse firms up a bit, at least 2 hours.
Top with whipped cream, raspberries, mint, and shaved dark chocolate, as desired.
Notes
The recipe yields 3 cups, so I recommend six, half-cup servings.
To drain, carefully transfer from the carton to a mesh strainer or colander. Let drain 30 to 60 minutes for best results.
Let me know if you try the recipe. It's a winner!