I'm a registered dietitian nutritionist, and I've been passionate about healthy food and family nutrition for over 20 years. Helping families discover the joy of wholesome and delicious food is not just my job—it's my mission.
Whether you have a toddler or a teen (or anyone in between) at your table, I've been there. The daily grind of school lunches? The endless visits to the grocery store? Navigating how to eat well on vacation. Fussy eaters, extracurricular activities at dinnertime, cries of "Black beans in my brownies. NO WAY!"
I've been there. And I'm reporting from here, with two grown children, to let you know that teaching your family to love a rich, lush, colorful diet isn't just fulfilling—it's super fun, too. My real food philosophy is all about adding food groups to your diet, not taking them away. No deprivation. I crave simplicity and easy-to-find everyday ingredients that make mealtime a breeze.
I've always loved this photograph of my kids, Josh and Simon. Now at 21 and 18, they are some of the most adventurous and healthy eaters I know. Getting them here and helping them to love nourishing and diverse flavors has been an incredible journey. Along the way, I've been helping other parents to do the same thing.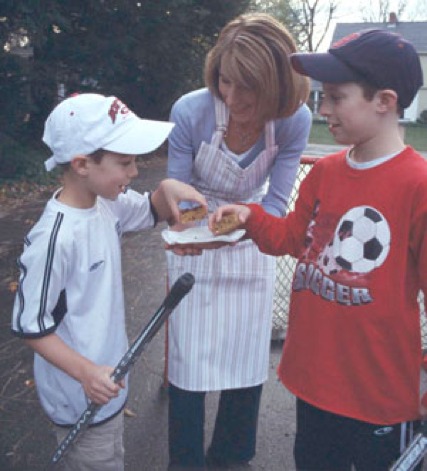 From fighting to get fresh fruit for snacks on the soccer field to replacing junk-food vending machines with vegetables in my town's school cafeterias, I've been advocating for healthy eating since way before it was a popular trend.
I've developed countless resources to help parents just like you end up where I am—with two adult children who crave nourishing food. Families who've tried my recipes or attended my cooking classes learn to appreciate the abundance of flavors associated with trying new foods, and their kids get out of their comfort zones and into the exciting world of vital, mouthwatering nutrition.
I want your family to experience this too. That's why I'm here with a blog, recipes, a real-life family food podcast, cookbooks, cooking videos, free resources like my 7-Day Meal Planner, food-themed coloring books, and so much more to jump start your better-eating journey … or continue to feed it. And for those local to me, I also teach hands-on cooking classes and nutrition basics to school children in and around Boston through a program called, Kids Cooking Green. (Basically, I'm living the dream.)
So, what about the nitty-gritty? After four years as an undergrad at the University of Rhode Island and a dietetic internship at the Oregon Health Sciences University, I became a registered dietitian. The year was 1983; please don't do the math. In 2004 I partnered with a friend to create Meal Makeover Moms, which has over the years received an incredible response from families and fellow health professionals and even won the 2015 Media Excellence Award from the Academy of Nutrition and Dietetics! We've retired that site, and Liz's Healthy Table is my new focus.
If you know me from Meal Makeover Moms and our award-winning radio podcast, Cooking with the Moms, you'll probably notice the difference on Liz's Healthy Table. While there will always be a special place in my heart for mac & cheese, chicken nuggets, and other simple recipe makeovers, I'm kicking things up a notch here on my new blog with more playful, bolder, wackier recipe twists. While you'll still find over 100 recipes from Meal Makeover Moms (I brought them along for those who still love them!), you'll also find newer, more adventurous versions of tried-and-true favorites like my recipe for Taco-Topped Spaghetti Squash Bowls and my Cauliflower "Steaks" smothered with savory white beans.
I'm the author of five cookbooks, and my new podcast, Liz's Healthy Table, has picked up where Cooking with the Moms left off with exciting family-themed food and nutrition episodes including the benefits of omega-3 fats, the Instant Pot craze, and tips for cooking with kids of all ages. Before I became a blogger and podcaster, I spent years reporting on nutrition and health for CNN, and after I left the network, I created a series of 50 Meal Makeovers cooking videos for their Accent Health channel.
I've done a lot of live television too, including NBC's Today show, CNN Headline News, the Food Network, and ABC-Boston, and I love cooking with parents and kids and speaking to fellow health professionals about food blogging, food photography, and tips for creating winning recipes.
I received my undergraduate degree in Nutrition and Dietetics from the University of Rhode Island and my Master of Science degree in Nutrition Communications from Boston University, and I completed the professional Chef's Program at the Cambridge School of Culinary Arts in Cambridge, Massachusetts. I'm a member of the Academy of Nutrition and Dietetics (AND) and two of their practices groups: Food & Culinary Professionals and Nutrition Entrepreneurs.
Finally, I live in Lexington, Massachusetts, with my husband and two sons, and I'm still cooking up a healthy, delicious storm for the people I love.
Subscribe to my FREE newsletter for healthy recipes, mealtime tips, and highlights from the latest podcast episodes.