This recipe for Super-Speedy Bean and Tuna Salad is made with pantry staples, including canned tuna, corn, and fiber-rich beans. And with simple steps like draining and rinsing the beans and washing and chopping fresh parsley, this healthy, colorful tuna salad can be on the table in a matter of minutes, and your kids can easily make it with you or for you.
This healthy tuna salad comes straight from the pages of Great Food for Kids by Jenny Chandler. Jenny is a mom of a 11-year-old Imi who loves to cook, and she's also a cooking instructor and an expert on cooking with beans, lentils, and other pulses. Jenny is from England, and she says that British kids are pretty much weaned on beans, which is why this bean-filled recipe is a guaranteed win. She wants kids everywhere to try it too!
On this week's LHT podcast, Jenny and I discuss this recipe and her cookbook, Great Food for Kids. We dish about tips and tricks for cooking with pulses and explain why getting kids comfortable in the kitchen at any age can establish a lifetime of healthy eating.
Click the player above to tune in.
There are so many things I love about this book. Many of the recipes are plant based, which is a big passion of Jenny's. She provides step-by-step instructions and lots of photos to illustrate what the food should look like at various stages, and each recipe comes with multiple variations. For example, with this healthy tuna salad recipe, Jenny offers up three different versions: Mexican Beans, Spanish Beans, and Veggie Beans. The book is intended for kids ages 7 to 13, and Jenny encourages kids to use it each week to prepare one meal for the entire family. As for who does the dishes, that's up to you!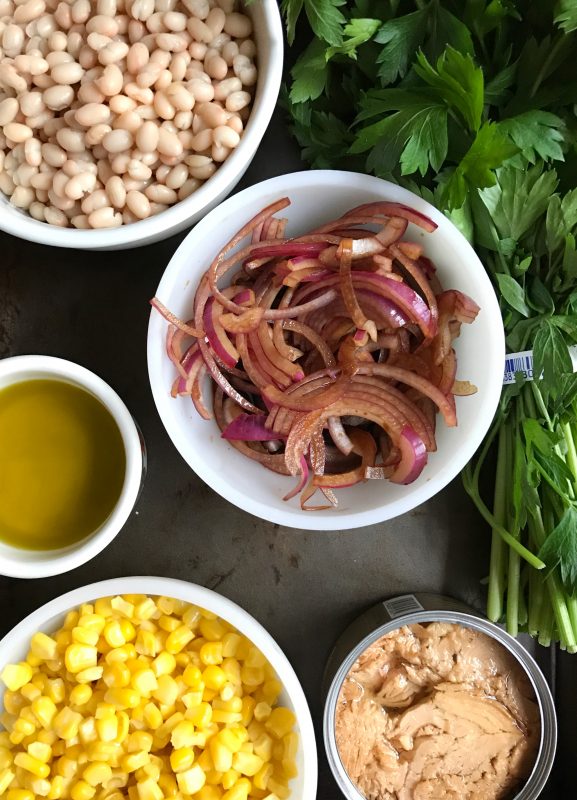 I chose petite Great Northern beans for this recipe. Beans are versatile, grown sustainably, easy to cook from scratch or from a can, and they're a powerhouse of fiber, protein, and iron
I used frozen corn instead of canned, and I tossed in two, 5-ounce cans of tuna, because that's what I had on hand. This recipe is fairly flexible, so I encourage you (or shall I say, your kids) to add your own creative elements. If you're a cilantro or mint lover, I'd toss some leaves in for an extra pop of flavor.
Thanks to Jenny's generosity, we're giving away a copy of her book, Great Food for Kids: Delicious recipes & fabulous facts to turn you into a kitchen whizz to one lucky winner. The giveaway will run through December 13, so head on over to my Show Notes page from today's podcast episode to enter to win. (U.S. entries only, please)

Super-Speedy Bean and Tuna Salad
Ingredients
½ red onion, peeled
3 tablespoons balsamic vinegar
One 14-ounce can beans (* I used one 16-ounce can Bush's Best White Beans)
One 7-ounce can corn
One 7-ounce can tuna in olive oil (* I used two, 5-ounce cans)
One small bunch flat-leaf parsley
4 tablespoons extra-virgin olive oil
A good pinch of salt and a grind of black pepper
Instructions
Slice the red onion as finely as possible and then put it into your salad bowl with the vinegar.
Pour the beans into a colander over the sink and rinse them in some cold water. Shake off the excess water and pour them into the salad bowl.
Use the same colander to drain the corn and then the tuna, then put them in the salad bowl too.
Pinch the parsley leaves off the stalks and chop them roughly.
Now add the parsley, olive oil, salt, and pepper to the salad bowl. Take a spoon, mix everything well and then have a taste. Does the salad need more seasoning? Try to balance the oil, vinegar, and pepper before you serve.
Enjoy the recipe and be sure to
tune in to the show
!