These one bowl, one skillet Corny Salmon Cakes are made with convenient ingredients like canned salmon, bread crumbs, canned or frozen corn, an egg, Dijon mustard, and shredded cheese. They're easy to assemble and provide much-needed omega-3 fats for your family.
When the month of March rolls around, I always think about spring cleaning my kitchen. But in reality, my spring cleaning style is more about shopping my fridge and pantry each week and cooking healthy meals with ingredients that I already have on hand and need to use up. The benefit of that spring-clean strategy is a tidier kitchen but also less food waste, since ingredients that might be languishing in the back of my pantry or on their last legs in the veggie crisper get consumed.
I challenged myself to create a recipe with at least 3 ingredients already in my refrigerator/pantry, and I did just that with these Corny Salmon Cakes.
To brighten the flavor of these easy-does-it salmon cakes, I added was the following:
The zest of half a Lemon
A tablespoon of mustard dill sauce (use Dijon if you can't find that exact product at the market)
A tablespoon of chopped fresh chives
Corny Salmon Cakes
Nutrition Information
Serving size:

(2 cakes),

Calories:

270,
Fat:

15g,

Saturated fat:

4g,

Carbohydrates:

16g,

Sodium:

610mg,

Fiber:

1g,

Protein:

21g
Getting kids to eat cute little patties is a no brainer, but seafood is another story. I think you'll find success with this recipe though since the flavor of the boneless, skinless canned salmon is really mild and the add-in like shredded cheese, kid-pleasing corn kernels, and fresh chives make these cute cakes really tasty.
Ingredients
Two 5-ounce cans boneless, skinless pink salmon, drained and finely flaked
¼ cup plus 3 tablespoons dried whole wheat bread crumbs, divided
⅔ cup shredded reduced-fat Cheddar cheese
½ cup canned corn kernels or frozen, thawed
¼ cup light mayonnaise
1 large egg, beaten
1 tablespoon Dijon mustard or mustard dill sauce
1 tablespoon chopped fresh chives
Zest of half a lemon
¼ teaspoon reduced-sodium Old Bay Seasoning, optional
1 tablespoon extra virgin olive oil
Instructions
Place the salmon, ¼ cup of the bread crumbs, cheese, corn, mayonnaise, egg, mustard, chives, zest, and Old Bay Seasoning as desired in a bowl and mix until well combined.
Shape the mixture into 8 patties (a generous ¼ cup each) and coat with the remaining 3 tablespoons bread crumbs.
Heat half the oil in a large nonstick skillet over medium-high heat. Cook the cakes until the bottoms are golden brown, 5 minutes. Flip the cakes, add the remaining oil, and cook until golden brown, an additional 4 to 5 minutes.
Notes
1 gram omega-3 per serving.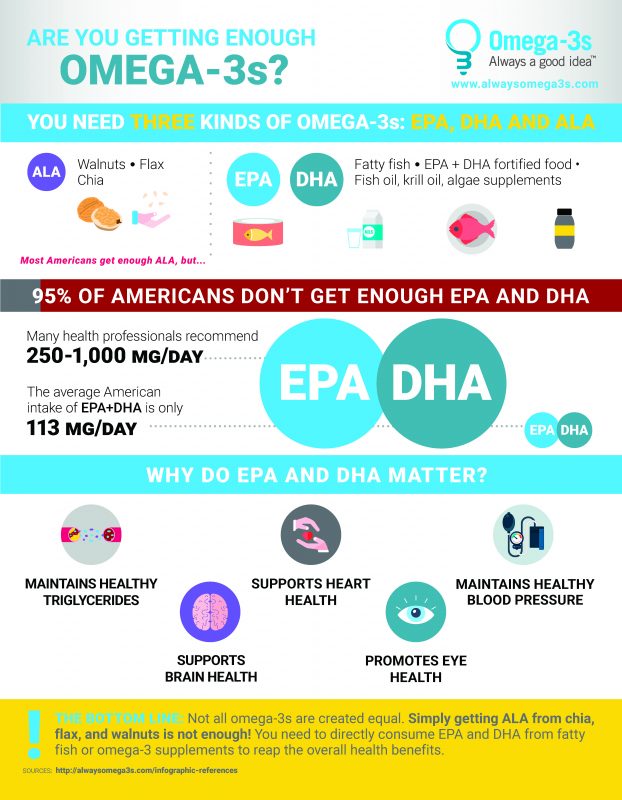 Adding seafood to your family's diet twice a week whether it's salmon, canned tuna, or tilapia is good for your heart, and these Corny Salmon Cakes are a great way to get started. Each serving has 1 gram of omega-3 fat, which most Americans don't consume enough of. To put that number in perspective, it's recommended that you get 250 milligrams to 1,000 milligrams of the long-chain omega-3 fats (DHA and EPA) a day. That's a lot of numbers to think about, so I aim for 500 milligrams daily, which is recommended by my friends at Always Omega 3s. To find out if you and your family consume adequate omega-3s, check out this online quiz at Always Omega3s.