125 items in category: Gluten Free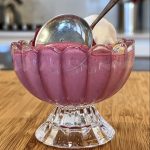 /
No Comments

on Raspberry Tofu Mousse + Why I Eat "Processed" Foods
/
Dessert, Dessert, Featured-Video, Gluten Free, gluten free dessert, healthy processed food, packaged foods can fit, raspberries, soy, soyfoods, tofu, tofu dessert, tofu mousse, vegan, Vegetarian, Vegetarian
Can you believe this plant-based raspberry mousse is made with tofu! It's so creamy and rich and dare I say,
These Chicken and Pinto Bean Tacos are more plant than poultry. They're made with just half a pound of boneless,
Start your family's day with a stack of healthy pumpkin pancakes. My super nutritious and gluten-free Pumpkin Maple Pancakes are
/
3 Comments

on Tuna, Apple, and Carrot Salad + 5 Easy Fruit and Vegetable Hacks
/
avocado, canned tuna, Dinner, Dinner, Gluten Free, Lunch, Salad, salad, Salmon, Seafood, tuna
This recipe for Tuna, Apple, and Carrot Salad is not your grandmother's tuna salad. This updated version of old-fashioned tuna
/
No Comments

on Tart Cherry, Walnut, and Sunflower Seed Cookies
/
Baked Goods, cherry harvest, cookies, Dessert, Dessert, Food Adventures, Gluten Free, gluten free, michigan, snack cookie, tart cherries
Try these gluten-free, better-for-you cookies made with whole grain oats, almond flour, dried tart cherries, sunflower seeds, and walnuts. The
/
2 Comments

on Farmers' Market Ratatouille
/
Appetizer or Main Meal, Dinner, eggplant, farmer's market, Gluten Free, Lunch, ratatouille, Side Dishes, Sustainability, vegan, Vegetarian, zucchini
When your farmers' market is brimming with tomatoes, bell peppers, eggplant, basil, and zucchini then it's time to make ratatouille.
It's not unusual to see kale in salads, soups, and smoothies ... but in pesto? Yes please! For this Kale
/
No Comments

on Beef & Bean Tacos with Lots of Vegetable Toppings
/
Beef, black beans, cilantro, Dinner, Dinner, Family Mealtime, Gluten Free, lean ground beef, Meat, Pulses, taco, Taco Tuesday
This recipe for Beef & Bean Tacos is a riff on the Have-It-Your Way Tacos recipe from my first cookbook,
When it comes to breakfast, my taste runs the gamut from naturally sweet parfaits to savory omelets and avocado or
/
No Comments

on No-Knead Oat, Nut & Seed Rolls with Dried Cranberries
/
Baked Goods, Breakfast, Breakfast, breakfast roll, dried cranberries, Gluten Free, no knead, no yeast, oats, pecans, sunflower seeds
I'm completely obsessed with these easy oat breakfast (or snack) rolls. They take a few minutes to make and are