8 items with tag: Vegetarian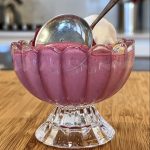 /
No Comments

on Raspberry Tofu Mousse + Why I Eat "Processed" Foods
/
Dessert, Dessert, Gluten Free, gluten free dessert, healthy processed food, packaged foods can fit, raspberries, soy, soyfoods, tofu, tofu dessert, tofu mousse, vegan, Vegetarian, Vegetarian
Can you believe this plant-based raspberry mousse is made with tofu! It's so creamy and rich and dare I say,
On this week's Liz's Healthy Table podcast, we're adding flexibility and joy to the meals we feed ourselves and our
Today we are taking a journey to the sunny state of California where my friend and fellow dietitian, Sharon Palmer,
/
1 Comment

on Liz's Healthy Table Podcast Episode #77: Cooking with Beans with Joe Yonan
/
bean dip, Beans, coronovirus, covid19, Dinner, Joe Yonan, plant-based, Podcast, quarantine kitchen, vegan, Vegetarian, Washington post
A kitchen without beans is like a day without sunshine. Beans are versatile, delicious, nutritious, and they add an endless
Sharon Palmer, RDN is my guest for today's show. She is a registered dietitian, cookbook author, and mom of two
Add excitement to your child's lunchbox with this Tortellini Lunchbox Salad. It's filled with color, flavor, fun, and great nutrition.
/
9 Comments

on Veggie Quiche Patties
/
Breakfast, Dinner, Dinner, egg, Gluten Free, healthy quiche, Lunch, Michelle Obama Let's Move, nutrition, Recipe Redux, Snacks, spinach, swiss chard, Vegetarian, Vegetarian
Teach your kids to cook by making these playful Veggie Quiche Patties together. My healthy mini quiches are easy to
This vegetarian recipe for Sweet Pea Crostini can be served as an afternoon snack for the kids or turned into