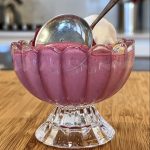 /
No Comments

on Raspberry Tofu Mousse + Why I Eat "Processed" Foods
/
Dessert, Dessert, Featured-Video, Gluten Free, gluten free dessert, healthy processed food, packaged foods can fit, raspberries, soy, soyfoods, tofu, tofu dessert, tofu mousse, vegan, Vegetarian, Vegetarian
Can you believe this plant-based raspberry mousse is made with tofu! It's so creamy and rich and dare I say,
/
5 Comments

on Barley & Chickpea Stew: Simple, Affordable, Nourishing, and Delicious
/
barley, Beans, canned tomatoes, carrots, chickpeas, Dinner, Dinner, Lunch, mushrooms, Soup, stew, vegan, Vegetarian
I live in New England, so when summer turns to fall (which often is abrupt and a shock to the
/
2 Comments

on Farmers' Market Ratatouille
/
Appetizer or Main Meal, Dinner, eggplant, farmer's market, Gluten Free, Lunch, ratatouille, Side Dishes, Sustainability, vegan, Vegetarian, zucchini
When your farmers' market is brimming with tomatoes, bell peppers, eggplant, basil, and zucchini then it's time to make ratatouille.
In today's Longevity Kitchen episode, I'm featuring one of my favorite anti-aging foods: dark chocolate. Chocolate is universally adored and
/
3 Comments

on Sweet Potato, Chickpea & Coconut Soup
/
chickpeas, coconut milk, Dinner, garbanzo beans, Gluten Free, Lunch, Pulses, soup, Soup, Sustainability, vegan, Vegetarian
This Sweet Potato, Chickpea, & Coconut Soup is bursting with fragrance, flavor, and super-charged nutrition. Each steamy spoonful provides vitamin
Today we are taking a journey to the sunny state of California where my friend and fellow dietitian, Sharon Palmer,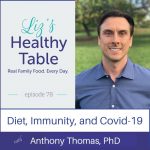 /
2 Comments

on Liz's Healthy Table Podcast Episode #78: Diet, Immunity, and Covid-19 with Anthony Thomas, PhD
/
coronovirus, covid19, Dinner, immunity, jarrow formulas, Podcast, supplements, vegan, vitamin C, vitamin D, zinc
On today's Liz's Healthy Table podcast, we're talking about foods, nutrition, and dietary supplements that support a healthy immune system.
/
2 Comments

on Herby White Bean Dip with Crunchy Veggies | Plus, 6 Covid-Safe Summer Entertaining Tips
/
Beans, covid-safe, dip, entertaining, Family Mealtime, Gluten Free, have a plant, picnic, Pulses, Snack, Snacks, vegan, Vegetarian
There's nothing better than an outdoor cookout or picnic to celebrate the warm and sunny days of summer. But in
/
No Comments

on Harissa-Roasted Carrot and Bean Dip
/
Appetizer, Beans, dip, Gluten Free, legume, Pulses, Side Dishes, Snacks, vegan, Vegetarian, white beans
A snack board piled high with veggies and dip, chips and guacamole, dried fruit and nuts, cheeses and crackers, grilled
/
1 Comment

on Liz's Healthy Table Podcast Episode #77: Cooking with Beans with Joe Yonan
/
bean dip, Beans, coronovirus, covid19, Dinner, Joe Yonan, plant-based, Podcast, quarantine kitchen, vegan, Vegetarian, Washington post
A kitchen without beans is like a day without sunshine. Beans are versatile, delicious, nutritious, and they add an endless