9 items with tag: berries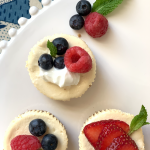 All you need for these fuss free, gluten-free cheesecake cupcakes are a few simple ingredients including light cream cheese, an
/
72 Comments

on Berry, Banana, Peanut Butter Soft Serve
/
bananas, berries, Dessert, Dessert, Gluten Free, ice cream, peanut butter, Snacks, soft serve, vegan
This three-ingredient Berry, Banana, Peanut Butter Soft Serve dessert has no added sugar or cream, but it's still incredibly rich and
Cool off and refuel in the afternoon with these all-natural, no sugar added Super Strawberry Yogurt Pops. They're perfect for
Add great flavor and a healthy boost of high-quality protein to your family's breakfast with this Protein Power Breakfast Parfait.
What do you make when you've been asked to bring dessert to a holiday cookout or gathering? If you own
/
No Comments

on Better Blueberry Buckle + Mohonk Mountain House Family Reunion
/
Baked Goods, berries, blueberries, Dessert, Dessert, family, family vacation, Mohonk Mountain House, oats, Travel, whole grain
Visiting the Mohonk Mountain House in New Paltz, New York is like taking a step back in time. My family
Get ready to feast your eyes and your appetites ... but don't worry too much about your waistline. My newest
/
No Comments

on Silver Dollar Banana Blueberry Pancakes + Patriot's Day
/
bananas, berries, birthday, blueberries, Breakfast, Breakfast, Food Adventures, low fat milk, oats, pancakes, parade, Patriots Day, Travel, whole grain
I live outside Boston in the town of Lexington, MA where the first battle of the Revolutionary War took place.
/
No Comments

on Healthier Chocolate Dessert Recipes
/
avocado, Baked Goods, berries, chocolate, Dessert, Holidays, mini cupcakes, mousse, oil, pumpkins, Recipe Roundup, strawberries, torte, Valentine's Day
Is it possible to shower your loved ones with decadent chocolate desserts on Valentine's Day without showering them with excess