30 items in category: Pulses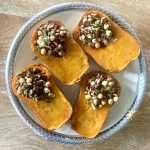 /
No Comments

on Honeynut Squash Stuffed with Mushrooms, Chickpeas, Pistachios & Cranberries
/
chickpeas, Christmas, Dinner, dried cranberries, featured-blog, Featured-Post, Gluten Free, holiday dinner, Holidays, honeynut squash, mushrooms, pistachios, Pulses, Side Dishes, thanksgiving, vegan, Vegetarian, winter squash
If you're looking for a hearty and flavorful vegetable side dish for cold winter nights ... or a Thanksgiving side
/
No Comments

on Spring Panzanella with Artichokes, Asparagus, Peas, and Lemon Dill Vinaigrette
/
artichoke hearts, asparagus, chickpeas, Dinner, green peas, Lunch, Power Plates, Pulses, Salad, Salad, Side Dishes, The Full Helping, vegan, Vegetarian
This vegan spring panzanella salad comes straight from the pages of Power Plates: 100 nutritionally balanced, one-dish vegan meals by
/
2 Comments

on Instant Pot Barley, Carrot, and Chickpea Soup
/
barley, carrots, chickpeas, electric pressure cooker, Grains, Instant Pot, mushrooms, Pulses, Soup, soup, tomatoes, Uncategorized, Vegetarian
This hearty barley, carrot, and chickpea soup has a lovely flavor, meaty texture, and an I-need-to-slurp-this-soup-now aroma. You can make
These better-for-you Red Lentil Snack Cookies combine the goodness of cooked red lentils, whole grain oats, peanut butter, applesauce, eggs,
/
No Comments

on Instant Pot Lentil and Vegetable Soup with Herbs & Sardines
/
Dinner, Gluten Free, Instant Pot, lentils, Lisbon, Lunch, pressure cooker, Pulses, sardines, Seafood, Soup, soup, Travel
I'm obsessed with two things right now: The electric pressure cooker (AKA Instant Pot) and sardines. Read on for the tasty connection
/
5 Comments

on Macaroni Minestrone Soup
/
Beans, carrots, Dinner, Lunch, mediterranean diet, minestrone, Pasta, Picky Eaters, Pulses, Soup, soup, Vegetarian, zucchini
This hearty recipe for Macaroni Minestrone Soup is a one-bowl meal brimming with kid-friendly elbow pasta and three vegetables—zucchini, carrots,
/
2 Comments

on Green Lentil and Butternut Squash "Noodle" Bowls
/
butternut squash, cilantro, coconut oil, Dinner, Dinner, Gluten Free, lentils, NOW foods, power bowl, Pulses, spiralized, Vegetarian, Vegetarian
This easy one-bowl meal is made simply with fiber-rich green lentils, oh-so trendy spiralized butternut squash, onion, red bell pepper,
/
71 Comments

on Red Lentil Soup with Root Vegetables and Sage + Plant-Powered for Life
/
bell pepper, Book Review, carrots, celery, Dinner, lentils, Potatoes, Pulses, Soup, soup, vegan, Vegetarian
How many vegetables can you cram into one delicious, comforting soup? Well, in the case of this Red Lentil Soup with
Pasta and beans simmered in herb-infused tomato sauce are the building blocks of this hearty Italian soup, Pasta e Fagioli.