26 items in category: Baked Goods
/
No Comments

on 27 Healthier Cookie Swap Cookies, Brownies & Bars
/
Baked Goods, Baking, bars, brownies, christmas cookies, cookie exchange, cookie swap, cookies, Dessert, healthier, Holidays, holidays
There's nothing better than a cookie jar at the holidays that's so full you can barely close the lid. That
Raise your hand if you have a few ripe bananas sitting on your kitchen counter right now. When faced with
These better-for-you Red Lentil Snack Cookies combine the goodness of cooked red lentils, whole grain oats, peanut butter, applesauce, eggs,
Gathering with relatives and friends to swap favorite confections is a welcome respite from the frenetic pace of the season.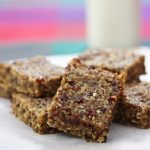 Over the years, I've created a lot of recipes, but one of the toughest to nail was my Grab-and-Go Granola
This slightly-sweet recipe for mini Lemon Olive Oil Cakes with Mixed Berry Sauce sounds like a decadent dessert, but it's made
Want to cut 500 calories per serving and lots of sugar from classic carrot cake? Give my healthy Carrot Cake Re-Mix
Make your own healthy, lower-sugar granola from scratch by combining  oats, wheat germ, walnuts, raisins, and a bit of brown
These luscious Brownie Bites are a healthy makeover of classic gooey brownies, but they taste just as decadent. Oh, and
/
14 Comments

on Lemon Poppy Seed Muffins + Nantucket Daffodil Weekend
/
Baked Goods, Breakfast, Daffodil weekend, Food Adventures, lemons, muffins, nantucket, poppy seeds, Snack, Snacks, Travel
These healthy Lemon Poppy Seed Muffins are light and luscious and have more fiber than the usual donut shop options.