This Sweet Potato, Chickpea, & Coconut Soup is bursting with fragrance, flavor, and super-charged nutrition. Each steamy spoonful provides vitamin A from the sweet potatoes and bell pepper, protein and fiber from the chickpeas, and B vitamins from the rice. It looks like a fancy recipe, but it's surprisingly easy.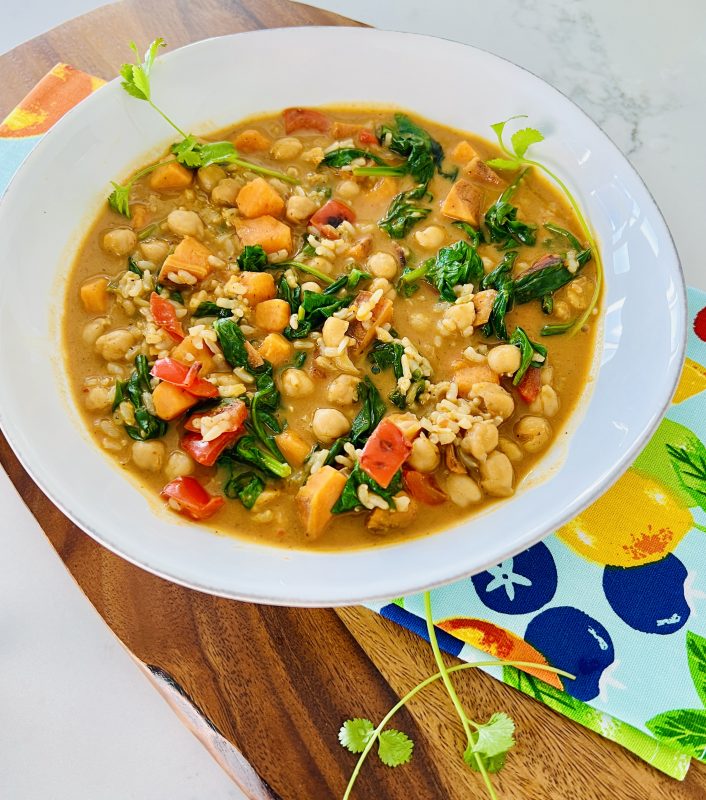 Canned chickpeas are one of my favorite pantry staples. They're inexpensive and versatile, and I love their meaty texture. Each half cup has 6 grams of protein and 4 grams of fiber, and as you may have heard me talk about a million times on my blog and podcast, fiber is critical to good health because it feeds the good bacteria that reside in our gut.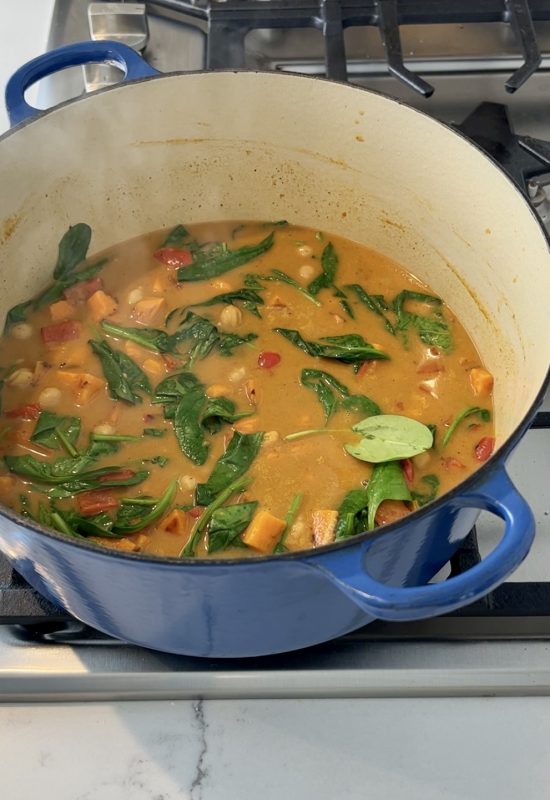 The best thing about this soup is the flavor. It's incredibly luscious and rich thanks to the ginger, garlic, chili paste and coconut milk. I use light coconut milk vs full fat to keep the saturated fat in check.

Sweet Potato, Chickpea & Coconut Soup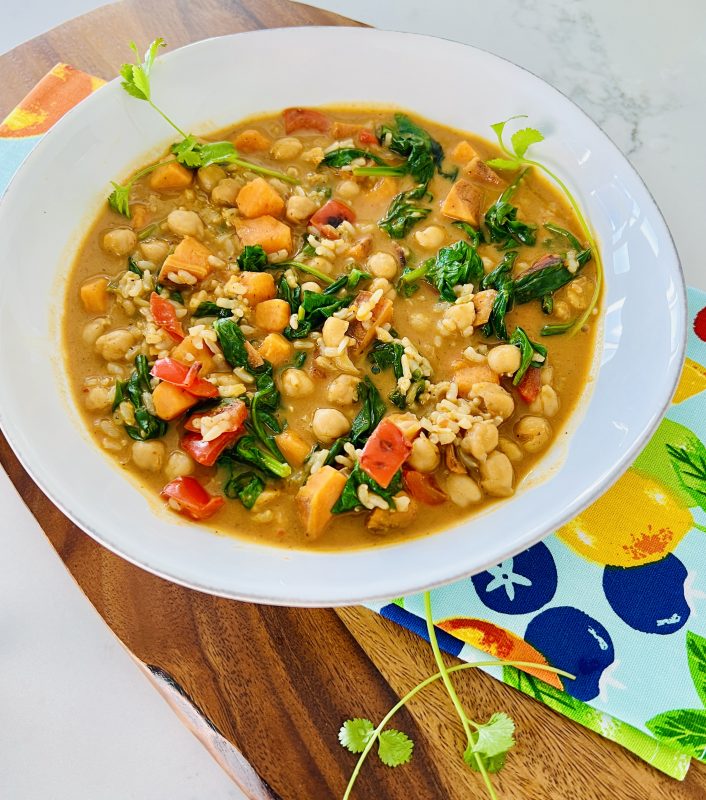 Soup's on. Try this warming soup for supper this week. It's made with wholesome ingredients like sweet potatoes, bell peppers, and chickpeas and it's bursting with flavor thanks to the coconut milk, curry paste, garlic, and ginger. To change things up, you could add baby kale, any other colored pepper, and white rice if you prefer it.
Ingredients
1 tablespoon extra virgin olive oil
1 medium sweet potato, cut into ½-inch dice
1 red bell pepper, cut into ½-inch dice
3 tablespoons Thai red curry paste
1 tablespoon fresh grated ginger
1 large garlic clove, minced
2 cups vegetable broth
One 13.5-ounce can light coconut milk
One 15-ounce can chickpeas, drained and rinsed
4 cups packed baby spinach
1 cup cooked brown rice
Juice and zest of 1 lime
Optional toppings: Chopped fresh cilantro, diced avocado, chopped peanuts
Instructions
Heat the oil in a Dutch oven or medium-size saucepan over medium heat. Add the sweet potato and bell pepper and cook, stirring frequently, until softened and caramelized, 8 to 10 minutes.
Add the red curry paste, ginger, and garlic, and cook until fragrant, about 1 minute.
Stir in the broth, coconut milk, and chickpeas. Raise the heat to medium high, cover and bring to a boil. Remove the cover, reduce the heat, and maintain at a simmer until the vegetables are completely soft, another 4 to 5 minutes.
Stir in the spinach, rice, lime zest, and lime juice until the spinach wilts, about 1 minute. Season with salt and pepper to taste.
Serve in individual bowls and garnish with optional toppings.