This Roast Beef, Avocado & Caramelized Onion Sandwich with Pesto Mayo can do triple duty as the star of your next picnic, al fresco lunch, or the main attraction in your child's summer camp or back-to-school lunchbox … or yours!
For this recipe and post, I partnered with The North American Meat Institute (NAMI), a contractor to the Beef Checkoff. All opinions are my own. 
One of my fondest and oldest food memories is of a deli roast beef sandwich on rye with Russian and coleslaw. I grew up in New Rochelle, a suburb of New York City, and my family's favorite place to eat when we weren't at home was the Wykagyl Deli. To my knowledge, the deli isn't there anymore (someone, correct me if I'm wrong!), but I can still remember biting into that soft, squishy rye bread with tender slices of rare roast beef, crunchy coleslaw, and creamy Russian dressing (made with mayo and ketchup) nestled between. Once a foodie, always a foodie.
That was then … and this is now. This new recipe was inspired by the roast beef sandwich of my youth, but I gave it a modern twist by replacing the Russian dressing with a luscious combo of mayo and basil pesto, swapping the rye bread for toothsome ciabatta rolls, and switching out the coleslaw with caramelized red onion, avocado, arugula, and fresh mint leaves. All those textures and flavors paired just perfectly with the sliced roast beef, purchased conveniently at my local supermarket deli counter.
I should also credit my 20-year-old son, Simon, for adding inspiration to the mix.
Simon is home from college this summer and he's working a full-time job. As for me, just feeding him feels like a full-time job! I'm not complaining. I love having him home and cooking for him, and I'm lucky because he's an awesome eater. Well, to be perfectly honest, he's a bottomless pit. I guess that's normal for an active young adult, but regardless, he challenges me daily to keep our kitchen well stocked and the food flowing. This sandwich provides 21 grams of satisfying protein thanks to the roast beef, and the basil pesto and caramelized onion give it a huge flavor punch. Simon has recently developed a taste for avocados (what took him so long?), so adding it to the sandwich was like the icing on the cake.
Before I give you the lowdown on this recipe, I wanted to spend a few minutes talking about processed meat, also known as prepared meat. As a dietitian and mom, I tend to gravitate to a Mediterranean-style diet where fruits, veggies, grains, beans, legumes, eggs, dairy, seafood, olive oil, and prepared meats all fit in. Following this diet style never leaves me feeling deprived. I always feel satisfied.
And this may surprise you, but back in 2015 when the Dietary Guidelines for Americans were being developed, the Advisory Committee assigned to evaluate the latest diet and nutrition research found that followers of the Mediterranean diet (people like me!) eat twice as much red and processed meat compared to followers of USDA Food Patterns(1). Cultures across the globe have consumed prepared meats as part of a balanced diet for centuries.
The word "processed" conjures up negative feelings, but what processed really means is that the meat is "prepared." I prefer this term, because it better reflects how the meat gets from the ranch to your table. Meats like roast beef, sausage, salami, corned beef, and beef jerky are "prepared" at a plant, but on a larger scale. They are cut, chopped, seasoned, and cooked.  And they're safe. Every ingredient used in prepared meats has to be approved by the FDA and inspected by the USDA.
Prepared meats are versatile, adding interest, flavor, and important nutrients like iron and zinc to every meal occasion. To learn more about prepared meats, nutrition, labeling, and everything in between, stop by the North American Meat Institute page for all the details.
This recipe sounds fancy, but it's super easy to assemble. After you combine the mayo and basil pesto (I buy the pesto already "prepared" … AKA "processed"), simply slice the red onion and sauté in a skillet for about 20 minutes until tender and caramelized.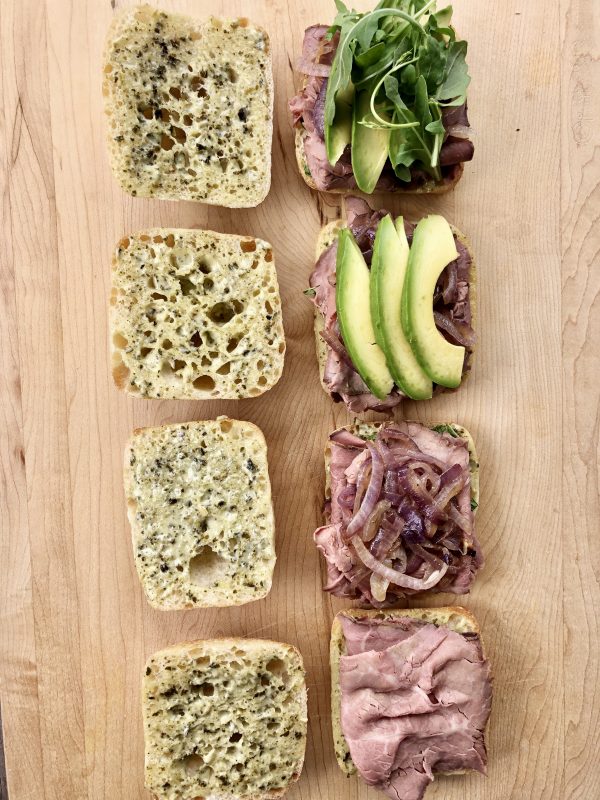 Layering is the name of the game here. Spread the pesto mayo sauce on both sides of the sliced ciabatta rolls. Layer with the torn mint, roast beef (I use 2 ounces per sandwich), caramelized onion, avocado, and arugula. Voila. Done!

Roast Beef, Avocado & Caramelized Onion Sandwich with Pesto Mayo
Nutrition Information
Serving size:

1 sandwich

Calories:

460
Fat:

18g

Saturated fat:

3g

Carbohydrates:

54g

Sugar:

4g

Sodium:

700mg

Fiber:

4g

Protein:

21g

Cholesterol:

36mg
Whether you're packing camp or school lunches (or your own work lunch) or you're looking for something special to pack for a picnic or serve al fresco, this sandwich fits the bill. The flavor can only be described as "fresh," and every bite screams summer. Basil pesto, arugula, mint, avocado, and paper-thin slices of roast beef are a match made in summer heaven. (Of course, I hope you make this sandwich all year long!)
Ingredients
1 tablespoon extra virgin olive oil
1 medium red onion, sliced in half, peeled, and cut into thin half-moon rounds
2 tablespoons basil pesto
2 tablespoons light mayonnaise
4 ciabatta rolls, sliced in half
8 mint leaves, torn into pieces
8 ounces thinly sliced roast beef
½ avocado, peeled and thinly sliced
¾ to 1 cup arugula
Instructions
Heat the oil in a large nonstick skillet over medium-low heat. Add the onions and cook, stirring frequently, until golden, about 20 minutes. Adjust the heat if the onions begin to burn.
Meanwhile, place the pesto and mayonnaise in a small bowl and stir to combine. Spread the pesto mayo evenly over both halves of each ciabatta roll.
Place the ciabatta halves on a work surface. Top the bottom half of each roll evenly with the mint leaves, roast beef, caramelized onion, avocado, and arugula. Close each sandwich, secure with a toothpick and serve. Or wrap and bring to a picnic or pack in a lunchbox.
What's your favorite way to serve roast beef to your family? Do you have a fond food memory that you'd like to share? Post it below in the comments section.
(1) https://health.gov/dietaryguidelines/2015-BINDER/meeting6/docs/DGAC-Meeting-6-SC-1