When your farmers' market is brimming with tomatoes, bell peppers, eggplant, basil, and zucchini then it's time to make ratatouille. This classic French one-pot dish brings out the finest flavors of summer and early fall … and it's surprisingly easy to make. Plant-based, vegan, and a vegetable lover's dream come true.
I created this dish for a cooking demo at Sustainable Nantucket's Farmers & Artisans Market. Read on for the recipe and some of my favorite ratatouille serving suggestions.
Farmers' Market Ratatouille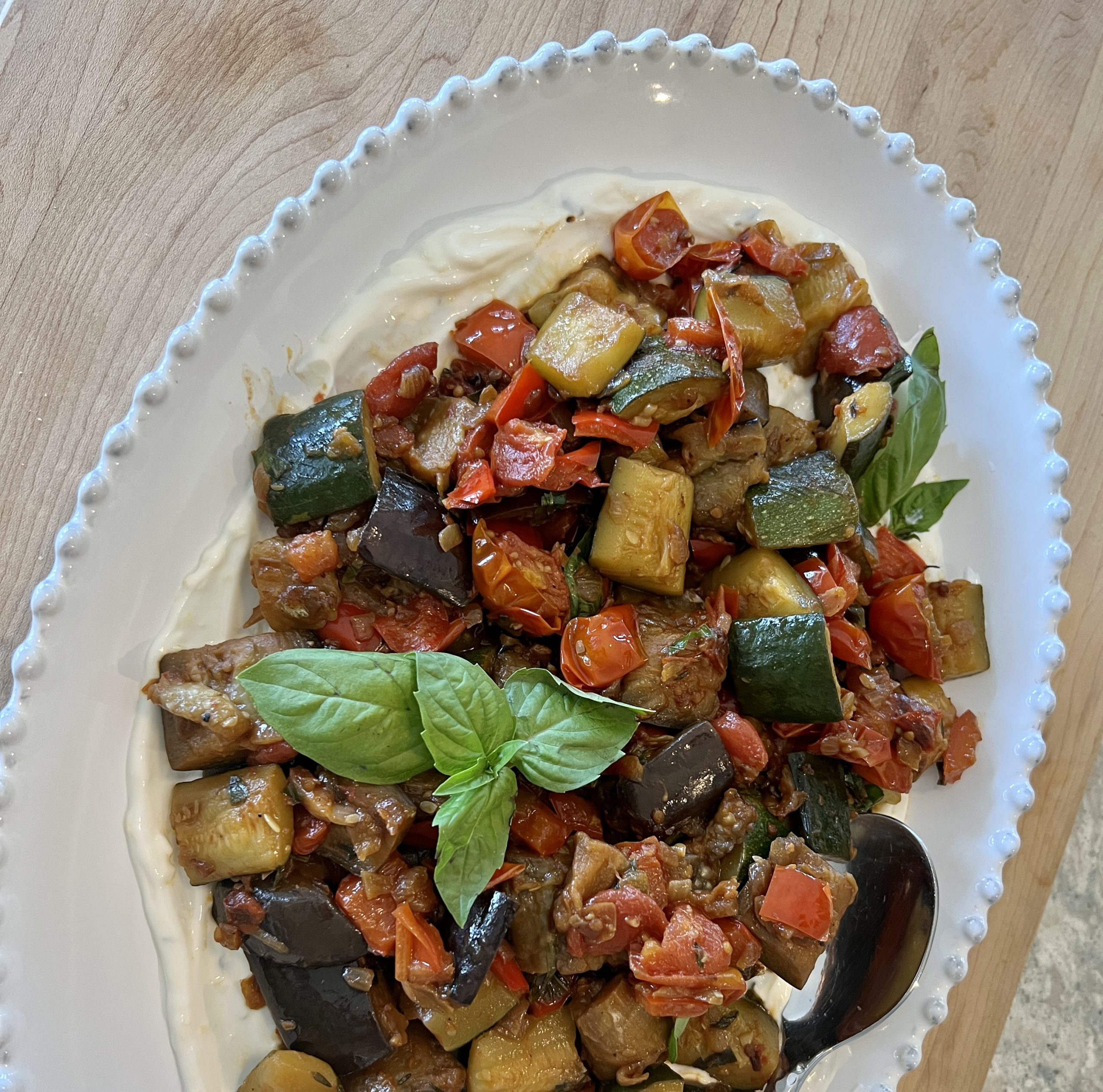 Ratatouille can be served as a side dish or main meal. The smaller you cut the veggies, the quicker it will cook.
Ingredients
3 tablespoons extra virgin olive oil, divided
1 medium yellow onion, cut into ¼-inch dice
2 cloves garlic, minced
1 pound tomatoes, cut into 1-inch pieces or a pint of cherry tomatoes, halved
1 red bell pepper, cut into ½-inch dice
Kosher salt and freshly ground black pepper
1 medium-size zucchini, cut into ½-inch dice
1 medium-size eggplant, cut into ¾-inch dice
2 tablespoons plus ½ cup roughly chopped basil
6 thyme sprigs, leaves removed, 1 teaspoon
Instructions
Heat 1 tablespoon of the olive oil in a large skillet or Dutch oven over medium heat. Add the onion and cook, stirring often, until tender, about 5 minutes. Add the garlic and cook until fragrant, 1 minute.
Add 1 more tablespoon oil, the tomatoes, bell pepper, and a pinch of the salt and pepper. Bring to a boil, lower the heat, and simmer, covered, until the tomatoes are softened and their juices release, about 10 minutes.
Add the final tablespoon oil, zucchini, eggplant, 2 tablespoons of the basil, and thyme. Stir well a few times to combine.
Cover and cook until the zucchini and eggplant are tender, another 10 minutes. Stir every few minutes.
Season with the remaining ½ cup basil and additional salt and pepper to taste.
Serving suggestions:
– In individual bowls as a main meal with salad and bread on the side
– Over a mix of ricotta or plain Greek yogurt that's been seasoned with lemon zest, a few drizzles of honey, and some fresh thyme leaves
– Over polenta
– On a platter and topped with crumbled goat cheese or any other favorite cheese
– Served over rice, quinoa, or pasta
– As a topping for baked potatoes
– In grilled cheese. I like to spread pesto on a slice of bread, then top with cheese, some leftover ratatouille, more cheese, more pesto, and the final slice of bread