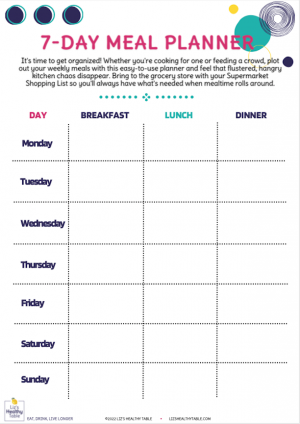 7-Day Meal Planner
Meal planning saves time, money, and yes, it can even boost your family's nutrition. I have a feeling you'll be printing my one-page 7-Day Meal Planner again, and again, and again!

Description
Maybe you're that magical mom or dad who can walk into the kitchen at 5:30 and create something marvellous from nothing without a plan and without stress every night. Or maybe you're that other magical mom or dad who naturally plans every meal a month ahead. But the likelihood is you're more like me: a fly-by-the-seat-of-your-pants cook who whips up something last minute every night, sure, but is stressed out by the chaos. Maybe you're finding unused vegetables rotting in the fridge, or maybe you're running to the grocery store every other day. Maybe the local pizza place is on speed dial. (No judgement.)
Enter the 7-Day Meal Planner. Plot out your family's meals—including those pesky packed school lunches—a week ahead and never feel that flustered, hangry kitchen chaos again. It's easy to print out and bring to the grocery store (along with the Supermarket Shopping List). I promise—a bit of planning solves a lot of problems.