March is National Nutrition Month, and this year's theme from the Academy of Nutrition and Dietetics is, "Fuel the Future." To celebrate NNM, here are four important tips for fueling better health for you and the planet, including a recipe for Mediterranean Farro Salad with Pistachios, Asparagus, and Mint.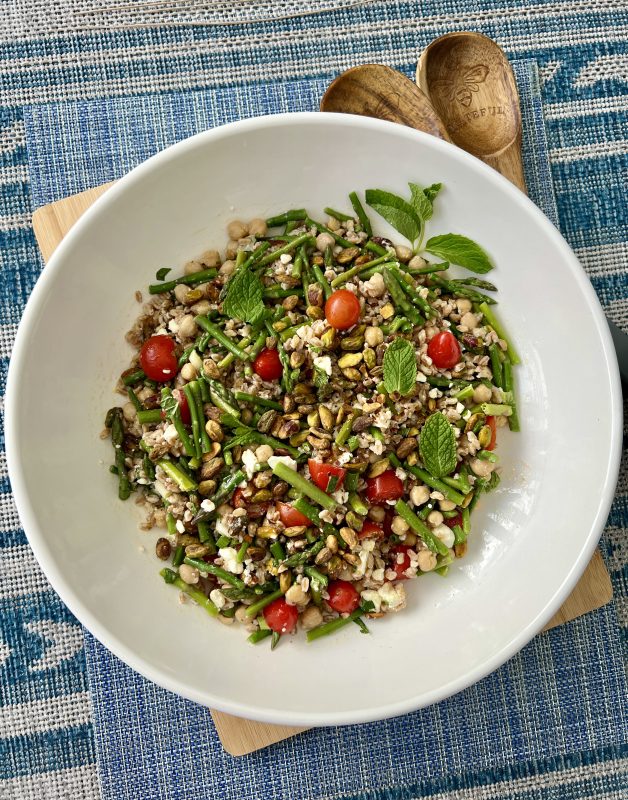 Buy foods in season and shop locally when possible:
When farmers' markets start up again in the spring and summer, consider shopping at one to support a local farmer. Or, when shopping at your neighborhood supermarket, look for local produce in season. Locally-grown produce often costs less and has a lower carbon footprint, because it has less distance to travel.
Reduce food waste:
I could talk about this all day! But my best advice for reducing food waste (and saving money) is to:
– Shop your refrigerator and pantry for meals and snacks in order to use up leftovers (i.e. make a quick pasta lunch w/ the few ounces of dry pasta lingering in a box; a few stalks of broccoli; some shredded cheese).
– Consider canned and frozen produce if you don't think you'll use up fresh or if your fresh produce typically goest  to waste.
– And if you have canned or packaged items in your pantry that are about to expire, donate them to a food pantry or food drive. Just make sure they haven't expired yet!
Enjoy more plant-based meals and snacks:
Eating more plant-based meals and snacks means eating less meat and poultry (which often require more resources) and amping up the servings of fruits and veggies that you eat in a day.
Lean into non-meat sources of protein with foods such as beans, tofu, and nuts, including pistachios, one of the highest protein snack nuts available. Pistachios are a great plant-protein choice compared to meat, because they're naturally cholesterol-free and add fiber to your day. About 90% of the fats found in pistachios are unsaturated. This trio of fat, protein and fiber may help keep you fuller longer.
This is my new favorite springtime salad … and it calls for ingredients enjoyed on a Mediterranean-style diet, including lots of plants: whole grains, vegetables, fresh herbs, beans, nuts, and olive oil.
Start with farro, an ancient grain with a nutty taste and chewy texture. Combine with blanched asparagus, cherry tomatoes, fresh mint, feta cheese, chickpeas, and shelled pistachios. The result is a delicious plant-based salad with crunch, flavor, and so much satisfaction. To change up the recipe, sometimes I use lightly salted shelled pistachios … and other times, I use Honey Roasted.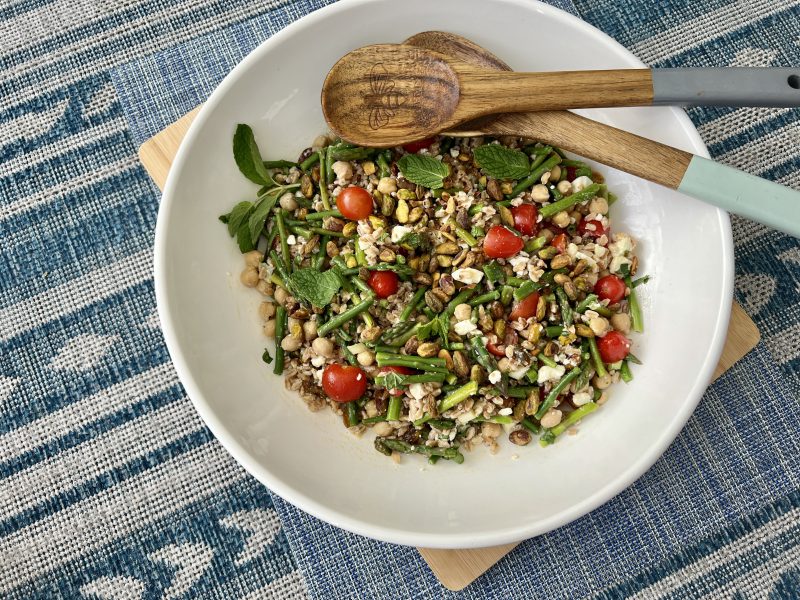 To bring all those great flavors and textures together, add a simple homemade salad dressing made with extra virgin olive oil, lemon juice and zest, Dijon mustard, a drizzle of honey, and a bit of garlic. Top with more mint and pistachios and devour.

Farro Salad with Asparagus and Pistachios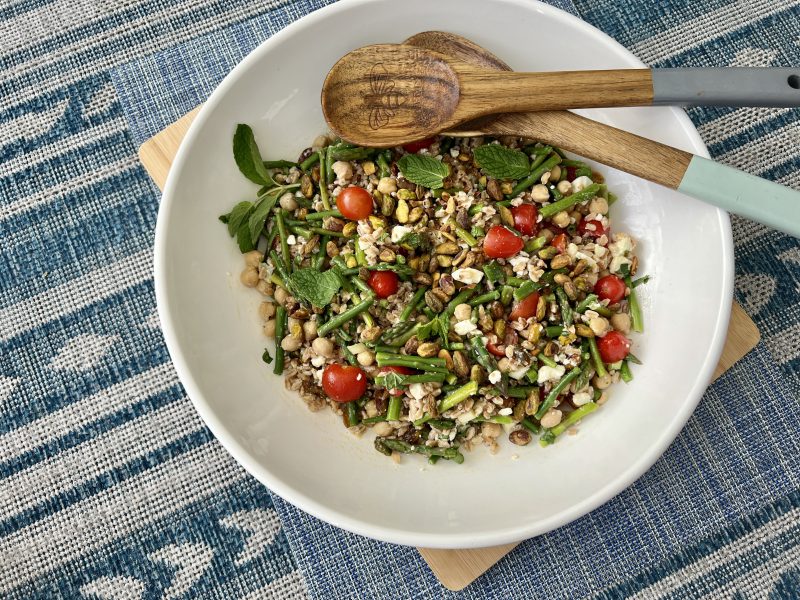 You can east this salad as a side dish or a main meal. If you want to add more protein (there's already pistachios and chickpeas in the salad), you could add leftover grilled salmon, shrimp, chicken, or any other favorite protein.
Ingredients
1 cup 10-minute farro
8 ounces asparagus, ends trimmed and cut into 1-inch pieces (about 1½ cups)
1 cup cherry tomatoes, cut in half
1 cup chickpeas
½ cup shelled roasted, lightly salted pistachios, divided
½ cup crumbled feta cheese
⅓ cup mint leaves, roughly chopped, plus a few more leaves for garnish
2 green onions, trimmed and thinly sliced
4 tablespoons extra-virgin olive oil
Zest from 1 lemon
2 tablespoons fresh lemon juice
2 teaspoons Dijon mustard
1 teaspoon honey
1 small clove garlic, minced
Kosher salt and black pepper to taste
Instructions
Cook farro according to package directions. Two minutes before done, add the asparagus. Stir, bring back to a simmer, and continue to simmer for 1 more minute.
Drain and transfer to a large mixing bowl. Fluff with a fork and cool to room temperature.
Stir in the tomatoes, chickpeas, half the pistachios, feta cheese, chopped mint, and green onions.
Make the dressing by placing the olive oil, lemon zest, lemon juice, mustard, honey, and garlic in a jar with a tight-fitting lid. Shake until well combined. Taste and season with salt and pepper.
Pour the dressing over the farro mixture and stir until well combined. Top with the remaining pistachios and mint leaves.
Eat Mindfully:
Focus on what you're eating. It allows you to reflect on where your food came from and how it is nourishing your body. Slow down and tune into your hunger and satiety signals. Those simple practices may lead to eating less, seeking out more sustainable foods, and wasting less.