These Chicken and Pinto Bean Tacos are more plant than poultry. They're made with just half a pound of boneless, skinless chicken breast as well as a can of pinto beans, bell pepper, onion, salsa, corn tortillas, and lots of fresh and flavorful toppings.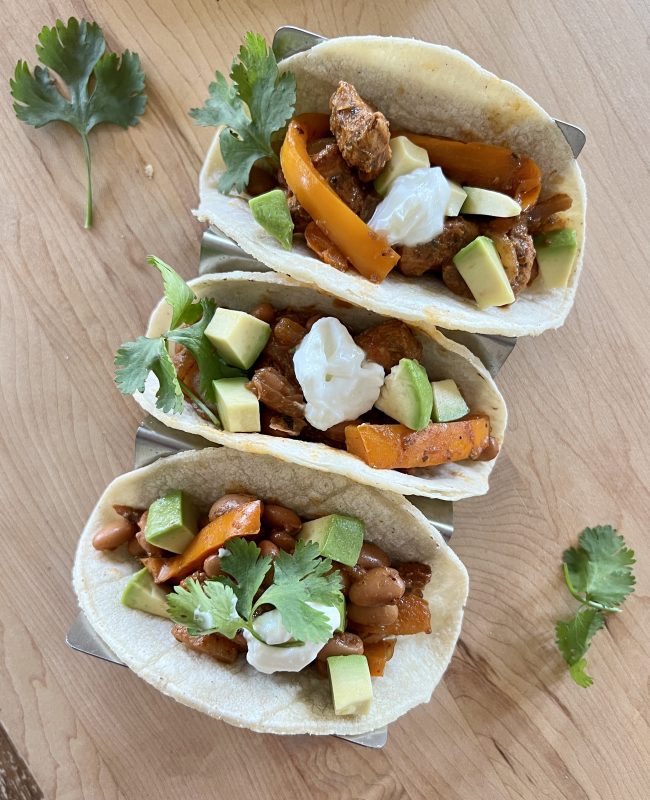 For people trying to eat a more plant-forward diet but who aren't ready to go completely meatless, this recipe provides the perfect balance. There's versatility in this recipe too. Don't have pinto beans on hand? Use black beans instead. Any color bell pepper would work wonders in this recipe, and you could certainly amp up the veggies even more by mixing in half a cup of corn kernels (frozen/thawed is fine), a shredded carrot, or some chopped cabbage.
Chicken and Pinto Bean Tacos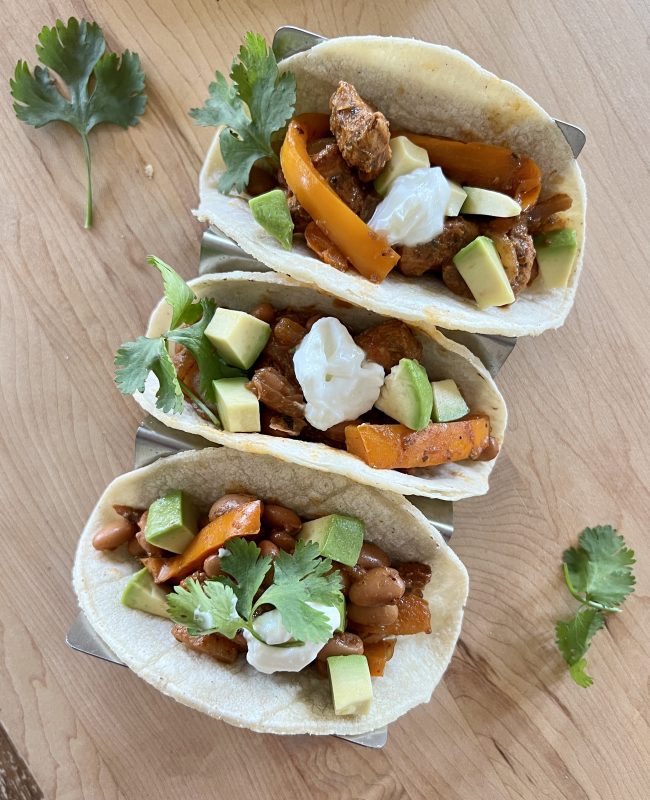 Poultry combined with lots of plants -- bell pepper, onion, beans -- is an easy, toss-together dinner filled with protein, fiber, and health-boosting antioxidants.
Ingredients
8 ounces boneless, skinless chicken breast, cut into ½-inch pieces
1 teaspoon ground cumin
1 teaspoon chili powder
1 teaspoon dried oregano
½ teaspoon smoked paprika
½ teaspoon garlic powder
½ teaspoon kosher salt
1 tablespoon plus 2 teaspoons extra virgin olive oil, divided
1 small onion, cut in half, trimmed, and cut into thin half-moons
1 bell pepper, cut into thin strips
One 15-ounce can pinto beans, drained and rinsed
⅓ cups salsa
⅓ cup shredded reduced-fat Cheddar cheese
12 soft 6-inch corn tortillas or crunchy taco shells
Optional toppings: Chopped lettuce or kale; salsa; diced avocado; shredded, reduced-fat cheese; roughly chopped cilantro; plain Greek yogurt
Instructions
Place the chicken in a mixing bowl. Add the cumin, chili powder, oregano, paprika, garlic powder, and salt and stir until the chicken is well coated. Set aside.
Heat 1 tablespoon of the oil in a large nonstick skillet over medium heat. Add the onion and bell pepper and cook, stirring often, until softened, about 5 minutes.
Add the remaining 2 teaspoons of oil and the chicken and cook, stirring often, until the meat is cooked through and no longer pink, 5 to 7 minutes.
Stir in the beans, salsa and cheese and stir until the cheese melts, about 1 minute.
If using soft tortillas, warm first and then top each with ⅓ cup of the chicken mixture. Set out optional toppings and let everyone build their own tacos.