I live in New England, so when summer turns to fall (which often is abrupt and a shock to the system), I turn my attention from salads—which sustain my family all summer long—to soups and stews. One of our favorite go-to recipes is this hearty Barley & Chickpea Stew, simple, affordable, nourishing, and delicious.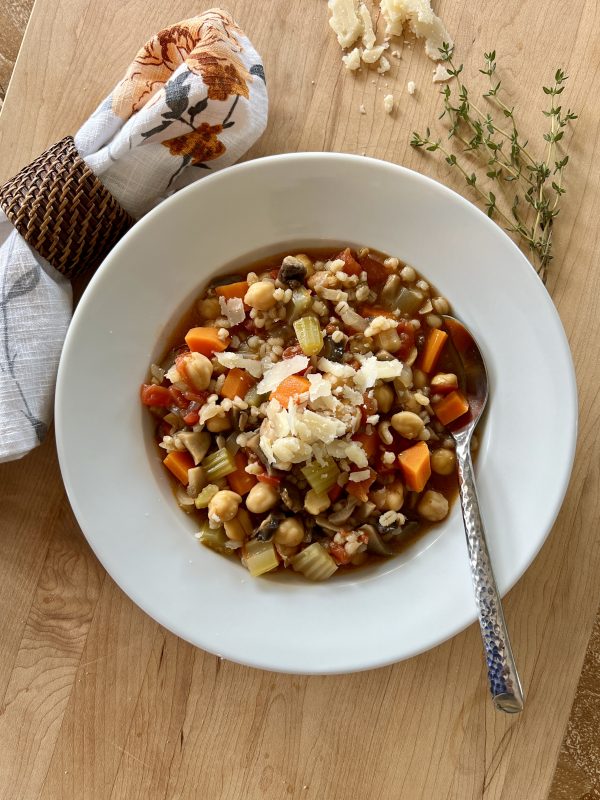 Soups and stews are different. Stews are dense and only slightly covered by liquid (broth or tomato sauce), while the ingredients in a soup float in the liquid.
Despite their differences, soups and stews provide the perfect canvas for getting more fiber-filled vegetables, grains, beans, and even fruit into bowls, onto tables, and into bellies. A few of my favorite go-to recipes include hearty beef and bean chili topped with diced avocado (technically a fruit) and fragrant, fresh cilantro; creamy broccoli soup made with pureed white beans for thickness (no cream required); chicken noodle soup filled with tender bits of carrot and celery; and butternut squash soup made with an apple or pear for extra sweetness and nutrition.
The first time I made this plant-forward brew, a nor'easter had just dumped about a foot of snow in the Boston suburbs. While my husband and sons were outside shoveling and snow blowing, I was cozied up inside with my slow cooker, a can of chickpeas, a pile of mushrooms, and a bag of pearled barley. My boys were happy when they finally came in from the cold. I've made variations of this stew many times since that epic storm, but for this version, I swapped the slow cooker (not accessible to every home cook) for a large pot.

Barley & Chickpea Stew
Nutrition Information
Serving size:

1.5 cups

Calories:

175
Fat:

6g

Saturated fat:

1g

Carbohydrates:

24g

Sodium:

550mg

Fiber:

7.5g

Protein:

8g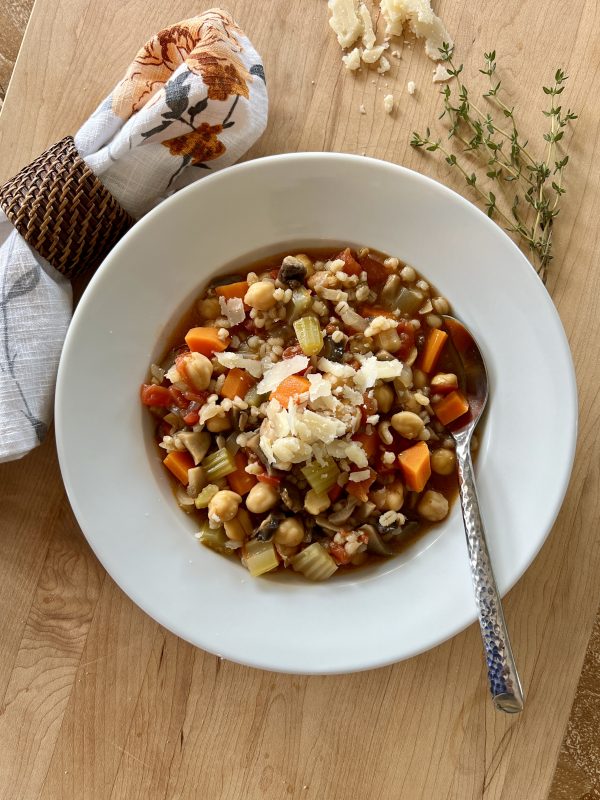 This stew is made simply with fresh vegetables, convenient canned chickpeas and diced tomatoes, vegetable broth, fresh thyme, and pearled barley. Pearled (also called pearl) barley cooks more quickly than whole grain barley, and most of the barley found in supermarkets is, in fact, the pearled variety. Pearled barley is polished to remove some or all of the outer bran layer and the hull. While technically it's a refined grain, some of the bran still may be intact. To turn this from a stew to a soup, add 2 more cups of broth.
Ingredients
2 tablespoons extra virgin olive oil
1 small onion, roughly chopped
8 ounces button mushrooms, cleaned and roughly chopped
3 carrots, peeled and cut into ½-inch dice (about 2 cups)
3 celery stalks, trimmed and cut into ½-inch dice (1 generous cup)
2 garlic cloves, minced
4 cups vegetable broth
One 14.5-ounce can petite diced tomatoes
One 15-ounce can chickpeas, drained and rinsed
½ cup pearled barley
6 fresh thyme sprigs
1 bay leaf
Grated Parmesan cheese, optional
Instructions
Heat oil in a large heavy-bottomed pot over medium heat. Add onion and mushrooms and cook, stirring frequently, until softened, about 5 minutes. Add carrots, celery, and garlic and cook, stirring often, until garlic is fragrant, 1 to 2 minutes.
Add vegetable broth, tomatoes, chickpeas, barley, thyme, and bay leaf. Stir until well combined. Cover and bring to a boil. Reduce heat and simmer, covered, until vegetables and barley are tender, about 35 minutes. Stir every 10 minutes. (Cooking times may vary depending on type of barley used.)
Remove thyme stems and bay leaf, serve in individual bowls, and top with Parmesan cheese as desired.
Let me know if you give this recipe a try. It's a cold-weather crowd pleaser.