This recipe for Tuna, Apple, and Carrot Salad is not your grandmother's tuna salad. This updated version of old-fashioned tuna salad calls for a convenient can of tuna (you could also boneless, skinless pink salmon, which is rich in omega-3 fats), shredded carrot, chopped apple, green onion, lite mayo, lemon zest and Dijon mustard. Scoop into halved avocados or add to a sandwich with lettuce, juicy slices of tomato, and smashed avocado.
Getting more fruits and vegetables onto your table requires planning and easy hacks to make produce the star ingredient in your weekly meal and snack prep. What follows are a few ideas to nudge you one step closer to meeting your daily fruit and veggie requirement of 2 to 3 cups of vegetables and 1.5 to 2 cups of fruit each day for women over age 60.
Produce Hacks:
Place a damp paper towel under your cutting board to keep it from moving around as you slice and dice your fruits and veggies. Plus, a stable cutting board keeps fingers safe from knives.
Rely on all forms of fruits and veggies including frozen, canned, juiced, dried, and fresh.
Squeeze lemon juice over apples to prevent them from browning.
Buy pre-shredded carrots vs. shredding yourself and add to salads, soups, and meatballs.  
Don't have time to chop an onion. Use green onions (scallions) instead.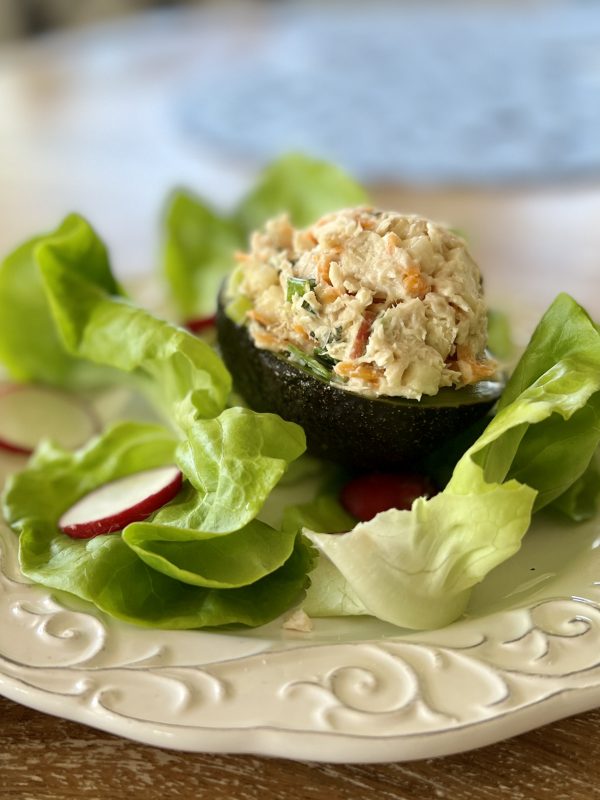 Tuna, Apple, and Carrot Salad + 5 Easy Fruit and Vegetable Hacks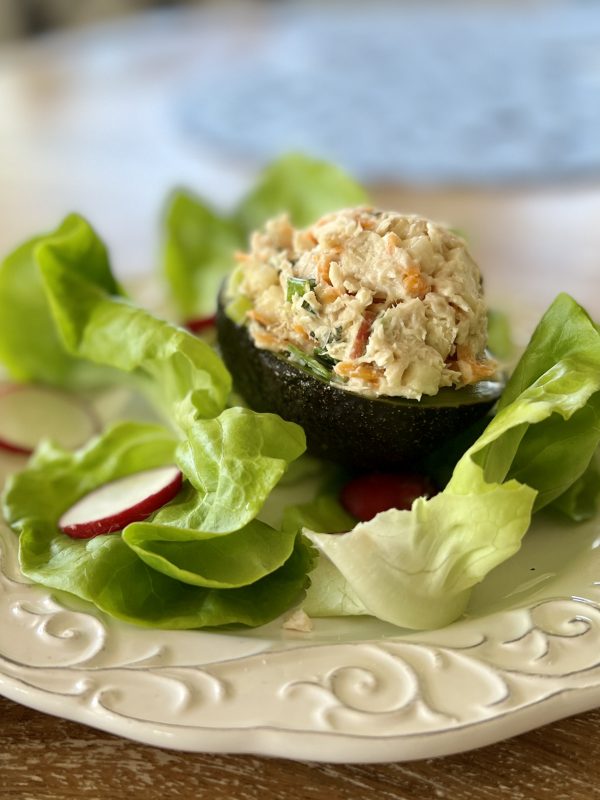 This recipe serves two, but it can easily be doubled if you have more mouths to feed! To ease your mealtime to-do list, enlist family members to help. Get kids involved. They can chop the apple, shred the carrot or chop the celery, and rip herbs.
Ingredients
One 5 ounce can tuna or boneless, skinless pink salmon, drained and flaked with a fork
1 small carrot, peeled and shredded on the large holes of a box grater (about ½ cup), or 1 stalk celery, peeled and trimmed, sliced in half lengthwise, and thinly sliced, (about ⅓ cup)
¼ medium apple, cut into ¼-inch dice (about ⅓ cup)
1 green onion, trimmed and thinly sliced
1 to 2 teaspoons chopped fresh tarragon, dill, or parsley, optional
Zest ¼ lemon, plus more to taste
3 to 4 tablespoons mayonnaise
1 teaspoon Dijon mustard
1 avocado, halved
Instructions
Place the tuna, carrot, apple, onion, tarragon as desired, and lemon zest in a bowl and stir to combine. Mix in the mayonnaise, mustard, and salt and pepper to taste.
Scoop into halved avocado and serve.
As a dietitian, what I love most about this recipe is its easy, flavor, and great nutrition. Each serving provides high-quality protein, omega-3 fats for heart, eye, and brain health, and fiber, for healthy digestion.