Try these gluten-free, better-for-you cookies made with whole grain oats, almond flour, dried tart cherries, sunflower seeds, and walnuts. The sweetness in these cookies comes from 1/3 cup honey, dried tart cherries, and half a ripe banana. (For more of a dessert-style cookie, add the optional mini chocolate chips.)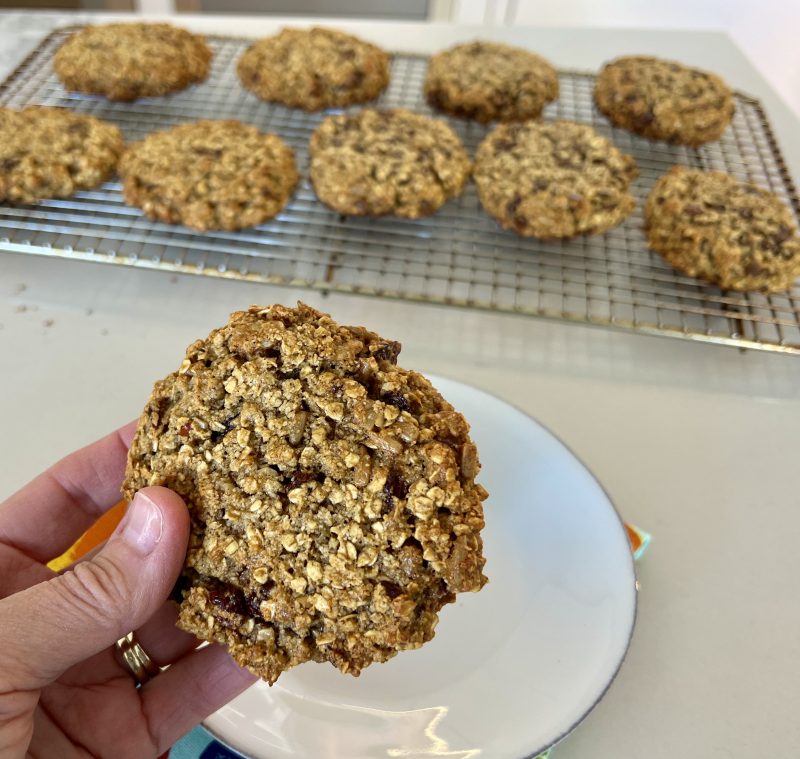 Do you know the difference between tart (AKA sour) cherries and sweet cherries? I did not until I traveled to Northern Michigan about 10 years ago on a sponsored trip with the U.S. Tart Cherry industry. (You can read all about the trip on my post: Annual Tart Cherry Harvest, Traverse City, MI.)
Almost all the tart cherries grown in the U.S. are the Montmorency variety. They are bright red in color and are harvested in summer. They are a delicate fruit, so it's unusual to find them fresh unless you live in a region where they are grown. Most tart cherries end up dried, frozen, canned, or juiced, so it's fair to say they're available year-round. The majority of fresh cherries sold at U.S. markets are the sweet variety—the most common is, Bing—and you'll find them midsummer.
Tart cherries are a staple in many kitchens. Canned cherries are popular in cherry pie. Dried tart cherries (both sweetened and unsweetened) can be added to cookies, snack bars, granola, and salads or consumed as an out-of-hand snack. The juice and juice concentrate, which gets mixed with water, have a tart-sweet flavor and work well as a thirst quencher over ice or in smoothies.
There are dozens of studies to date on the benefits of Montmorency tart cherries. They've been shown to reduce serum cholesterol levels and blood pressure, and they may also sooth the symptoms of arthritis and gout. Interestingly, tart cherries contain Melatonin, a naturally occurring substance that helps with sleep regulation. (You can read more about the nutritional benefits of tart cherries at Choose Cherries.)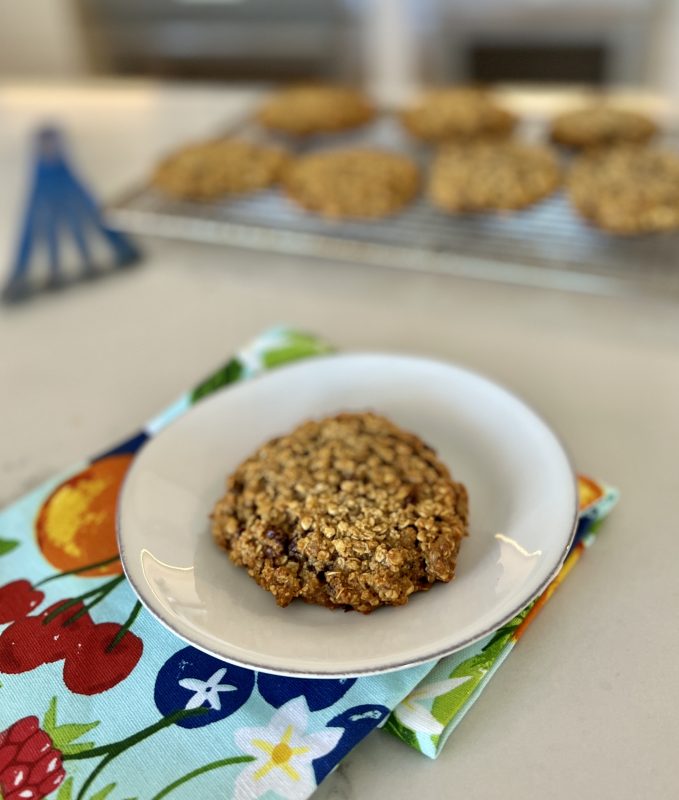 These gluten-free snack/dessert cookies are sweetened with honey, mashed banana, and tart cherries. (If you find unsweetened tart cherries at the market, you can certainly use them instead.)

Tart Cherry, Walnut, and Sunflower Seed Cookies
Nutrition Information
Serving size:

1 cookie

Calories:

192
Fat:

11.8g

Saturated fat:

2.7g

Carbohydrates:

19.5

Sugar:

13.5g

Sodium:

258mg

Fiber:

2g

Protein:

3.7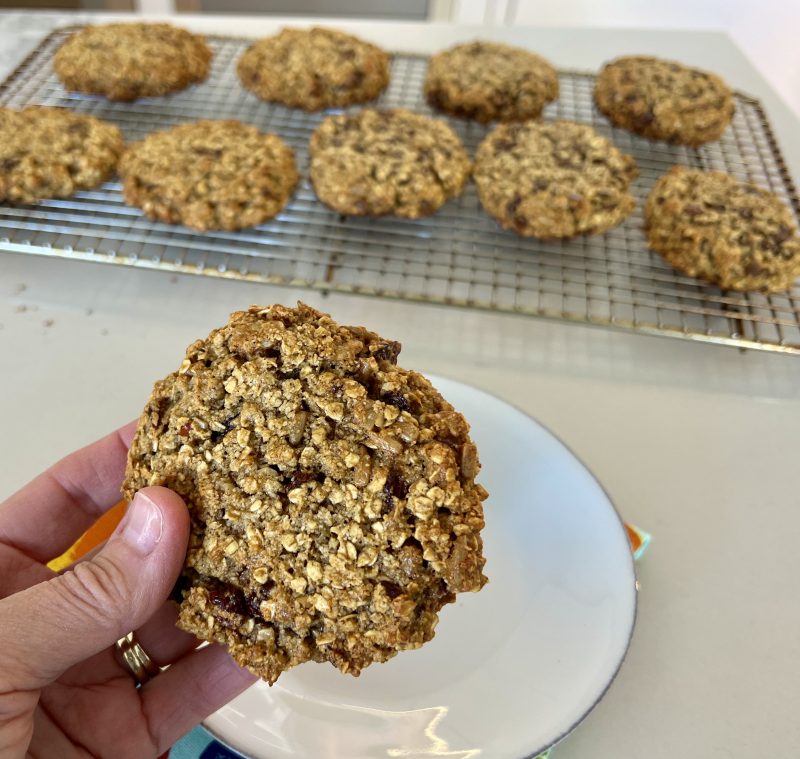 Try this gluten-free, better-for-you cookie made with whole grain oats, almond flour, dried tart cherries, sunflower seeds, and walnuts. I used ⅓ cup honey, half a banana, and a handful of tart cherries for sweetness. For more of a dessert style cookie, add the optional mini chocolate chips.
Ingredients
1½ cups quick-cooking oats
1 cup almond flour
½ cup dried sweetened or unsweetened tart cherries, roughly chopped
¼ cup unsalted, roasted sunflower seeds
¼ cup unsalted, roughly chopped walnuts
1 tsp baking soda
1 tsp ground cinnamon
½ tsp salt
2 large eggs, beaten
¼ cup vegetable oil
⅓ cup honey
½ ripe banana, mashed
2 tsp vanilla extract
3 T semi-sweet mini chocolate chips, optional
Instructions
Preheat oven to 350°F. Line 2 large baking sheets with aluminum foil and spray lightly with nonstick cooking spray. Set aside.
Whisk together oats, almond flour, tart dried cherries, sunflower seeds, walnuts, baking soda, cinnamon, and salt in a large bowl until well combined.
In a separate bowl, whisk eggs, oil, honey, banana, and vanilla until well blended. Pour liquid ingredients over dry ingredients, and stir until just moistened. Stir in chocolate chips, as desired, to create a more of a dessert-style cookie.
Working in batches, use a ¼-cup measuring cup to scoop batter, and place on prepared baking sheets, flattening slightly with bottom of measuring cup to create circles, about 3 inches in diameter. Leave about 2 inches between each cookie. If batter starts to stick to inside of measuring cup, spray with cooking spray or simply wipe clean with a paper towel.
Bake, 1 sheet at a time, 10 to 12 minutes, or until golden brown on bottom. Cool slightly on baking sheet before transferring cookies to a wire rack.