This recipe for Beef & Bean Tacos is a riff on the Have-It-Your Way Tacos recipe from my first cookbook, The Moms' Guide to Meal Makeovers. It's an oldie but goodie and one of those dinner recipes that gets a two-thumbs up from everyone at the table.
This easy dinner dish is plant-forward (AKA plant-based). Yes, it's made with lean ground beef, but it also includes lots of plants—black beans, carrot, salsa, and an array of colorful and crunchy vegetable toppings. And of course, the corn tortillas are also made from plants.
If you love beef and other animal-based protein foods, enjoy them as part of a diet rich in lots of plants. In other words, include beef as part of a plant-based diet, which I define as the following: An eating pattern that focuses on foods primarily from plants, including fruits and vegetables, nuts, seeds, oils, whole grains, legumes, and beans. Plant-based doesn't necessarily mean you have to be a vegetarian or vegan or never eat meat or dairy. Rather, you are choosing more of your foods from plant sources.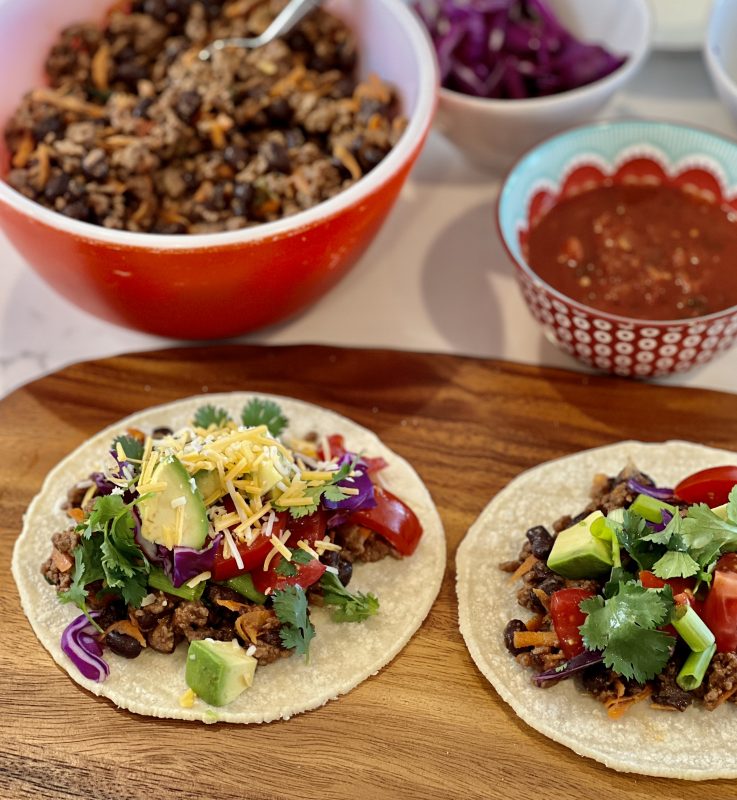 Although there are more than 38 cuts of beef that meet the USDA guidelines for lean, I tend to use lean ground beef (93% lean) the most. Other popular cuts of lean meat include Top Sirloin, Tenderloin, Strip Steak, and Flank Steak.
The recipe is flexible. You could use any favorite bean, spice things up with a more fiery salsa, pick and choose your favorite toppings, and use a crunchy taco shell or soft corn tortilla. Or … you could serve the filling over rice or a crispy green salad.

Beef & Bean Tacos
Nutrition Information
Serving size:

2 tacos

Calories:

325
Fat:

11.5g

Saturated fat:

4g

Carbohydrates:

30g

Sodium:

355mg

Fiber:

7g

Protein:

25g
One 3 ounce serving of lean beef has 10 essential nutrients in just about 170 calories, including zinc and selenium (important for immune health), protein, iron, and vitamins B6 and B12, riboflavin, choline, and phosphorous. 93% lean ground beef is lower in calories, fat, saturated fat and sodium and higher in high-quality protein than meat substitutes. Oh, and this recipe has 7 grams of fiber, which makes me (and my microbiome) very happy!
Ingredients
1 pound 93% lean ground beef
2 teaspoons ground cumin
1 teaspoon chipotle chili powder or chili powder
12 taco shells or soft corn tortillas
One 15½-ounce can black beans, drained and rinsed
1 medium carrot, peeled and shredded on the large holes of a box grater (about ½ cup)
⅔ cup salsa
½ cup chopped fresh cilantro, optional (or more, if you love it)
½ cup shredded reduced-fat Cheddar cheese
Topping options: Cilantro, fresh mint, shredded cheese, diced tomato, shredded cabbage, diced or sliced avocado, sliced green onion, plain Greek yogurt
Instructions
Heat the oven to 350°F.
Place a large nonstick skillet over medium-high heat. Add the meat, cumin, and chili powder, and cook, stirring frequently and breaking up the large pieces, until no longer pink, about 5 minutes. (If there is excess fat in the pan, drain it.)
While the meat cooks, bake the taco shells according to package directions. When done, remove from the oven and set aside.
When the meat is done, add the beans, carrot, salsa, cilantro, as desired, and cheese and stir to combine. Cook until the cheese melts and the mixture is heated through, 1 to 2 minutes.
Stuff into taco shells or arrange over soft (heated) corn tortillas. Set out your favorite toppings, so everyone at your table can customize their tacos.
Notes
The recipe yields 4 cups of taco filling, so use ⅓ cup filling per taco.
Let me know if try this recipe or if yo've been making the Meal Makeover Mom version!