The 2020 – 2025 U.S. Dietary Guidelines for Americans recommends adults of legal drinking age choose not to drink or to drink in moderation by limiting alcohol consumption to one "standard drink" a day or less for women and no more than two drinks a day for men. But how do you know how much you're actually drinking when your wine glass is the size of a goblet and your restaurant waiter keeps refilling it or you're at a party and you grab for one of those trendy canned cocktails or ready-to-drink beverages? Registered dietitian, Kathleen Zelman joins me on the show this week to pour over some interesting facts about alcohol, how it can impact your health, and to share an online calculator aimed at helping  adults track their consumption amounts.
Click the PLAY button above to listen to the show.
Love the LHT podcast?
Subscribe on Apple Podcasts and post a review
Subscribe on Stitcher and post a review
Are you curious about the impact of beer, wine, and spirits on your health and longevity? Wondering how to incorporate the latest guidelines on moderate alcohol consumption into your life and calculate the number of "standard drinks" you consume on any given day?" My guest this week is here with all the answers. Kathleen Zelman is a food, nutrition, and media communications consultant, co-host of the new podcast, True Health Revealed, and owner of No Nonsense Nutrition. Kathleen helped launch WebMD and spent 17 years as their Director of Nutrition. Kathleen has received many awards throughout her career, including the prestigious Lenna Frances Cooper Memorial Award from the Academy of Nutrition and Dietetics in recognition of her distinguished career and remarkable contributions to the dietetics profession. She's a consultant for the Distilled Spirits Council, so she's well versed on alcohol's role in society, how to enjoy and consume it in moderation, and the importance of understanding exactly how much  alcohol is in the beverages that you drink.
[Tweet "Tune into this week's EAT, DRINK, LIVE LONGER #podcast to learn about alcohol and its impact on health; what it means to drink in moderation; and how to calculate the number of "standard drinks" in wine, beer, spirits, and canned cocktails. Guest: @kzelmanrd #ThinkStandardDrinks]
The infographic below illustrates how one 12-ounce glass of beer, one 5-ounce glass of wine, and 1.5 ounces of 80-proof spirits have the same amount of alcohol and are considered a "standard drink." But how do canned cocktails and ready-to-drink alcohol beverages compare? You may be surprised.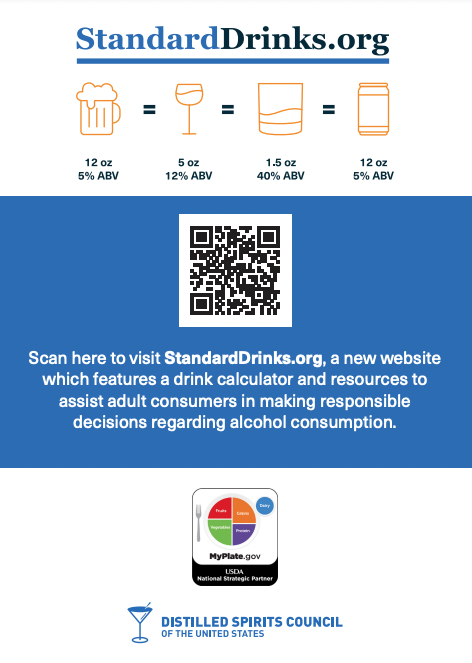 Check out the convenient QR Code. Scan it and it will take you directly to the online Drink Equivalent Calculator.
Here is the Zero Proof Pomegranate Winter Spiced Cocktail recipe that I talked about on the show.
1 cup 100% pomegranate Juice
1/2 cup orange juice
3 whole cloves
1 star anise
1 cinnamon stick
Sparkling water, optional
Garnish: Orange slices, fresh rosemary sprig
1. Place pomegranate juice, orange juice, cloves, star anise, and cinnamon stick in a small saucepan over medium-high heat. Bring to a low boil. Lower the heat and simmer until flavors meld, about 15 minutes.
2. Remove from heat, set aside, and cool. Remove cloves, star anise, and cinnamon stick. Fill 2 glasses with ice. Pour in the juice mixture and top with sparkling water as desired. Garnish each glass with an orange slice and a sprig of rosemary.
Show highlights:
Kathleen is excited about her new podcast that launched in January! She and her co-host, Dr. Tom Rifai, host the show on behalf of the True Health Initiative, a non-profit organization that aims to get credible health information to consumers, translate science, and give consumers evidence-based facts.
What does moderation mean for men and women, and how does that translate into beer, wine, and spirits?
To find out what one drink per day looks like, go to www.standarddrinks.org for their easy-to-use calculator. One standard drink is 1.5 ounces of 80-proof spirits (40% alcohol by volume): one 12-ounce bottle of regular beer (5% alcohol by volume); or 5 ounces of wine (12% ABV).
An exercise to do at home is to measure 5 ounces of wine and pour it into different glasses to see what a standard drink looks like.
Become aware of what you are drinking and what the alcohol content is. Most wines have 12% alcohol by volume (ABV), but some have much higher alcohol content … up ro 15 or 16%.
Most ready-to-drink canned cocktails are 12 ounces and have 5% alcohol by volume. However, some brands could contain up to 8 or 10% alcohol, so make sure you know how concentrated they are before drinking them. The information is on the label.
Get to know how much you are drinking using the standard drinks calculator. Kathleen explains how it works.
Having too many drinks in a row or drinking too quickly is considered binge drinking. It is always best to moderate your drinking and consume alcohol with food.
Why does one type of alcohol impact some people more than another?
Kathleen discusses the potential health benefits of drinking in moderation, the truth behind the French Paradox, and how drinking too much alcohol can sabotage your health.
Kathleen lists the people who health experts advise not to drink alcohol.
Some tips to help you enjoy alcohol, reap the health benefits and make your drink last longer.
A standard drink contains roughly 150 calories. Calories can add up quickly, so Kathleen recommends extending your drink with low-calorie mixers such as club soda … and she advises against using a straw!
Kathleen enjoys a tall vodka soda with a splash of cranberry and a wedge of lime. Her latest favorite is the Aperol Spritz made with a serving of Prosecco, lots of ice, a splash of Aperol, and a wedge of lime.
Kathleen and I share some recipes for mocktails (AKA Zero Proof Cocktails). They are a good option for a "dry January" or taking a break from alcohol.
Blue zones are hot spots in various places in the world where people live particularly long and healthy lives. One of the common denominators in all the blue zones is moderate alcohol consumption. "Wine at 5."
Kathleen talks about the Distilled Spirits Council of the U.S. (DISCUS) and explains what you will find on the DISCUS website.
Resources:
The standard drinks calculator 
The Distilled Spirits Council (DISCUS) website is called Standard Drinks.Org
Connect with Liz: 
My website: www.lizshealthytable.comMy email: [email protected]