I've never been much of a baker. When it comes to dessert, I prefer fast and easy, and that's exactly what I've delivered with this simple recipe for Crunchy Dark Chocolate, Cherry & Pecan Clusters made with whole grain, flaky cereal. Yes, that's a mouthful, and a delicious one at that.
For this recipe, I use dark chocolate — 70% cacao or higher — because it's lower in saturated fat and sugar than milk chocolate and linked to heart and brain health benefits. Chocolate contains antioxidants called flavanols, fiber, and various nutrients, and when consumed in small amounts (1 ounce daily) can bring good nutrition to the table.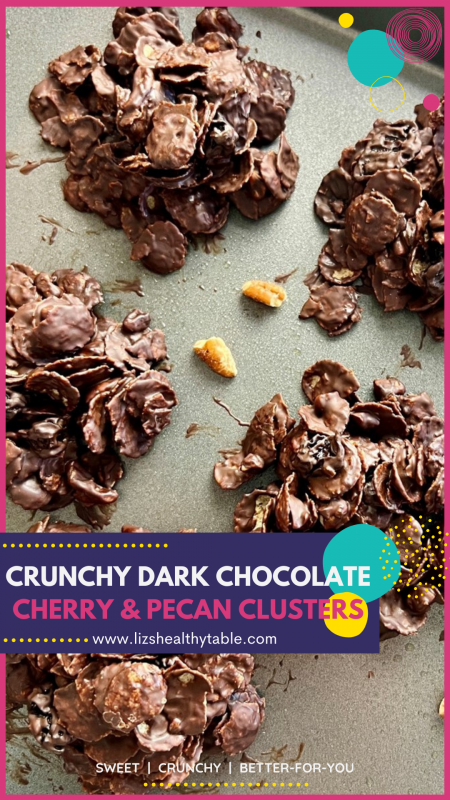 Want to learn more about dark chocolate? Listen to this week's EAT, DRINK, LIVE LONGER podcast:
Click the PLAY button above to listen to the show.
Crunchy Dark Chocolate, Cherry & Pecan Clusters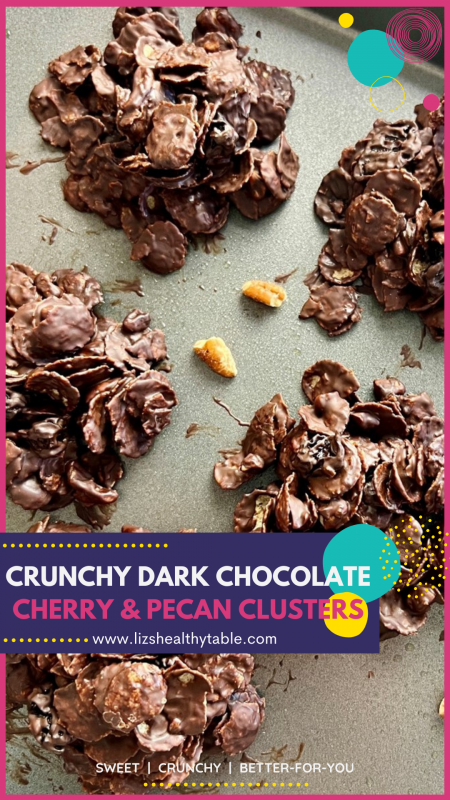 I love a dessert that satisfies my sweet tooth (I have a big one), but I also appreciate when it delivers on good nutrition. For this easy-to-make treat, I use dark chocolate, a whole grain flaked cereal, chopped pecans, and dried tart cherries. Stick to one crunchy if you can; eat it slowly so you can enjoy every yummy bite.
Ingredients
1 cup dark chocolate chips (70% cacao or higher), about 5 ounces
2 cups flaked cereal (cornflakes or any other favorite)
¼ cup chopped pecans
¼ cup dried unsweetened tart dried cherries
Instructions
Line a baking sheet or large plate or platter with parchment paper or spray with nonstick cooking spray. Set aside.
Place the chocolate chips in a microwave-safe bowl. Heat in the microwave in 30-second increments, stirring as you go, until the chips are melted.
Stir in the cereal until well coated. Add the pecans and cherries and stir until coated.
Use two spoons to drop 8 to 10 heaping clusters of the mixture onto the prepared baking sheet or platter. Leave 1 inch between. Chill in the refrigerator until the clusters harden, about 30 minutes. Store in an air-tight container in the refrigerator or at room temperature.