Easy, delicious and nutritious is the magic formula to a winning dinner, and that's what this recipe for Spicy Chickpea Tacos with Arugula delivers. Every meatless serving has an impressive 13 grams of fiber (the recommended daily amount is 28 to 39 grams depending on your age, gender, and activity level), and they provide a tasty canvas for all sorts of toppings—avocado, plain Greek yogurt, shredded red cabbage, reduced-fat shredded cheese.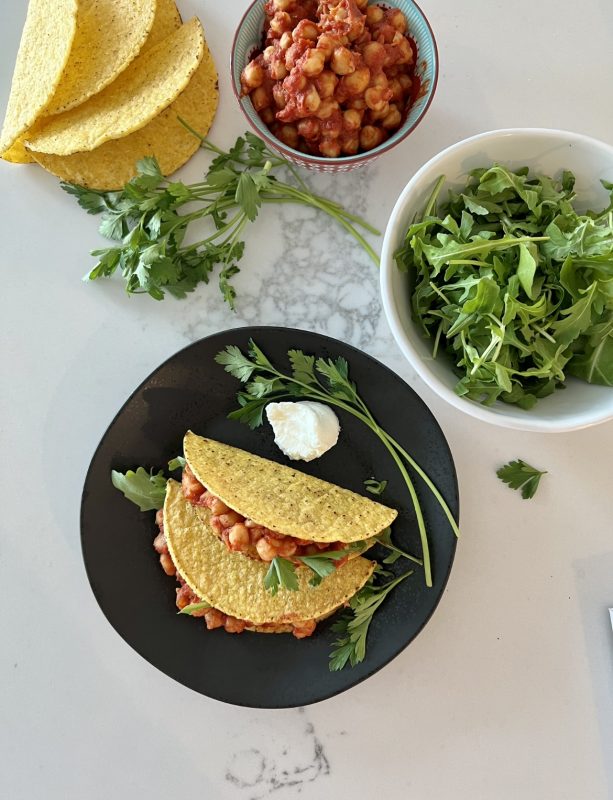 This recipe comes straight from the pages of the new book:  The Everything Easy Pre-Diabetes Cookbook, written by my colleague, Lauren Harris-Pincus, MS, RDN and designed to help people manage and reverse this condition. (Pre-diabetes impacts one out of every three Americans, so this is an important book with a potentially huge impact on improving lives.) I flipped through the 200 recipes in the book and chose this one for spicy chickpea tacos to share with all of you! (To learn more about the benefits of beans, including chickpeas, check out CannedBeans.org. It's a terrific resource.)
Listen to my podcast interview with Lauren about pre-diabetes:
Click the PLAY button above to listen to the show.
Love the LHT podcast?
Subscribe on Apple Podcasts and post a review
Subscribe on Stitcher and post a review
Spicy Chickpea Tacos with Arugula
Nutrition Information
Serving size:

2 tacos

Calories:

250
Fat:

9g

Saturated fat:

1.5g

Carbohydrates:

40g

Sugar:

7g

Sodium:

600mg

Fiber:

13g

Protein:

9g
As Lauren shares in her book: These may be the tastiest tacos ever. With this recipe, expect a thick and spicy sauce dotted with meaty garbanzos, the peppery cool of arugula, and the crunchy bite of corn taco shells. Spoon extra filling over brown rice if you run short of taco shells. When I made this recipe, I topped my tacos with plain Greek yogurt. Other topping options that I'd enjoy include avocado, reduced-fat shredded cheese, and shredded red cabbage. Recipe courtesy:
The Everything Easy Pre-Diabetes Cookbook
Ingredients
Two 15-ounce cans low-sodium chickpeas, drained and rinsed
¼ cup tomato paste
One 8-ounce can tomato sauce
1 tablespoon apple cider vinegar
1 tablespoon light brown sugar or brown sugar-style erythritol
2 teaspoons chili powder
1 tablespoon Dijon mustard
1 teaspoon onion powder
½ teaspoon garlic powder
¼ teaspoon ground black pepper
⅛ teaspoon red pepper flakes
12 hard taco shells
3 cups baby arugula
¼ cup chopped fresh cilantro (or parsley)
Instructions
In a medium saucepan, add all ingredients except taco shells, arugula, and cilantro and stir well to combine,
Place the pan over medium heat and simmer, stirring frequently, for 10 minutes. Remove from heat.
Fill taco shells with arugula and spoon bean mixture over top. Garnish with cilantro and serve.
To hear Lauren on my podcast, head over to my
EAT, DRINK, LIVE LONGER
podcast page.