Welcome to my new podcast, EAT, DRINK, LIVE LONGER! This show is all about living a longer and better life, feeling vibrant and energized, and radiating good health from the inside out. On each episode, I'll be sharing simple ways to change the way we eat and drink … all with the goal of adding years to our lives and better health to those years. I look forward to being your tour guide on this delicious journey toward the Fountain of Youth.
Click the PLAY button above to listen to the show.
Love the LHT podcast?
Subscribe on Apple Podcasts and post a review
Subscribe on Stitcher and post a review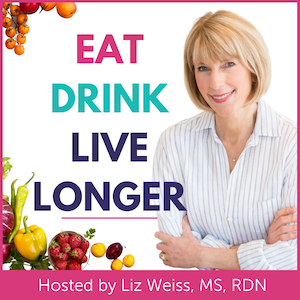 Show Highlights:
A little history about my podcasts:

In 2008, I launched Cooking with the Moms, a podcast focused on family nutrition.
From 2017-2021, Liz's Healthy Table ran with 110 episodes!
Now, in 2022, I'm launching Eat, Drink, Live Longer, which will take us down new roads related to longevity.

How my website hub will still be www.lizshealthytable.com

The blog takes a new spin with nourishing recipes with a grown-up focus.
The website includes information about my in-person and virtual speaking engagements, my cookbooks and freebies page, and links to my social media channels (which includes my new foray into the world of TikTok).

How my cooking life has changed now that my boys are grown and out of the house and I'm more interested than ever in good nutrition as it relates to lifelong health and longevity
What you can expect on Eat, Drink, Live Longer:

With two shows monthly, one of them will feature a guest and important topics like pre-diabetes, inflammation, the microbiome, and stress that relate to the quality and health of our lives.
The other show each month will be a "Longevity Kitchen" episode where I explore topics like stocking your fridge/pantry, and recipes with superfoods like chickpeas, salmon, kale, and berries.
I will also focus on the world's "Blue Zones," where people live the longest thanks to lifestyle habits like daily movement, stress reduction, a plant-based diet, and more. (You can find out more about the Blue Zones in Ep. 99 of Liz's Healthy Table.)
Other Resources:
To be part of the Podcast Posse on Facebook, click here. 
Have a question about the show or a suggestion for a future show? Ask away by posting a comment below.