In 2020, Linfei Chen, a then senior at Boston University, was a virtual intern with me. What follows is her story about the first time we met in person.
After several months working as an intern via Zoom, I finally had a chance to meet my preceptor, a registered dietitian by the name of Liz Weiss, in person for the first time in Boston. I was excited and a little nervous when she invited me to her home for dinner. Not only because I finally got to see the real real boss, but this was also my first time visiting a traditional American family. For a Chinese graduate looking for a job in the US, this dinner might determine my future career.
Fingers crossed. On the scheduled day, I came into her home with a bouquet of roses, and she gave me a hearty, warm welcome. We had a friendly exchange about Chinese and American culture at the dining table where she prepared a big feast. Everything went so well until I dipped a half-bitten chip into a communal salsa cup. The atmosphere changed abruptly. Liz looked at me with her eyes wide open. She asked, "Did you just double dip your chip?" I panicked. I replied, "yes?" trying to get a clarification on this new phrase "double dip."  Unfortunately, it sounded to her as if I meant, "what's the big deal?!"
Trying to separate from the embarrassing situation and understand what had just happened, I excused myself to the bathroom. I quickly googled, "why is double dipping such a sin?" Before I found the actual definition, some terrifying headlines hit me hard in the face. Almost all of them leaned clearly to one side — double dipping is GROSS! The internet harshly criticized double dipping as a "nasty habit" and "disrespectful." Frightened that I was now a criminal on the loose hiding in the victim's bathroom, I wondered what I should do next.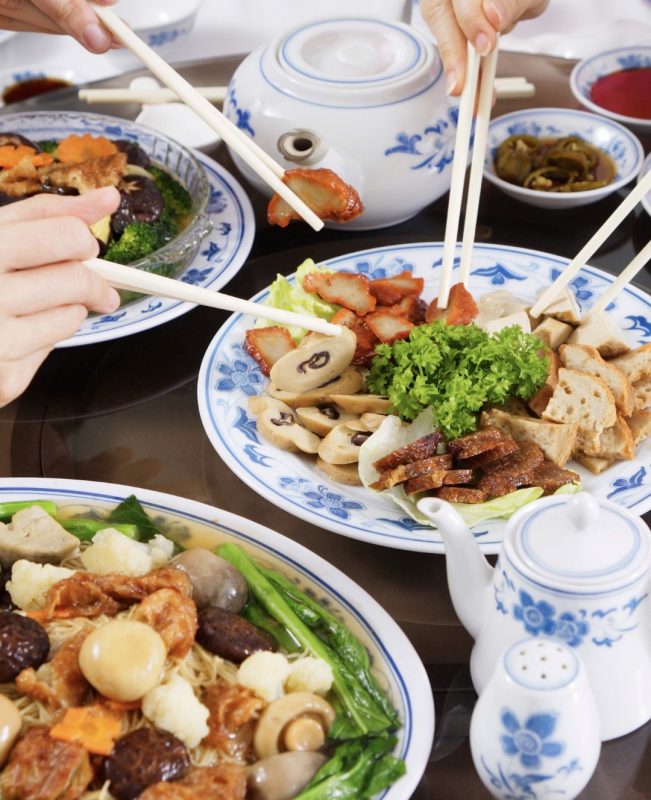 I didn't mean to be disrespectful when I double dipped my chip. The culture I grew up in doesn't have a taboo against double dipping. In most circumstances in China, sharing food using personal chopsticks, double dipping, and giving our close ones a bite of our food are ways to show love and intimacy. It's common to share food between friends and family, and it's okay to use personal chopsticks (that have touched your mouth) to get food from a communal dish. It might not always be true in some circumstances such as eating with strangers or at formal settings, but double-dipping doesn't make a dramatic impression. This Chinese convention, however, is viewed the opposite in western countries. That evening, I was sure my career might take a different turn…for the worse!
On my way home, I called my mom and told her about this awkward event.
"What was the big deal?" she asked as she slurped her breakfast noodles, since China is 12 hours ahead of Boston.
"It's an American taboo! I violated their social norms!" I raised my voice as I doubted that she had paid attention to what I said.
"Yep, yep, I got it. I mean, why is it such a big deal?"


(If you've never seen the Double Dipping skit from Seinfeld, be sure to check it out. Read more about it in Liz's response below.)
My mom's question led me to do some research. I continued to google health websites for more information. Quoting from Seinfeld, a popular sitcom on American television: "Double dipping is like putting your whole mouth right in the dip." This analogy is very appropriate, since double dipping is seen in the United States as a health or a food safety issue rather than a cultural taboo. Research has found that the number of bacteria in the dip increases significantly after dipping the same food twice. Illnesses and diseases such as the flu, infections, and the coronavirus could be transmitted between people through a saliva-contaminated dip. In other words, I could kill my boss by double dipping if I happened to test positive!
Similarly, using personal chopsticks to get food from a serving dish can also put others' health in danger. In fact, since the COVID pandemic, China has been advocating for single serving foods and separating serving and eating utensils to prevent the virus from spreading. The government also advertised that this behavior would not diminish the strength of the family bond as people express their concern for their family members' health and safety. Would this public health campaign change Chinese chopsticks culture? That is yet to be determined. But it raises the awareness of potential health issues that might occur through practices that cause saliva contamination.
As I drafted this reflective essay, my mom called and told me that the Chinese government was distributing serving chopsticks and serving spoons to every household to prevent COVID transmission. I was glad to hear that China was trying to stop double dipping, a practice that challenges safety and health and is a big deal for everyone on Earth. I hope whoever reads this article will never double dip his or her chips. At least not in front of his or her boss.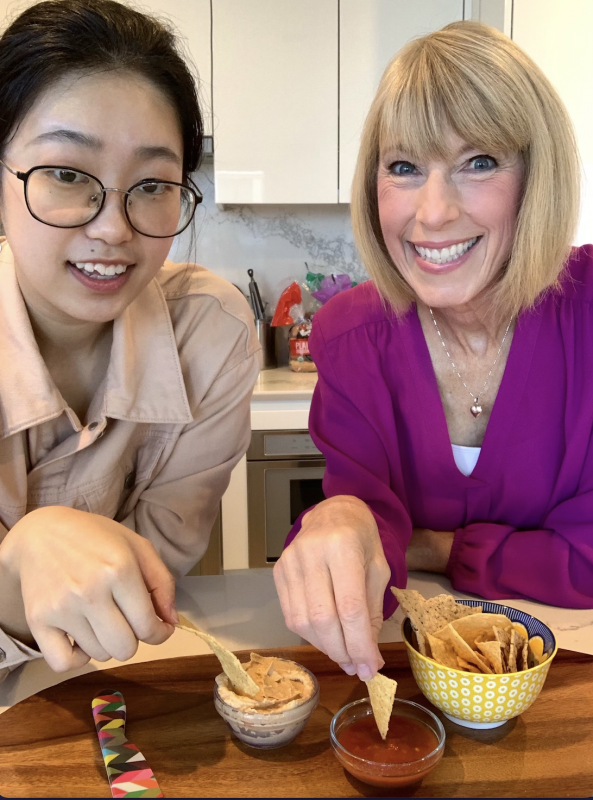 Epilogue: Liz's response to my essay
Hi Linfei,

I received your email and read your essay. It is incredible! You know, it really did not upset me that you double dipped. I thought it was cute, because obviously it's something that separates us culturally. There's a very funny skit in the TV show, Seinfeld, about double dipping. As someone who grew up as a neurotic Jewish person in New York, I can relate to the show (which is about a lot of neurotic people) and that skit. It makes your story even funnier to me. And I do find it very interesting that in China they're starting to discourage the behavior. Makes sense.

You are amazing. I love the story. Keep up the great work!

Best regards, Liz
The world is a big place, and what's acceptable in one culture may be taboo in another. Have you ever had a similar experience?