Getting kids excited about eating fruits and vegetables starts with exposure, and exposure often starts in the kitchen. On this week's show, my guest is cookbook author, Jenny Chandler whose newest cookbook, Green Kids Cook, gives kids the skills and confidence to cook plant-focused meals that nourish the body … and the planet. Teaching kids how to cook delicious, wholesome foods simply and sustainably is the focus of this week's podcast, so bring your appetites, because the recipes we are about to share are sure to make you hungry. 
Jenny Chandler is a cooking instructor and cookbook author who lives in Bristol, England. Her latest cookbook, Green Kids Cook, encourages kids to cook and eat food that's good for their bodies and good for the planet. The book is aimed at children between the ages of 7 and 14 but is suitable for people of all ages. Green Kids Cook is filled with recipes, crafts, how-tos, tips for reducing food waste, and so much more.
On today's show, Jenny and I share some of the plant-forward recipes from the book, including Green Pea and Coconut Soup, Seeded Oat Bread, and a berry dessert. Of course, we also talk about strategies for getting kids to cook, appreciate, love, and eat more fruits and vegetables.
Cookbook Giveaway:
We're giving away a copy of Green Kids Cook: Simple, Delicious Recipes & Top Tips (Pavilion Books) to one lucky U.S. winner. Leave a comment in the comments section below telling me about the recipe or recipes your kids/grandkids love to make most and/or why you want to win this book. I'll pick the winner at random on October 20th at noon. 
Check out Jenny's Green Pea and Coconut Soup. I made it the other night, and it's definitely easy enough for kids to make on their own … plus, it's seriously delicious! The ginger gives it a lovely kick, and the lime zest and juice bring the flavors together beautifully.
Green Pea and Coconut Soup (Makes 4 Servings)
Quick to prepare, particularly if you're using frozen peas; if you're podding fresh peas, you can make a tasty vegetable stock by boiling the pods with a few onion skins. Be sure to use a jug/smoothie blender to whizz the soup, rather than a food processor, so that the soup is silky smooth.
2 tbsp coconut or cold-pressed rapeseed oil
5 spring onions, sliced
2 garlic cloves, crushed or grated
3-cm/1-in piece of fresh ginger, finely chopped or grated ­­
small bunch of fresh coriander, stalks chopped and leaves separated
600g/5 cups podded peas (fresh or frozen)
500ml/2 cups vegetable stock (using a good stock cube is fine)
1 x 400g/14oz can coconut milk – shake the unopened can well
zest and juice of 1 unwaxed lime salt and pepper
a splash of extra-virgin olive oil
1. Heat the oil in large saucepan over a medium heat. Add the spring onions, garlic, ginger and 1 tbsp chopped coriander stalks and gently fry for about 5 minutes until you can really smell the ginger and garlic.
2. Add the peas (they're fine straight from the freezer if you're using frozen) and the vegetable stock to the pan. Cook the peas until tender: frozen peas will take about 2 minutes; fresh peas should be ready in 5 minutes.
3. Take the pan off the heat and remove a spoonful of peas to use as a garnish later.
4. Transfer the mixture to a blender and whizz until smooth, then return to the saucepan.
5. Pour in nearly all of the coconut milk, leaving a spoonful or so in the bottom of the can, and add most of the coriander leaves, keeping a few back to garnish the soup when you serve it.
6. Reheat the soup gently until warmed through, then add the lime zest and juice and season with a little salt and black pepper. Serve, topped with the reserved peas, a splash of the coconut milk from the can, a few drizzles of olive oil and the remaining coriander leaves.
Extracted from: Green Kids Cook: Simple, delicious recipes and top tips by Jenny Chandler (Pavilion Books). Image by Kirstie Young.
Every recipe in the book comes complete with step-by-step photos of kids cooking. So cute!
Show Highlights:
Get to know Jenny's life with her teenage daughter, a husband who makes wildlife films, and city life in Bristol, England that's only a short walk to the countryside

Why Jenny is passionate about writing and teaching people to eat more healthfully and sustainably with regard for animal welfare

What it means to eat sustainably

Jenny's mission: to teach, inspire, and engage kids in cooking skills, so they become more adventurous eaters, especially with fruits and vegetables

How Jenny planned Friday "theme nights" with her husband and daughter during the COVID lockdown

How

Green Kids Cook

teaches kids to have fun in the kitchen, explore more fruits and vegetables, and learn more about where foods come from

How the book covers snacks and desserts but focuses on skills for cooking simple meals

Jenny's recipe for Green Pea and Coconut Soup, made with sautéed green onions, garlic, ginger, cilantro, frozen peas, and vegetable stock; after pureeing the mixture, add coconut milk and lime juice. (Good served cold or hot; and it's ready in 15 minutes!)

How to balance plant-forward meals for those who love meat

Jenny's tips for reducing food waste at home

Jenny's recipe for Seeded Oat Bread, made with rolled oats, yogurt, baking soda, various seeds, and molasses

A family favorite dessert recipe for Galette, made with fresh seasonal fruit and a simple pastry
Resources:
Jenny's Latest Book, Green Kids Cook
Jenny's website
Jenny on Instagram @jennychandlerUK
Jenny on Facebook
Jenny on Twitter @jennychandlerUK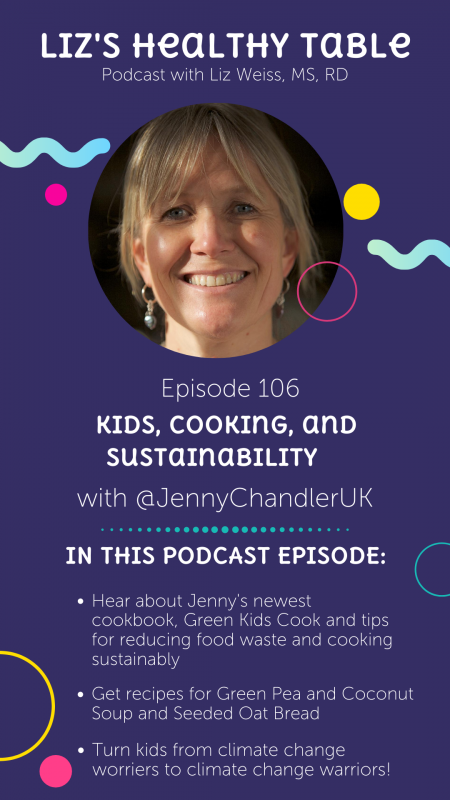 Liz's Links:
Author, Color, Cook, Eat! coloring book series
Website: Liz's Healthy Table
Listen to my Podcast
Read my Blog