Family dinner is about to get a whole lot more exciting and nourishing with a recipe for Roasted Pork Tenderloin with Chickpea Hummus, Herbed Sorghum, and Cumin-Honey Carrots. This easy-does-it dinner provides a powerful pairing of veggies, whole grains, and lean protein … and it's displayed on one beautiful serving platter.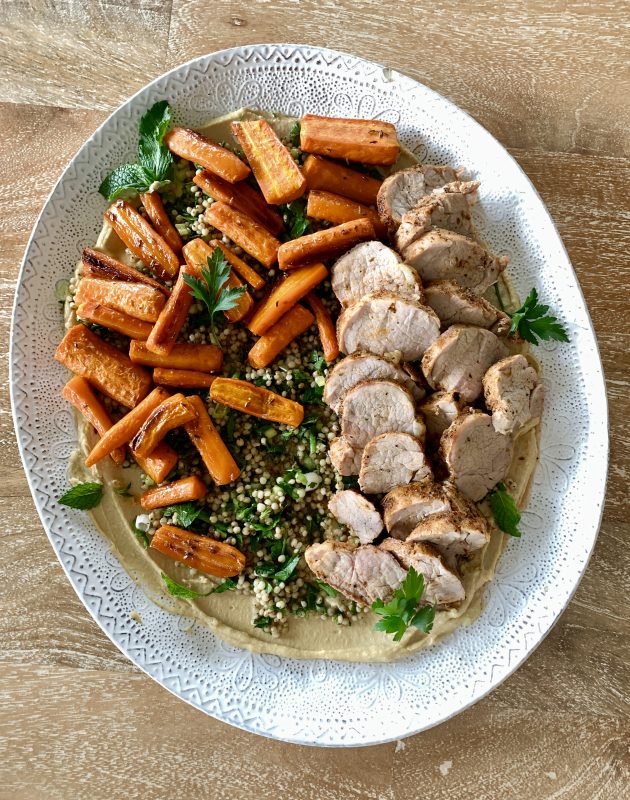 Serving dinner on  a big platter is pretty to look at, but it's also more fun for family members to eat, because they can serve themselves versus having the meal pre-plated for them. (For finicky eaters, I recommend de-constructing the recipe and serving everything on its own).
This roasted pork tenderloin recipe has it all: It's got lean protein from the spice-rubbed pork tenderloin; protein and fiber from the chickpea hummus (I used store bought, but you can certainly make from scratch); fiber and protein from the gluten-free sorghum; and vitamin A from the carrots. And it tastes sooooo yummy.
This recipe is flexible; there are lots of ways to modify it: You could choose from a variety of flavored hummus to change up the flavor (I'm partial to lemon dill), add chickpeas to the sorghum salad to amp up the protein and fiber, season the carrots with fresh or dried thyme instead of cumin seeds, add a handful of fresh cilantro to the salad, or use lime zest and juice vs. lemon.
I used pearled sorghum because it cooks faster than the whole grain … but it's not as high in fiber. It's a trade off. When cooked, pearled has a risotto-like texture while the whole grain is more "toothsome" (AKA a bit chewy).
Here I am in my Boston kitchen after teaching attendees of the Culinary Nutrition Conference how to prepare this dish.
For more information on Powerful Pairings, here are some helpful resources:
Sorghum Checkoff
Pork Checkoff
USA Pulses

Roasted Pork Tenderloin with Chickpea Hummus, Herbed Sorghum, and Cumin-Honey Carrots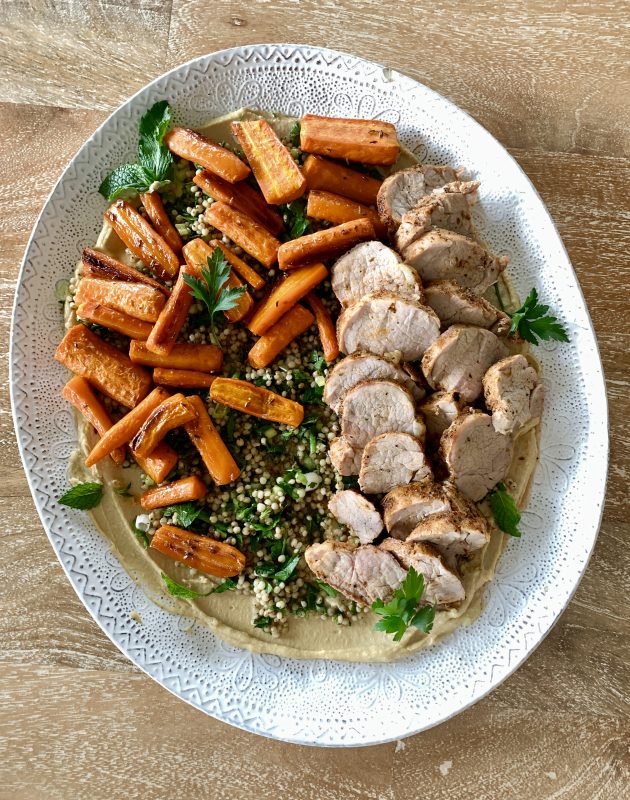 I created this recipe for the 4th annual
Culinary Nutrition Conference
. (I cooked it during a culinary demo for the 200 registered dietitians in attendance.) My session was sponsored by
Powerful Pairings
, which includes pork, pulses, and sorghum. They can easily be combined in snacks and meals to make them more nutritious and satisfying.
Ingredients
For Sorghum/Hummus Salad:
½ cup uncooked pearled sorghum (1⅓ cups cooked)
¼ tsp kosher salt
2 small green onions or 1 large, white and green parts thinly sliced
1 loosely packed cup flat leaf parsley (leaves and stems), roughly chopped
½ loosely packed cup fresh mint leaves, roughly chopped
Zest from 1 lemon
Juice from half a lemon (about 2 Tbsp)
1 Tbsp extra virgin olive oil
Kosher salt and black pepper
One 8-ounce container store bought chickpea hummus
For Pork:
1 pound pork tenderloin
½ tsp smoked paprika
½ tsp ground cumin
½ tsp dried oregano
½ tsp kosher salt
¼ tsp garlic powder
¼ tsp black pepper
1 Tbsp extra virgin olive oil
For Carrots:
1 pound carrots, peeled and cut into 2-inch pieces (thick pieces cut in half or quarters length-wise)
1 Tbsp extra virgin olive oil
2 tsp honey
1 tsp cumin seeds
½ tsp kosher salt
A few pinches black pepper
Instructions
To cook sorghum:
Bring 4 cups water and salt to a boil in a medium-size saucepan. Add sorghum to saucepan, return water to a low boil, and cook, uncovered, until sorghum is soft, 40-45 minutes. Stir occasionally. If there is any water remaining after cooking, drain the sorghum. Transfer to a medium-size mixing bowl when finished cooking.
Place green onion, parsley, mint, half the lemon zest, lemon juice, olive oil, and salt and pepper to taste in with sorghum and stir to combine. Season to taste with additional lemon zest, salt, and pepper. Set aside or refrigerate.
While pork cooks, spread hummus onto a large platter and smooth out with the back of a large spoon or rubber spatula. Spoon sorghum salad evenly over hummus.
To roast carrots and pork:
Preheat oven to 400°F. Line a rimmed baking sheet with aluminum foil and set aside.
Place a large piece of aluminum foil on a cutting board and set pork on top. Trim away visible fat. In a small bowl, combine smoked paprika, cumin, oregano, salt, garlic power, and black pepper. Stir in olive oil. Use a spoon to spread and rub spice/olive oil mixture all over pork. Set aside.
Place carrots, olive oil, honey, cumin seeds, salt and pepper in a medium-size mixing bowl and stir until carrots are well coated with oil and seasonings. Arrange on prepared baking sheet in single layer and roast 12 minutes. Remove from oven, turn carrots, and move aside to make room for pork. Place pork on baking sheet and return to oven. (Discard aluminum foil and place a fresh piece on cutting board.)
Roast for 20 to 25 more minutes, until carrots are tender and an instant-read thermometer inserted into center of meat registers 145°. Transfer cooked tenderloin to foil-topped cutting board, cover loosely with foil and let rest for 10 minutes. Carefully transfer any juices to a shallow bowl; set foil aside. Slice tenderloin into ½-inch-thick slices and transfer (along with additional juices) to the bowl. Cover loosely with foil to keep warm.
To serve, arrange cooked carrots and pork slices over sorghum and hummus salad. Garnish with additional parsley and mint as desired. (Transfer juices to a small bowl and serve with a small spoon on the side.)
Let me know if you make the recipe. I'd love to hear what you think of it.