Nothing beats biting into a perfectly ripe peach, so juicy you eat it over the kitchen sink lest the juices drip everywhere, so sweet you can't believe your own taste buds. When I have ripe peaches on hand, I work them into almost every meal … and snack, including this naturally sweet and refreshing Peach and Banana Creamsicle Smoothie.
Peaches are in season June through September. In the U.S., most are grown in California, but these golden orbs also grow in Georgia (the Peach State!), New Jersey, and South Carolina.
One peach has 50 calories and 2 grams of fiber. Like plums and nectarines, peaches are a stone fruit; they have a pit in the center, surrounded by the fleshy fruit. There are two types of peaches: Freestone peaches, so named because of how easily the pit falls out when the peach is sliced open, are sold primarily at supermarkets and farmers' markets. They're great for snacking or adding to fruit salads and crisps, smoothies, parfaits, green salads, and salsas. The other type is clingstone, best for canning and freezing. They are sweeter and firmer, and the pit clings tightly to the fruit.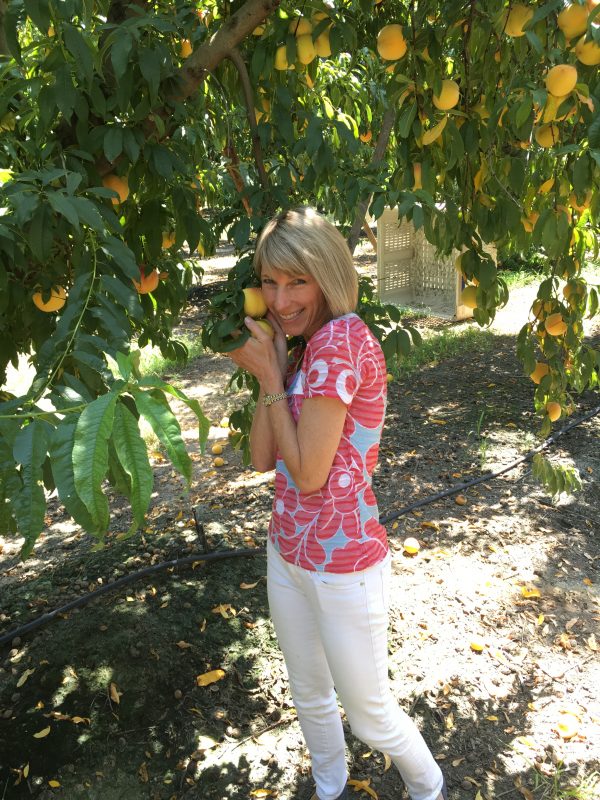 Back in 2016, I traveled to Sacramento with a group of fellow dietitians compliments of Pacific Coast Producers for the Heart of California Orchard & Field Tour. I'm a city slicker at heart, so walking through fragrant peach orchards and a nearby canning facility was quite the adventure. I tasted just-picked peaches and learned that 98% of the canned peaches sold in the U.S. come from California. Canned peaches are a versatile pantry staple, so you can always turn to canned (or frozen!) peaches if there are no fresh ones available.
Peaches are picked when ripe. They are fragrant (almost perfumy), have a little "give" when gently squeezed, and are slightly wrinkled at the base of the stem. The next time you have a bowl of perfect peaches sitting on your kitchen counter, grab one for a snack or use one in this peachy keen smoothie.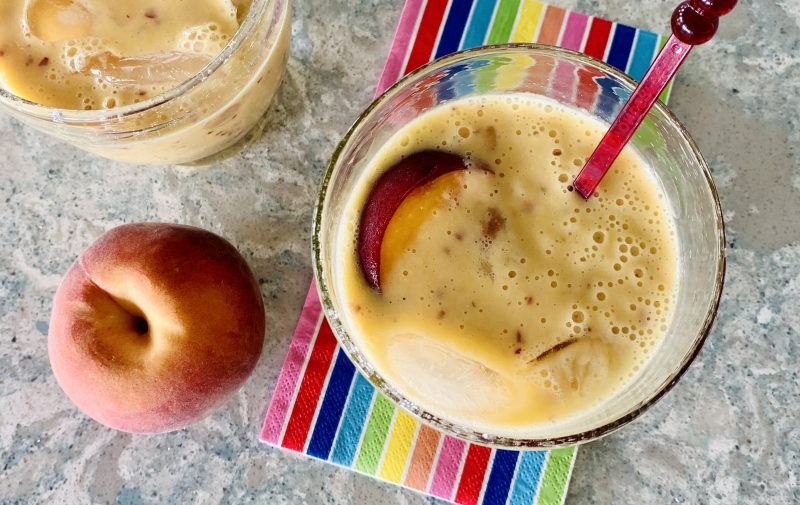 Peach and Banana Creamsicle Smoothie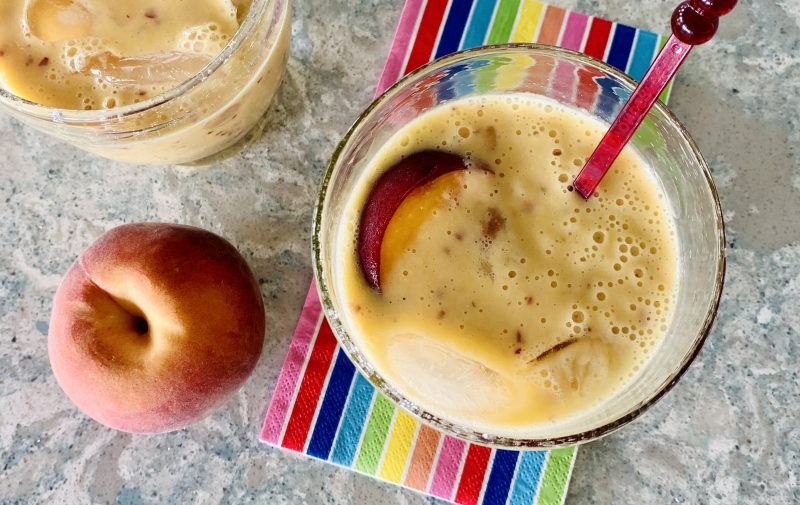 I love snacking on summer's freshest peaches, but I like to use them in meals and snacks too. This smoothie is super easy to make, and it's naturally sweet. Zero added sugar. Use up very ripe peaches in this recipe.
Ingredients
¾ cup 100% orange juice
⅓ cup plain Greek yogurt (full fat or reduced fat)
1 ripe peach, pitted and sliced
1 ripe medium banana, sliced and frozen
¼ teaspoon vanilla extract
Ice
Instructions
Place the orange juice, yogurt, peach, banana, and vanilla extract in a blender and blend until smooth. Place a few ice cubes in two drinking glasses. Pour the smoothie over the ice and serve.
If you want to turn this into a smoothie bowl, use half the amount of juice.