On today's show, I'm joined by Sadé Meeks, MS, RD to discuss the evolution of African American cuisine in the U.S.; the foods that define this creative cuisine; the vegetables and staple crops that have been an integral part of the African American table (hint: Okra, sweet potatoes, kale, and corn.); how health professionals can honor the traditional food habits of African Americans while emphasizing nutrition; and how African American cuisine continues to evolve.
Love the LHT podcast?
Subscribe on Apple Podcasts and post a review
Subscribe on Stitcher and post a review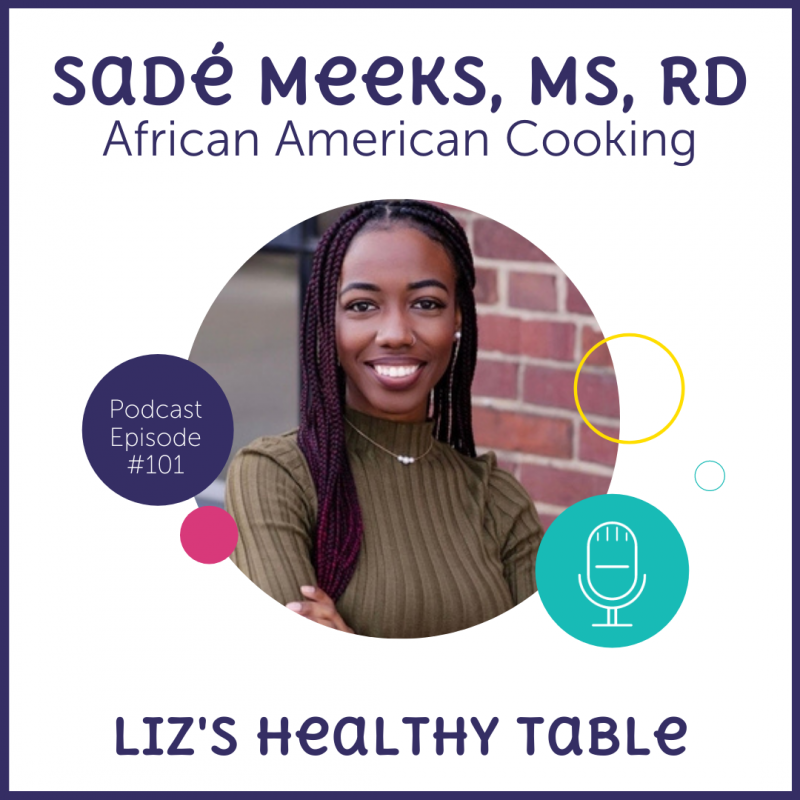 My guest is Sadé Meeks, MS, RD, a food activist and registered dietitian who was born and raised in Mississippi. She is the founder of GRITS (Growing Resilience in the South) with the mission to improve the health and well-being of communities through increased awareness of nutrition, food history, and culture.
On the show, Sadé Meeks shares the history of African American cooking, traditional foods of the enslaved and how many of those foodways continue today, and she explains how to make small changes to traditional recipes to honor ingredients and flavors while reducing saturated fat and sodium. Together, we also talk about a few recipes you'll definitely want to try including Smoky Collards and Shrimp and Grits.
Learn more about GRITS and its mission to equip individuals and communities with the tools to reconnect to traditional foods, improve food literacy skills, and bridge the gap between culture and nutrition.
I "met" Sadé virtually during a 9-week on-line course, A Taste of Culinary Nutrition from Around the Globe, sponsored by the Culinary Nutrition Collaborative.
Here is a link to the Bob's Red Mill Yellow Corn Grits (also known as polenta)
Collar greens are hearty … and healthy. Like other dark leafy greens, collards contain vitamins A, C, K … and even calcium. A big pot of collard greens stewed until tender is the most popular way to enjoy them, but you can also shred and add to salads; steam; or use as gluten-free wraps.
Show Highlights
Get to know Sadé, her big Mississippi family, and why she pursued degrees in dietetics and food science
How GRITS helps bridge the gap between nutrition and culture
The GRITS podcast
The need for cultural competence in nutrition and food science
Highlights of African-American cuisine and how enslaved people brought traditional foods and cooking methods to America
How the diets of enslaved people differed according to the regions they originally inhabited
How true African-American cuisine relies on plant-based meals, one-pot meals, and the pairing of a starch, sauce, and protein, like Shrimp and Grits
How the history of fried foods and pork developed in the African-American community as a matter of necessity
The story of soul food as an affirmation of the resourcefulness of African Americans and their meager rations
How Sadé learned about cooking as she grew up
The importance of making small changes to traditional diets, especially in seasonings and cooking methods
Sadé's Smoky Collards, made with onion, garlic, vegetable stock, smoked paprika, seasoned salt, cayenne pepper, and a touch of brown sugar
Shrimp and Grits: how the grits are cooked in chicken stock and milk with added salt, pepper, butter, and cheddar cheese; the shrimp is seasoned with Cajun seasoning and paprika, and baby spinach is added at the end
How Sadé combines her favorite cheesecake with Red Velvet Cake for a delectable dessert
Resources:
Grow with the Flow podcast
Find Sadé on Instagram: @SadeMeekss
Connect with Liz Weiss:
Author, Color, Cook, Eat! coloring book series
Website: Liz's Healthy Table
Listen to my Podcast
Read my Blog
Liz's Podcast Posse on Facebook. Stop by and ask to JOIN!
Have a question about the show or a suggestion for a future show? Ask away by posting a comment below or joining my Podcast Posse
For other podcast episodes, check out:
SATISFY; Healthy Recipes That Hit the Spot with Mona Dolgov
A New Vision for Healthy Eating in 2021 with Maya Feller, MS, RD
The Power of Potatoes with Amy Myrdal Miller, MS, RDN