This semester, Jordan Ball, a nutrition graduate student at Boston University, is interning with me. What follows is part three of her three-part blog series on Meal Planning 101 and Meal Prepping for Beginners, where she is sharing her recipe for Mediterranean Chicken Meatball Power Bowls.
This recipe for Mediterranean Chicken Meatballs is one of my go-to meal prep favorites. I usually double it to use in power bowls (like the bowl below!) for myself and my fiancé during the week. We're both busy and enjoy an active lifestyle, so we're always looking for delicious, nutrient-dense meals that are easy to assemble.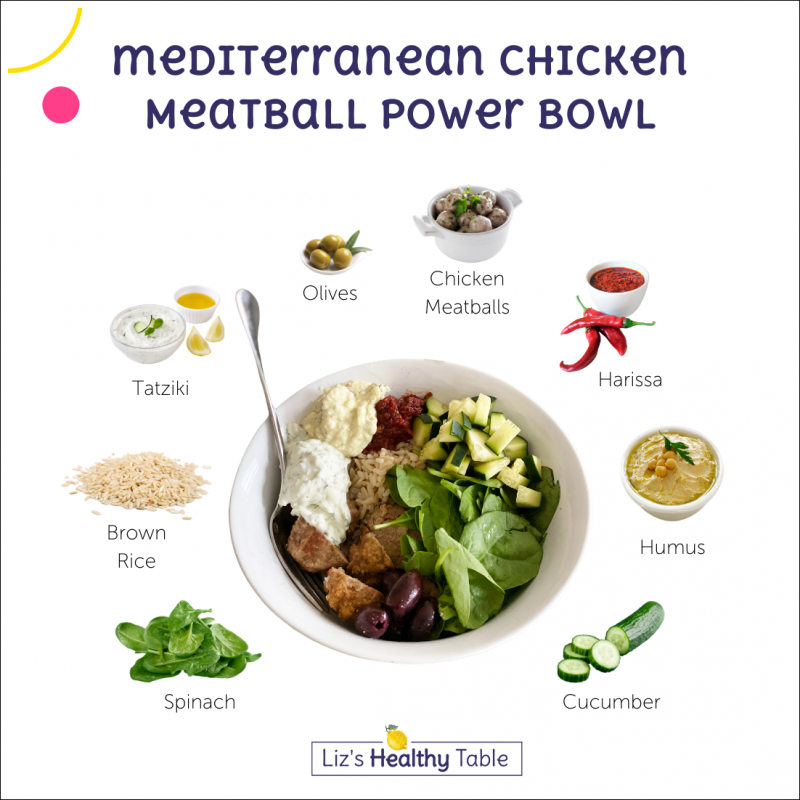 These meatballs were inspired by my love for grabbing lunch from the Mediterranean fast casual chain, CAVA. I first tried it while living in New York City when one had opened right around the corner from my office. They have a few in Boston, but none of the locations is quite that convenient.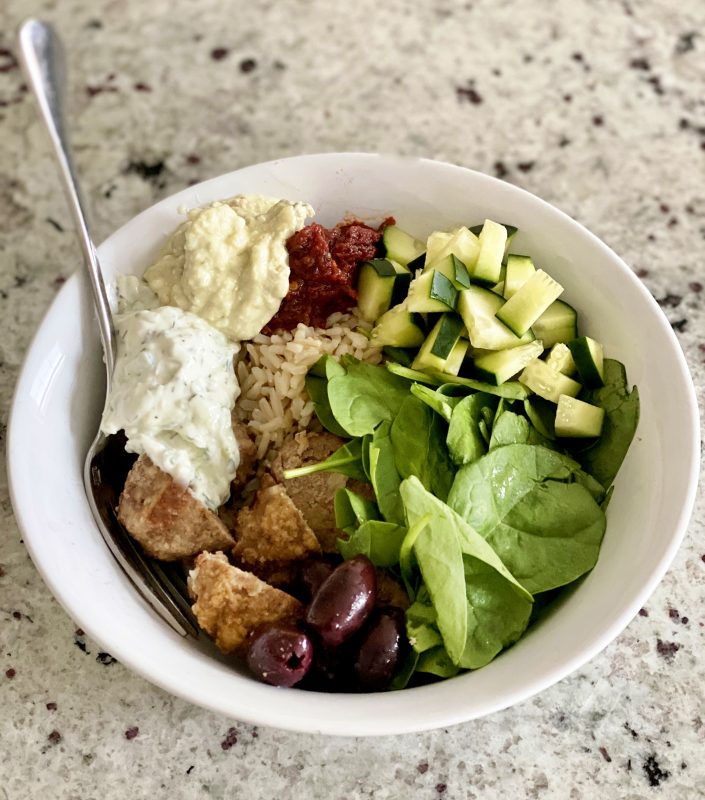 When using these Mediterranean chicken meatballs in power bowls (AKA nourish bowls or protein bowls), I typically start with a base of spinach or mixed greens and brown rice. I love topping with all sorts of ingredients (build-your-own style) including tzatziki, humus, harissa, crumbled feta, quick pickled red onion, chopped olives, tomatoes, and diced cucumber. Other ways to eat these chicken meatballs: Toss with marinara sauce over whole wheat pasta; wedge into a sub sandwich; freeze for later.
Mediterranean Chicken Meatballs
Nutrition Information
Serves:

18 meatballs (serves 4)
Serving size:

4 meatballs

Calories:

150
Fat:

2.5g

Saturated fat:

1g

Carbohydrates:

7.5g

Sodium:

220mg

Fiber:

1g

Protein:

31g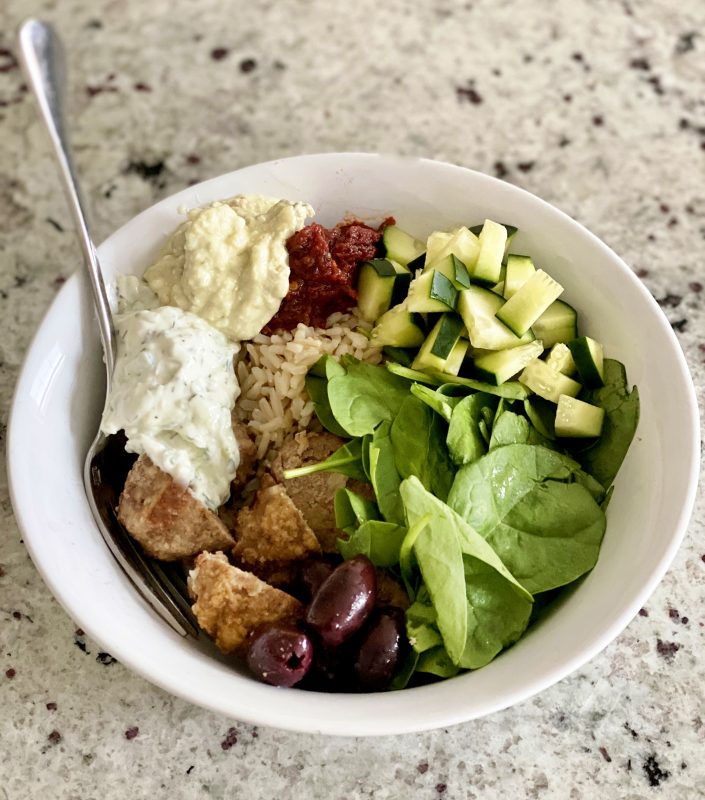 This recipe makes 18 meatballs, which you can use in a build-your-own Mediterranean power bowl dinner for four. I like to double the recipe and freeze the leftovers for later. If you're not in the mood for power bowls, cook up some pasta (preferably whole grain or one of the bean or lentil varieties) and serve with marinara sauce ... or stuff into sub rolls.
Ingredients
1 large egg, lightly beaten
½ small onion, cut into ¼-inch dice (about ⅓ cup)
3 garlic cloves, minced (about 2 tablespoons)
¼ cup panko or regular bread crumbs
1 teaspoon dried oregano
1 teaspoon ground coriander
1 teaspoon ground cumin
½ teaspoon black pepper
½ teaspoon kosher salt
⅓ cup roughly chopped fresh parsley
1 pound ground white meat chicken
Instructions
Preheat the oven to 350°F.
Line a large baking sheet with parchment paper. You can use aluminum foil, but be sure to spray with cooking spray to avoid sticking.
Place egg, onion, garlic, panko, oregano, coriander, cumin, pepper, and salt into a large mixing bowl. Whisk or mix until well combined. Add the ground chicken and parsley and mix until just combined. You can use your clean hands to do this!
Form meatballs into golf ball size balls (eighteen, 1-inch balls) and place on the prepared baking sheet. Bake until the internal temperature reads 165°F and the meat is no longer pink, 18 to 20 minutes.
Serve immediately or keep in fridge for up to 4 days