This semester, Jordan Ball, a nutrition graduate student at Boston University, is interning with me. What follows is part two of her three-part blog series on meal planning and meal prepping.
I'm back as promised with part two of a three-part series on Meal Planning, Meal Prepping … plus a new recipe for chicken meatballs. This time around, I'm talking all things meal prep along with tips for keeping veggies fresh and stocking a nourishing pantry.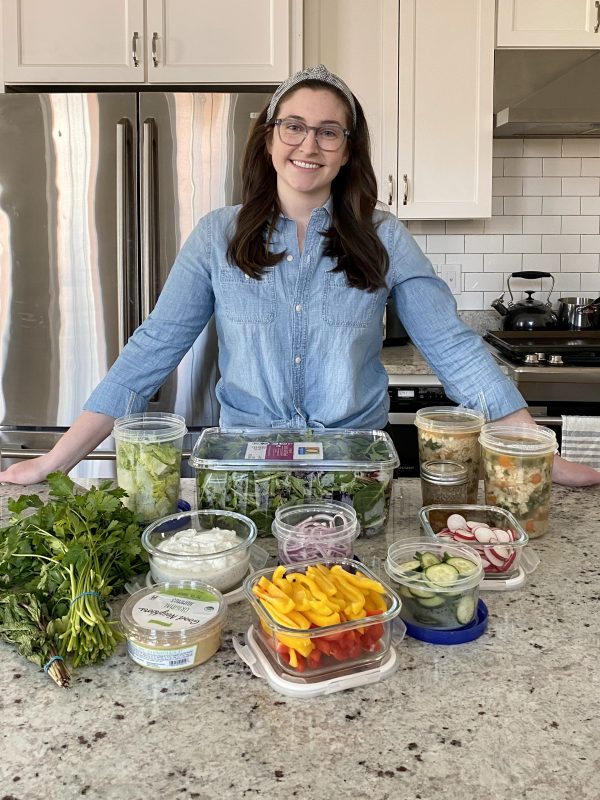 How I Meal Prep:
I like to do the lion's share of my meal prep on Sundays. On that day, the first thing I do is get a big batch recipe going – things like chili, soups, stews, slow cooked pulled chicken, spaghetti squash casserole. The reason I do this first is because I like to strike while the iron is hot when I'm most motivated to cook.
Once my big batch recipe is on the stove or in the oven, I chop the miscellaneous fruits and veggies that I'll need that week and those that store well once prepped, including bell peppers, onions, broccoli, potatoes, carrots, cucumbers, etc. But I avoid prepping the more delicate produce including tomatoes, avocados, and apples.
Prep day is also a great time to prepare a few servings of hearty whole grains. I'm a big fan of brown rice, and since it can take 40 minutes to cook, I like to make a few batches in advance.
On a Sunday, I spend 2 to 3 hours shopping and prepping. Not bad! (Since I have an organized grocery list, the shopping is a snap.)
A Word on Storage:
Be sure you have adequate storage to keep your diced, sliced, and cooked foods fresh. I recommend glass storage over plastic for longevity, sustainability, and microwave safety, but any set works just fine. If you're just getting started, you can usually find these in a Costco or some grocery stores. Take advantage of your freezer!
When your big batch recipe is done, for example, let it cool and then freeze a few portions for a future busy night. You'll thank yourself later.
The Perfect Pantry:
I find it helpful to keep my pantry well-stocked. This allows for more flexibility with recipe selection or last-minute toss-together meals and encourages me to eat more nutrient-dense foods more often.
My idea of a perfect pantry includes whole grains (brown rice, oats, whole wheat pasta), legumes (chickpeas, black beans), oils (avocado, olive), jarred sauces, and a variety of nuts and seeds.
With a well-stocked pantry, I can grab a lean protein like chicken breast and a few veggies from the grocery store and quickly toss together a bowl of zucchini noodles, whole grain pasta, roasted chicken and pasta sauce.
I love being in the kitchen and trying new, interesting recipes. Thanks to meal planning and prepping, I have time set aside each week where I can do just that. I save recipes to Pinterest and on Instagram whenever I'm scrolling, and I often get inspired by meals I eat out at restaurants. When I started meal prepping, I didn't realize it would be more than the boring containers of rice, steamed broccoli, and baked chicken for every meal. The possibilities really are endless.