These homemade Fiber OneTM Cereal Bars with Walnuts and Dried Fruit are versatile. You can make a batch and serve at breakfast or transform into a snack after work or school. They're easy to make, and thanks to Fiber One TM Original cereal, each delicious bar has 5 grams of fiber, which helps support digestive health and helps keep you feeling satisfied during busy days. Store in an airtight container for up to 5 days or wrap individually in plastic baggies and freeze for later.
I created this recipe in collaboration with Fiber One TM Original. I was compensated for my time, and all content and ideas are my own.
When I hear the word "fiber," I think "healthy," "satisfied," and "my digestive system says, thank you!"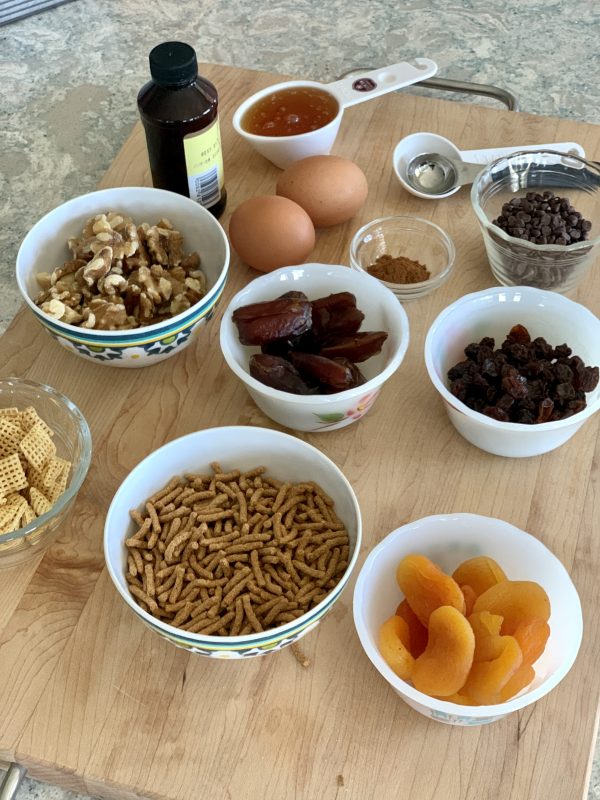 As an adult woman, my daily fiber requirement is 25 grams, but on hectic days when I'm running in a million directions, that can be a challenge. That's why I adore these Homemade Fiber One TM Cereal Bars with Walnuts and Dried Fruit. Sometimes I eat one at breakfast or in the afternoon with a cup of tea; I also like to pack one to go when I'm heading out for a long walk or bike ride (things I've been doing a lot more of these days during the pandemic).
The magic in this recipe starts with Fiber One TM Original cereal. Each serving (2/3 cup) has an impressive 18 grams of fiber. (That's 65% of the Daily Value of fiber!) To that, I add Corn ChexTM cereal, dried fruit, walnuts, cinnamon, eggs, honey, and a few tablespoons of mini semi-sweet chocolate chips. Easy peasy!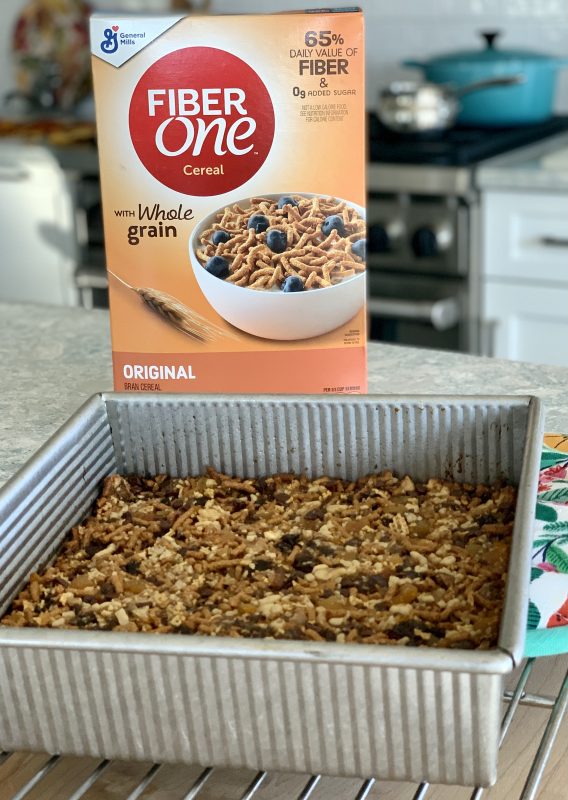 Why take a fiber supplement when you can boost your daily fiber intake with ease and flavor with Fiber OneTM Original cereal instead?!

Homemade Fiber One Cereal Bars with Walnuts and Dried Fruit
Nutrition Information
Serving size:

1 bar

Calories:

180
Fat:

8g

Saturated fat:

1g

Carbohydrates:

28g

Sodium:

92mg

Fiber:

5g

Protein:

4g

Cholesterol:

31g
Every morning, my husband makes himself a bowl of high-fiber cereal topped with yogurt and blueberries. At 10am, he has toast. No kidding. He's a creature of habit. For me, however, when it comes to breakfast and snacks, I prefer variety, which why I love these bars. They're made with fiber-filled Fiber One Original and no-sugar-added dried fruits including dates, raisins, and apricots.
Ingredients
1 cup Fiber One(TM) Original cereal
½ cup Corn Chex(TM) cereal
1 cup walnut halves
½ cup raisins
½ cup apricots
½ cup pitted dates
3 tablespoons mini semi-sweet chocolate chips
½ teaspoon ground cinnamon
¼ teaspoon salt
2 large eggs
¼ cup honey
1 teaspoon vanilla extract
Instructions
Preheat the oven to 350°F. Lightly oil or coat an 8 x 8-inch baking pan or dish with nonstick cooking spray and set aside.
Place the Fiber One(TM) and Corn Chex cereals in a gallon-size resealable plastic bag and seal to close. Place on a cutting board and use the bottom of a small saucepan or a meat mallet to gently smash and break the cereal into small pieces. Transfer to a large mixing bowl. Place the walnuts in the same bag, seal, and use the same technique to smash into small pieces, about the size of lentils. Add to the cereal.
Working in batches, place the dried fruit on the cutting board. Use a sharp knife to chop the fruit into small pieces, similar to the size of the walnuts. Transfer to the mixing bowl along with the chocolate chips, cinnamon, and salt. Stir until well combined.
Whisk together the eggs, honey, and vanilla in a separate bowl until well combined. Add to the cereal mixture and stir to combine. Spread the mixture evenly in the prepared pan, and flatten gently with the back of a spoon or rubber spatula. Bake 16 to 18 minutes, or until the edges turn golden brown. Let cool completely in the pan before slicing into twelve 2 x 2½- inch bars.
Notes
Nutrition facts apply to recipe as written above, but alternating dried fruit toppings, using just one or a combination of two are always an option, as well.
How do you #Flaunt Your Fiber? Are you a Fiber One
TM
Original fan? Have you used it in your everyday recipes yet?