This semester, Linfei Chen, a senior at Boston University, is interning with me. What follows is one of her favorite recipes for "Ketchup Shrimp."
Hi, my name is Linfei. I grew up in Shanghai, China, a city of 24 million people. I'm a senior at Boston University majoring in dietetics. I've been interning (virtually!) with Liz since September, and together we've been working on cooking videos and recipe development, testing, and food photography. I was surprised and excited when Liz asked me to do a guest post for her blog featuring a family recipe from my childhood. 
The last time I ate Ketchup Shrimp was the day before my 20-hour journey to the U.S. in 2017. This recipe is something my grandmother made for me all the time when I was growing up. I loved it so much that I wanted to share it with all of you. (Read on for my story, recipe, and a little cooking video I put together.)
My life around the dining room table in Shanghai: 
Like most of the Chinese in my generation, my grandparents took care of me during weekdays. My mom and dad worked full time and didn't get home until after 7pm, so my grandparents watched me after school and spoiled me with delicious meals. My grandmother cooked all day long while I was at school. When I got off the crowded city bus at 5pm, I would walk into the apartment where the table was set with my grandmother's masterpieces.
A big wooden square table piled high with eight to nine dishes was a normal scene in my grandmother's living room. It's hard to imagine, but almost every day she made stir fried vegetables, steaming soup, braised meat, stewed fish, and a pot of white sticky rice. Unlike old-fashioned traditional Chinese families where everyone eats together, our eating schedules were quite flexible. At around 5pm, my great grandma would eat first, serving herself by mixing hot water with rice and soft, salty dishes that were easy to swallow. When she was done, my older cousin and I would eat dinner with my grandparents. When my parents came home from work, they'd eat last. I miss my grandmother's cooking a lot, and when I lived in Shanghai, I loved helping her out in the kitchen during festivals like Chinese Lunar New Year and Dragon Boat Festival. In my Boston apartment, I live alone and only cook one dish at a time for myself. Plus, my oven doesn't even work. 
Shanghainese have a special preference for sweet and braised dishes, including red braised pork, red braised fish, and sweet and sour pork ribs. These dishes are made with soy sauce, cooking wine, or vinegar. Sometimes, my grandma would use ketchup as a substitute for those ingredients. She would make pork fillet with ketchup sauce, baked potatoes with ketchup, fried egg and rice with ketchup, and shrimp with ketchup. I was not a fan of seafood when I was a kid, but seriously, how can a child resist anything with ketchup sauce?!
Ketchup Shrimp: Here's why I love it so much
One of my favorite dishes has always been sauteed shrimp and vegetables with ketchup sauce. For me, every time I take a bite of it, the sweet and sour taste is so intense that it washes away all of the worries in my day. Grandma would serve this dish to encourage me to consume more shrimp, which was said to make kids smart. Later, I learned that it is the protein, omega-3 fatty acids, and vitamins in the shrimp that aids in child growth and development as well as brain and heart function. 
Working with Liz virtually on Zoom.
When my grandma made Ketchup Shrimp, she would buy the fresh shrimp during shrimp season and spend over half an hour peeling and using a toothpick to devein them. Since my grandma was retired, she went to the food market almost every day to buy fresh food so she could cook for the whole family. 
When Liz asked me to create a new family recipe for her blog, this was the dish I chose. Let me tell you how I updated it for my tiny Boston kitchen and hopefully for yours.
As a busy student, I decided to use frozen peeled and deveined shrimp to save time in the kitchen. And because I'm a nutrition student, I was eager to balance this recipe with vegetables, so I chose to add frozen mixed vegetables even though my grandma did not.
The good news is that you can find all of the ingredients for this recipe in any American grocery store.
How I learned to cook:
As I mentioned earlier in the post, I learned to cook during festivals. For example, during Chinese Lunar New Year, my grandma and grandpa would call my cousin's family and my family to their home to make dumplings. We were assigned with different tasks like washing and trimming vegetables, kneading flour dough, mincing meat and vegetables, mixing fillings, and wrapping dumplings. My cousin and I loved to do the destructive work! We always chose to mince the meat and vegetables for the filling. "Mince" might not be the precise word to describe what we did, because we were pretty messy in the kitchen. Sometimes we would break the knife, the cutting board would split, and meat chunks would fly and stick to the ceiling. Surprisingly, we were never expelled from the kitchen nor did we abandon "the virtue of helping each other" even after being scolded. I learned basic cooking skills during those holidays, and today I can take care of myself in the kitchen.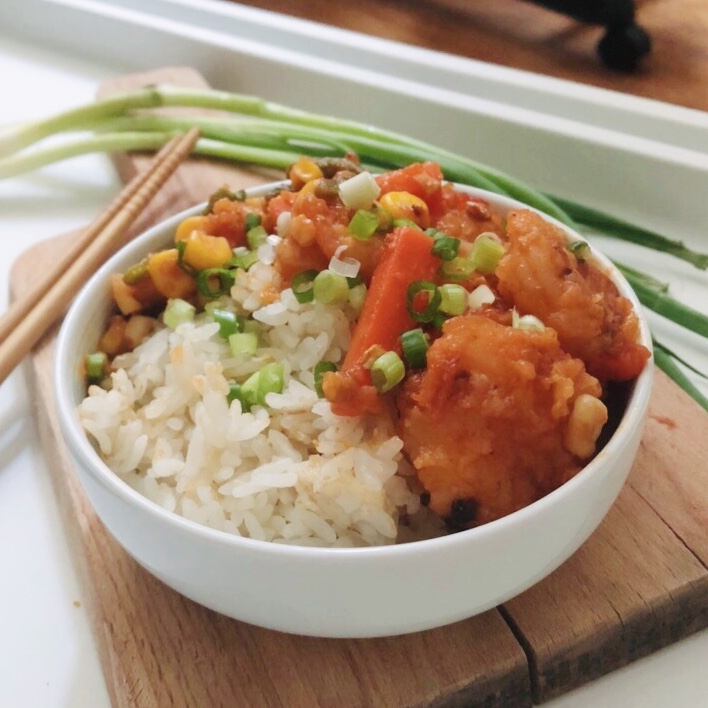 Sautéed Shrimp With Vegetables and Ketchup Sauce
Nutrition Information
Serving size:

(For ¼th of the shrimp mixture only)

Calories:

300
Fat:

12g

Saturated fat:

0g

Carbohydrates:

22g

Sugar:

8g

Sodium:

740mg

Fiber:

2g

Protein:

17g

Cholesterol:

140mg
Prep time:
Cook time:
Total time: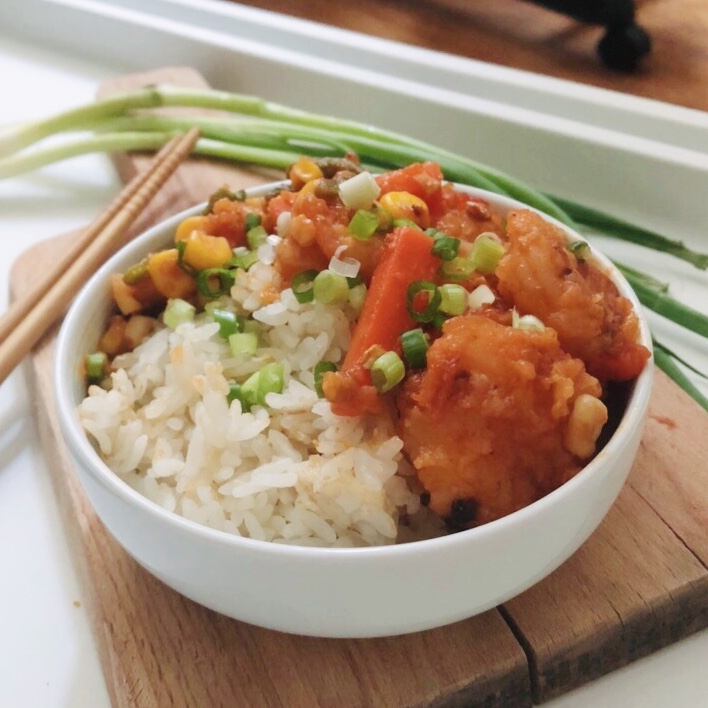 When Liz asked me to create this recipe for her blog, I called my grandmother and she gave me her recipe. Because of the pandemic, the last time I was home was the summer of 2019. I miss my grandma's cooking, but this recipe reminds me of home. So I adapted the recipe to make it simple for my kitchen and yours.
Ingredients
One 1-pound bag frozen raw large peeled and deveined shrimp (31 to 40 count)
2½ tablespoons cornstarch
½ cup ketchup
1¼ cups water
3 tablespoons organic canola oil
2 tablespoons minced garlic (from 6 to 8 cloves)
2 tablespoons minced ginger
One 12-ounce bag frozen mixed vegetables, thawed and well-drained
2 cups cooked rice of your choice (sushi rice, brown rice, or jasmine rice)
2 green onions, sliced into thin rounds, optional for garnish
Instructions
Defrost the shrimp, drain, and pat dry with paper towels until the shrimp are very dry. (The frozen shrimp I bought had the tail still on, so I removed the tails after the shrimp thawed.)
Place the cornstarch in a large bowl. Add the shrimp and toss until the shrimp are well coated.
In another bowl, whisk together the ketchup and water. Set aside for later use. (I used regular Heinz ketchup, so no need to add any more sugar or salt. Besides, shrimp are from the sea and salty already!)
Heat the oil in a large nonstick skillet over medium-low heat. Add the minced garlic and ginger and cook, stirring frequently, until golden and fragrant, 30 seconds to 1 minute. Turn the heat down to low, add the shrimp, and cook, turning once, until the shrimp are golden, 2 to 3 minutes per side. Stir in the vegetables and cook for 1 minute.
Pour the ketchup-water mixture into the pan, bring it to a fierce boil under medium-high or high heat to thicken the sauce in 1 minute or so. Serve with steamed rice and garnish with green onions as desired.
Notes
I used a rice steamer to cook ⅔ cup of sushi rice mixed with ⅔ cup of Quaker old fashioned oats and ¾ cup water(1:1 rice and water ratio). This will give you approximately 4 servings (1 cup of cooked rice per person). Oats are a whole grain that have more fiber than refined grains such as white rice.
What are your favorite shrimp recipes?