There's an innovative new sushi style concept that's taking home kitchens by storm, and it's called Beefshi. Have you tried it yet?
Beefshi is made with corned beef, roast beef, pastrami, and other prepared meats, which are used either inside or outside bite-size rolls with vinegared rice and vegetables. You can make and devour Beefshi for lunch, dinner, snack time, or at your next al fresco dinner party, and guess what? Making Beefshi is easy!
For this recipe roundup and video, I partnered with The North American Meat Institute (NAMI), a contractor to the Beef Checkoff. All opinions are my own. 
Curious where Beefshi comes from? Well, the concept and recipes were created by a chef at the Culinary Institute of America. While using prepared meats for sushi may sound unconventional, contrary to popular belief, sushi doesn't mean raw seafood. The term refers to the vinegared rice that's paired with many ingredients including fish, veggies, or prepared deli meats. In other words, as long as there's vinegared rice in the recipe, pretty much anything goes.
For the past few months, dietitian bloggers from across the web (yours truly included) have been challenged to pick, re-create and then share a recipe from NAMI's Beefshi website or to develop a brand new one. Many of us posted our recipes to our blogs with step-by-step videos, how-to guides, and beautiful photos. A few in the group showcased their Beefshi creations via live videos on Facebook and Instagram. It was quite the Beefshi bonanza!
What follows is a roundup of all 22 blogger Beefshi experiences with recipes like Hiker's Hand Roll, Beefy Cali Rolls, and BLT Rolls. I encourage you to  scroll down and check out or link to all 22 exciting blog posts and videos. If you prefer, you can head right over to Beefshi.com for an even more extensive set of original recipes, videos, photos, and guides. Between this recipe roundup and the Beefshi website, all your questions about making and enjoying Beefshi will be covered.
Here's a quick preview of all 22 Beefshi recipes from the blogger roundup. Be sure to post a comment at the end of this post telling me which Beefshi recipe you plan to make first. Yup. It's time to jump on the Beefshi bandwagon!
BLT Roll by Whitney Reist at Sweet Cayenne: Whitney says, "This tasty recipe for a Beefshi BLT Roll fuses together sushi and a BLT sandwich in a traditional maki rice roll. It includes slices of savory roast beef, juicy tomato, peppery arugula, and smokey bacon. It's a great option for enjoying in lunch boxes or on the go!"
Hiker's Hand Roll by EA Stewart at The Spicy RD Blog: EA says, "This yummy Beefshi Hiker's Sushi Hand Roll is made with beef jerky instead of fish. And, it's absolutely delicious for an appetizer, snack, lunch, or to toss in your backpack on a hike!"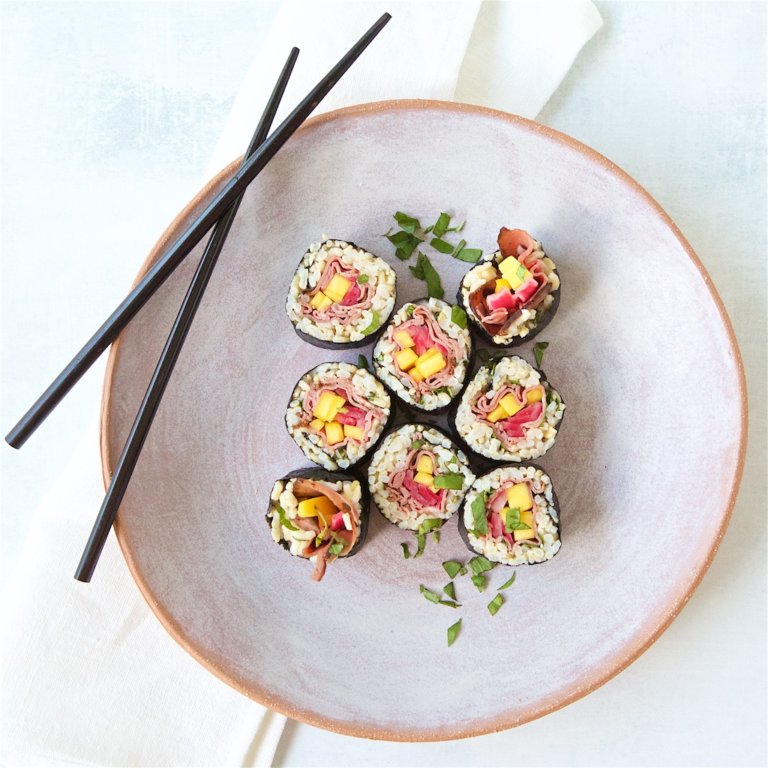 Mango Basil Sushi Roll by Jenna Braddock at Make Healthy Easy: Jenna says, "This simple sushi roll recipe is easy to make and full of flavor with fresh mango, roast beef, pickled onion and basil." (Original recipe.)
New York Deli Roll by Sammi Brondo at Sammi Brondo Nutrition: Sammi says, "This basically tastes like a classic deli sandwich would taste, but with delicious rice instead of bread. It's such a fun twist on a classic sandwich for lunch."
Reuben Sushi Roll by Amanda Hernandez at The Nutritionist Reviews: Amanda says, "Reuben Sushi Roll is a different take on sushi that is simple to make with 5-ingredients and super delicious with pastrami, Swiss cheese, sauerkraut, sushi rice and Thousand Island dressing for an appetizer that you don't even have to cook!"
Muffuletta Beef Sushi by Meme Inge at Living Well Kitchen: Meme says, "Beef Sushi made with the flavors of a muffuletta is a tasty, fun way to change up your lunch while enjoying the convenience and benefits of processed beef."
Beefshi Texan Roll by Chelsea LeBlanc at Chelsea LeBlanc Nutrition: Chelsea says, "Ever wondered how to make sushi? It's easier than you may think! Check out this beefshi texan roll recipe for a fun (and low-sodium) twist on sushi."
Nebraska Roll with Spicy Honey Mustard by Amber Pankonin at Stirlist: Amber says, "I created this recipe as a nod to my Nebraska roots because after all, Nebraska is known for beef. I wanted to include ingredients that are not only popular here in the state but also reflect my love for Nebraska food." (Original recipe.)
Spicy Wiener Roll Beefshi by Nicole Rodriquez: Nicole says, "When I look at a beef hot dog, I see the perfect vehicle for a variety of other nutrient-dense foods and an opportunity to pair the familiar with the unknown. This Spicy Wiener Roll is a prime example: the much-beloved beef hot dog is nestled into sushi rice instead of a bun." (Original recipe.)
Taco Beef Sushi by Sarah Schlichter at Bucketlist Tummy: Sarah says, "Taco Beef Sushi mixes the flavors of a taco with the style of sushi in a Taco Maki wrap. Topped with spicy, shredded jerky, fresh cilantro and radish slivers, and garnished with fresco crumbles and tortilla strips, enjoy this beef sushi for a fun twist on your typical sushi night."
Beefy Cali Roll "Beefshi" by Liz Weiss at Liz's Healthy Table: Liz says, "Every now and then I love to shake up our regular snack and mealtime routine, and this recipe for Beefy Cali Roll helps me to do just that. Beef sushi (AKA Beefshi) is my latest cooking obsession. It's an innovate sushi-style concept made with prepared beef products including corned beef, sausage, pastrami, and roast beef."
Taco Maki Beefshi Roll by Katie Serbinski at Mom to Mom Nutrition: Katie says, "This Taco Maki Roll takes any taco and takeout night to the next level for those eager taste buds!"
Hiker's Hand Roll by Melissa Rifkin at Melissa Rifkin Nutrition: Melissa says, "The prepared beef provides a protein boost while the vegetables and rice give me an array of micronutrients and fiber to create a balanced meal. Here I used beef jerky to create an AMAZING meal, but this could easily be used as an appetizer or snack as well."
Beef Tartare Sushi by Judy Barbe at LiveBest: Judy says, "I like beef tartare sushi because it's unusual, pop-in-your-mouth fun, and has a flavor that's rich and savory." (Original recipe.)
Back-to-School Brown Bag Twists with Beefshi from Amy Goodson: Amy says, "If you have kids with different taste bud preferences, they can choose their favorite meat for their personal Beefshi roll. I recommend starting with the Double BLT Mega Roll because it truly embodies all the lunch time favorites!"
Sunday Supper Beefshi by Jessica Levinson: Jessica says, "My daughters had a ball getting their hands sticky with sushi rice and helping me roll up these Sunday Supper Rolls. The combo of roast beef, rice, and carrots makes for a balanced meal or snack."
Beefy Cali Roll by Anne Mauney at Fannetastic Food: Anne says, "It was so good we ended up having it for dinner with some salad, but it would, of course, make an awesome appetizer or portable lunch, too!"
Sunday Supper Rolls by Gretchen Brown at Kumquat Blog: Gretchen says, "Transform your Sunday Supper with these sushi rolls. You'll be amazed how easy and tasty they are. Prepare for a 'why didn't I think of that' moment!"
Reuben Roll Beefshi by Emily Cooper at Sinful Nutrition: Emily says, "If you know me, I love finding ways to combine two great things into one. That's why I love this Beefshi recipe: it's a great way to enjoy deli meats besides the same old sandwich."
Inside Out Wisconsin Roll by Jodi Danen at Create Kids Club: Jodi says, "This Beefshi roll is close to my midwestern roots: the Inside Out Wisconsin Roll – made with summer sausage and a delicious sharp cheddar."
Taco Maki Roll by Deanna Seagrave-Daly at Teaspoon of Spice: Deanna says, "This Beefshi recipe is a fun twist on sushi featuring rice, veggies and convenient beef products like the spicy beef jerky featured in this Taco Maki roll." (Original recipe.)
Texan Roll by Liz Shaw at Shaw Simple Swaps: Liz says, "If you're a fan of Texas style cooking with a little southwestern flare, then you will LOVE this Beefshi Texan Roll!"
Let me know if you try Beefshi. You have so many delicious recipes to choose from, so I hope you'll jump on the Beefshi bandwagon with me!