How often do you eat together as a family? Have your family meals become more of a regular routine during COVID? If you find yourself cooking more at home and gathering more often around the table, then chances are you may be on the lookout for some new dinnertime inspiration. If that's the scenario in your household, then this recipe for Chicken and Carrot Shawarma Salad Bowls should have you covered!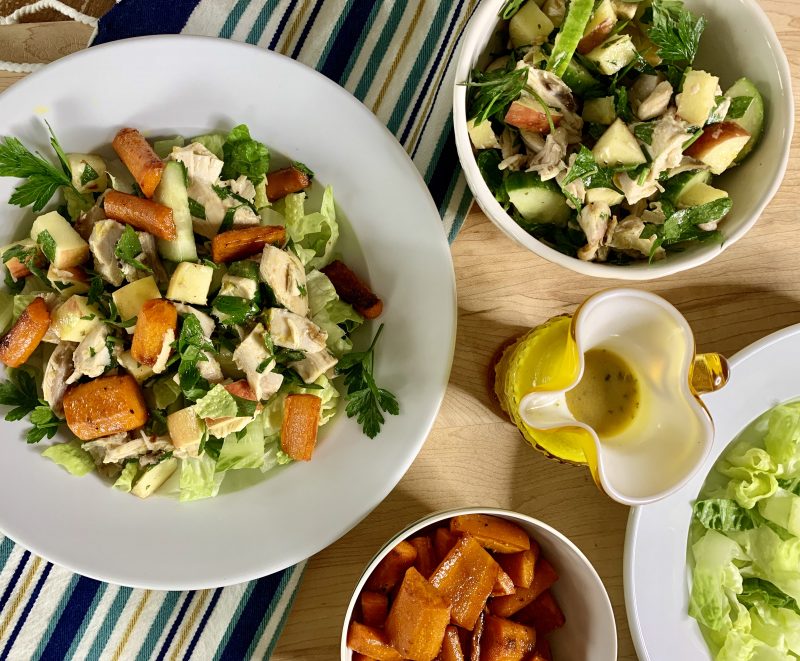 There's an interesting backstory to this recipe. Want to hear about it?
I'm a Fruit and Vegetable Ambassador in Action for the Produce for Better Health Foundation. This month, to celebrate National Fruits & Veggies Month and National Family Meals Month I teamed up with fellow ambassadors, Elise and Stephen Compston, RD from Straight Outta Compston Kitchen to create two new recipes based on a virtual mystery basket of ingredients. Our friends at PBH challenged us with a basket filled with the following ingredients:
– 1 rotisserie chicken
– 1 pound carrots
– 1 apple
– 1 bunch parsley
– honey
Using those ingredients plus other ingredients from our own pantries, the Compstons cooked up a recipe for Harvest Waldorf Pita Pockets, and I came up with this Mediterranean-inspired recipe for Chicken and Carrot Shawarma Salad Bowls. Our recipes are so different, yet they call for the same base ingredients! I loved this challenge activity, and I think you may want to try something similar with your own families. A rainy day activity perhaps?
These were our mystery ingredients. I added other ingredients to the recipe including romaine lettuce and English cucumber.
Roasted carrots with a hint of honey and cumin. Oh yum!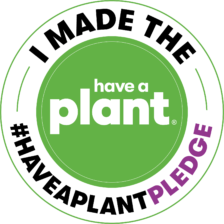 If you haven't done so already, you can commit to adding one more fruit or vegetable to your routine every day this month by taking the Have A Plant® Pledge and downloading the graphic above to share on your social media channels using #haveaplantpledge. If you decide to participate in the challenge, post a comment below and let me know what new fruits and veggies you end up trying.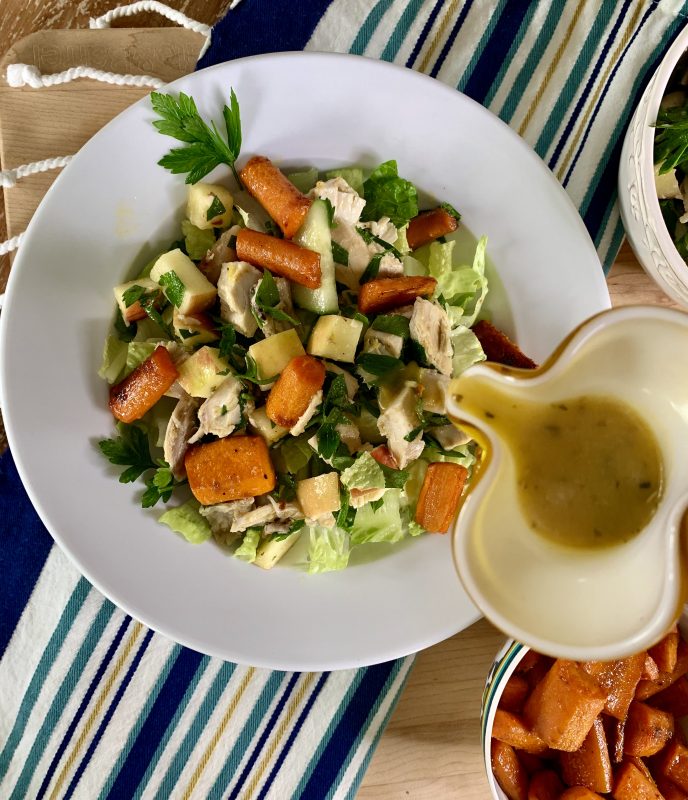 Chicken and Carrot Shawarma Salad Bowls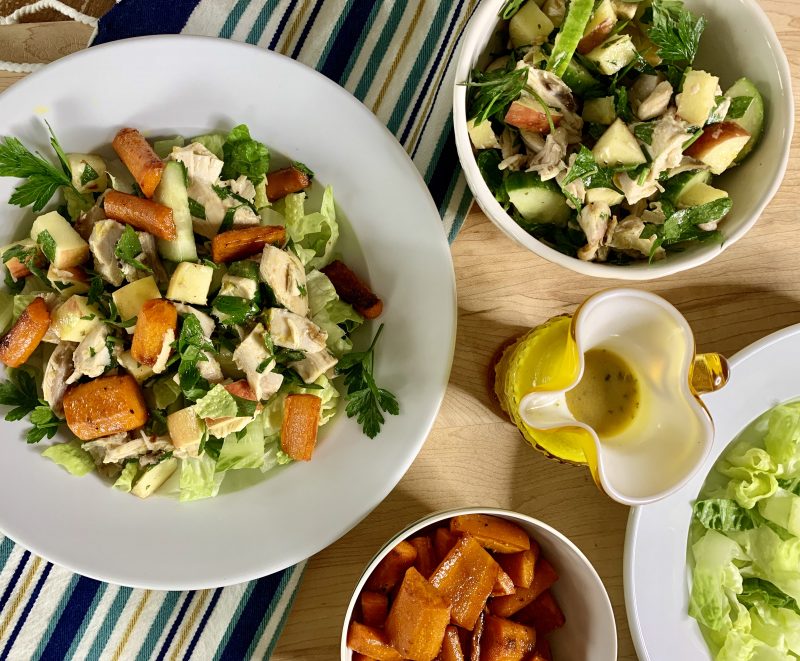 I don't associate apples with shawarma bowls, but since that was one of my mystery ingredients, I went with it! The apple added sweetness and crunch to the salad. When I make this again, I may sub in sliced dried apricots. BTW, dried fruit, canned fruit, and frozen fruit all count! This recipe makes 4 to 6 servings depending on the size of the appetites at your table.
Ingredients
For the Carrots:
1 pound carrots, peeled and cut into 1-inch pieces *
1½ tablespoons extra virgin olive oil
1 tablespoon honey
½ teaspoon ground cumin
Pinch kosher salt and black pepper
For the dressing
Juice of 1 lemon (about 4 tablespoons)
Zest of half a lemon
½ cup extra virgin olive oil
2 teaspoons honey
1 teaspoon Dijon mustard
1 small clove garlic, minced
½ teaspoon ground cumin
½ teaspoon dried oregano
¼ teaspoon paprika
Pinch red pepper flakes
Kosher salt
For the Salad
6 cups roughly chopped romaine lettuce
4 cups diced rotisserie chicken (that's about how much meat you'll get from 1 rotisserie chicken)
1 cup thinly sliced English cucumber
1 apple, cut into ½-inch pieces
1 cup parsley, roughly chopped
Instructions
Preheat the oven to 425°F. Line a rimmed backing sheet with aluminum foil and set aside.
Place the carrots in a large bowl. Drizzle the olive oil, honey, cumin, and salt and pepper over the carrots, and stir to combine. Transfer to the backing sheet and bake until tender and caramelized, about 12 minutes. Toss halfway through to ensure even cooking.
For the dressing, place the lemon juice and zest, olive oil, honey, Dijon mustard, garlic, cumin, oregano, paprika, red pepper flakes, and salt to taste in a pint-size mason jar with tight-fitting lid. Shake vigorously until well combined.
To assemble the salad, place the lettuce, chicken, cucumber, apple, and parsley in a large bowl. Toss with 4 tablespoons of the dressing until well combined.
Place the chicken mixture evenly between 4 to 6 bowls. Top with the cooked carrots, and serve with additional dressing on the side.
Notes
* Slice thicker carrots in half lengthwise before slicing into 1-inch pieces
Need more dinnertime inspiration? Check out my
roundup of 55 family pleasing, plant-forward dinners
from dietitians on the web, or head to the Food Marketing Institute to learn more about Family Meals Month.