It's Family Meals Month, and it's also National Fruits & Veggies Month. To honor this dynamic duo of celebrations, I'm serving up 55 family pleasing, plant-forward dinners that you and your family can enjoy all year long.
Turning family mealtime from a once-in-a-while thing to a regular habit is one of the healthiest things you can do for your family. Thousands of scientific studies have shown that frequent family meals are associated with more fruit and vegetable consumption and improved family connectedness, communication, and problem solving.
Since March, we've all been dealing with the global pandemic, and I know that many of us feel frustrated with the new normal of a socially distanced world. But family meals can be an antidote to that frustration. Family meals keep us together in person as well as virtually with friends and extended family members. (Thank goodness for Zoom dinner parties!)
What follows are 55 nourishing, plant-forward family recipes from some of my fellow dietitians on the web to take the stress out of meal planning and keep you and the people living under your roof feeling strong. From pasta and pizza recipes to meals you can cook quickly in the Instant Pot and hearty, plant-centric casseroles, this roundup has you covered!
Pasta & Pizza
Cream Of Mushroom Pasta from Min at MJ and Hungry Man (shown above)
Zucchini Pizza Casserole from Christie at Hurray To Health
Healthy One Pot Mac and Cheese from Megan at The Oregon Dietitian
Kale and Sweet Potato Mac and Cheese from Sarah at Bucket List Tummy
Pepper-Pepperoni Rolls from Melissa at A Grateful Meal
Instant Pot (AKA pressure cooker) & Slow Cooker
Egg Roll In A Bowl from Kelli at Hungry Hobby (shown above)
Instant Pot Jackfruit Tacos from Kara Lydon
Instant Pot Cilantro Chicken and Rice from Jenna Braddock
Instant Pot Red Beans and Rice from Whitney at Sweet Cayenne (shown above)
Slow Cooker Beef and Mushroom Stew from Elizabeth at Better Is The New Perfect
The Best Pressure Cooker Pho Bowl from Laurel at Laurel Ann Nutrition
Easy Instant Pot Vegetarian Chili Mac from Kara Lydon (shown above)
Slow Cooker Vegetarian Chili from Megan at The Oregon Dietitian
Slow Cooker Green Chili Beef Burritos from Allison at Prep Dish
Learn more about the Family Meals Movement and find resources to make family meals easier and more enjoyable, visit the Food Marketing Institute.
During this challenging time of COVID, 40% of U.S. adults say they are cooking more and 35% say they have become more successful at avoiding food waste. I say hooray to that!
Vegan & Vegetarian
Vegan Stuffed Sweet Potatoes with Black Beans from Anne at Fannetastic Food (shown above)
Black Bean & Sweet Potato Enchiladas from Emma at Fueling Movement
Vegetarian Tostadas from Lexi at To Taste
Southwestern Stuffed Peppers With Black Beans And Quinoa from Sharon at The Plant Powered Dietitian
News Flash: September is National Fruits & Veggies Month. So now's the time to take the Have a Plant Pledge and
commit to adding one more fruit or vegetable to your daily routine for a month. Go for it!
Vegan Shepherd's Pie from Shahzadi at Desi-Licious RD
The Best Healthy Chili Recipe You'll Ever Eat from Shahzadi at Desi-Licious RD
Spiralized Butternut Squash with Fried Sage from Theresa Gentile
Mango Quinoa Black Bean Salad from Judith at Foods With Judes
Tempeh Teriyaki Stir Fry from Cassidy at Cozy Peach Kitchen (shown above)
Spicy Chickpea Power Bowls With Tzatziki from Leanne Ray
Luscious Lentil Soup from Judith at Foods With Judes
Enchilada Casserole with Frozen Spinach and a Can of Bean Chili from Liz at Liz's Healthy Table (shown above)
Vegetarian Enchilada Casserole from Colleen Christensen Nutrition
Eggplant Shakshuka from Emma at Fueling Movement
Moroccan Chickpea Freekeh Eggplant Skillet from Sharon at The Plant Powered Dietitian (shown above)
Rainbow Salad from Peggy at RD4Health
One Pan Pasta With Chickpeas And Tomatoes from Melissa Altman-Traub
Pizza Stuffed Portobello Mushrooms from Leanna Ray
One Pot Vegetarian Mexican Lentils from Min at MJ And Hungry Man (shown above)
Loaded Southwest Sweet Potatoes from Karmen at The Nutrition Adventure
Baked Potato Bar With Healthy Toppings from Lizzie at It's A Veg World After All
Asian-Style Farro Buddha Bowl with Crispy Baked Tofu from Jessica Levinson
Easy Cauliflower Chickpea Tacos from Sharon at The Plant Powered Dietitian (shown above)
Vegetarian Enchiladas Verdes from Alena Menko
Summer Vegan Power Bowl with Maple-Dijon Dressing from Amy Gorin
Spinach Basil Pesto Quesadillas from Lizzie at It's A Veg World After All
Seafood
Mediterranean Salmon Bake With Spring Vegetables from Brittany at Your Choice Nutrition (shown above)
Tuna Potato Salad With Honey Mustard Dressing from Chrissy at Snacking In Sneakers
Parmesan Salmon Sticks with Zesty Avocado Dipping Sauce from Liz at Liz's Healthy Table (shown above)
Gluten-Free Egg Casserole with Salmon & Tomato from Amy Gorin
Teriyaki Salmon Bowl from Allison at Prep Dish
Beef & Chicken
Stir-Fried Thai Chicken With Noodles And Peanut Sauce from Brittany at Your Choice Nutrition (shown above)
Weeknight Ratatouille Pasta with Chicken Sausage from Pam at Fully Mediterranean
Chicken and Broccoli Crescent Braid from Rebecca Bitzer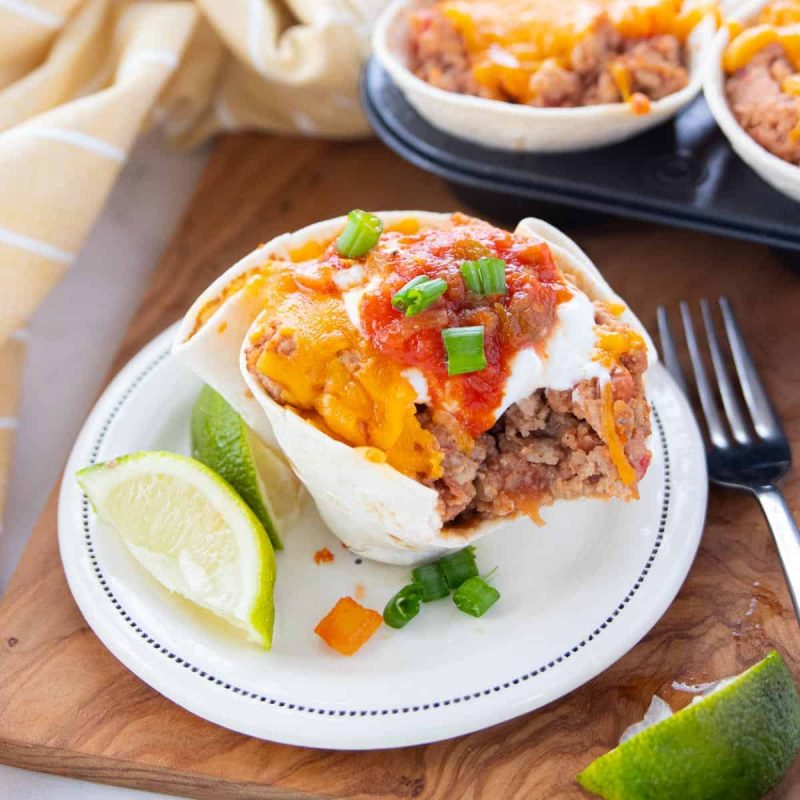 Tasty Taco Cups from Jodi at Create Kids Club (shown above)
Chicken Fajita Tacos from Colleen Christensen Nutrition
Mexican Chicken & Rice Soup from Karmen at The Nutrition Adventure
Sheet Pan Chicken Fajitas from Brittany at Your Choice Nutrition (shown above)
Beef and Mushroom Burgers from Elizabeth at Better Is The New Perfect
Steak And Mango Chili from Chrissy at Snacking In Sneakers
An Easy Italian Chicken Sausage Dinner Recipe from Krystal Karges