Chicken is lean, rich in protein, and usually well received by everyone at the table (even picky eaters), but if you're eating it night after night and week after week, it can get boring after a while. This recipe for Avocado-Chicken Salad is far from boring! It's made simply with cooked chicken—I used rotisserie chicken—avocado, naturally sweet cherry tomatoes, scallions, lime juice, olive oil, and ground cumin. That's it.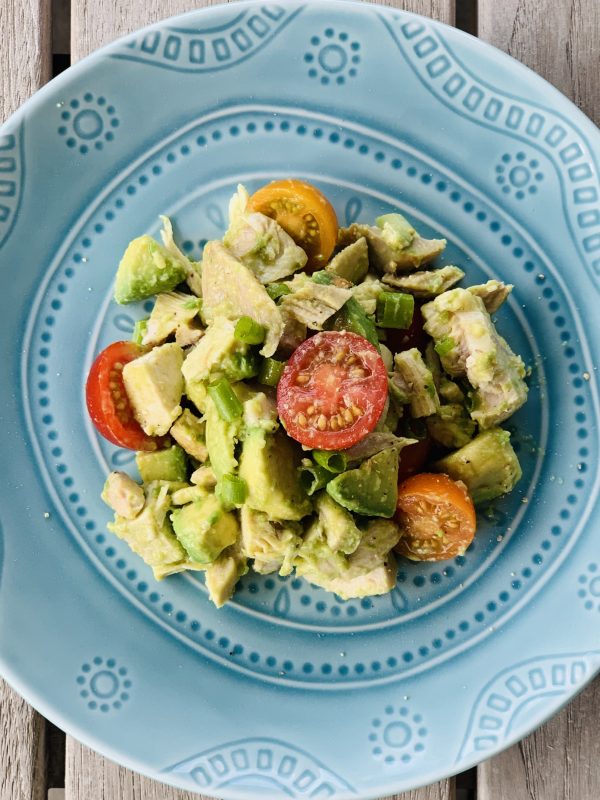 This gluten-free recipe comes straight from the pages of Meals that Heal: 100+ Everyday Anti-Inflammatory Recipes in 30 Minutes or Less by Carolyn Williams, PhD, RD. Carolyn is a mom of two and a college professor, and her book is filled with simple recipes that feature 8 food groups with healing powers—they reduce inflammation in the body. In case you're curious, those food groups include leafy greens, olive oil, berries, cruciferous vegetables, fatty fish, green tea, gut-health promoters like yogurt and kombucha, and nuts and seeds. Happily, those are the foods I eat every day. What about you?
Anyway, back to the recipe. I love it because it's ridiculously easy. And it features summer's sweetest tomatoes, creamy avocados, and convenient rotisserie chicken. To add even more veggies to this dish, serve over your favorite greens.
This recipe serves 4, but admittedly, the first time I made it, I ate two portions; I could not resist. And sometimes I sub out the chicken and use peeled shrimp instead.

Avocado-Chicken Salad
Author:
Carolyn Williams, PhD, RD
Nutrition Information
Serving size:

¾ cup

Calories:

227
Fat:

13g

Saturated fat:

2g

Sodium:

298mg

Fiber:

3g

Protein:

23g
Prep time:
Cook time:
Total time: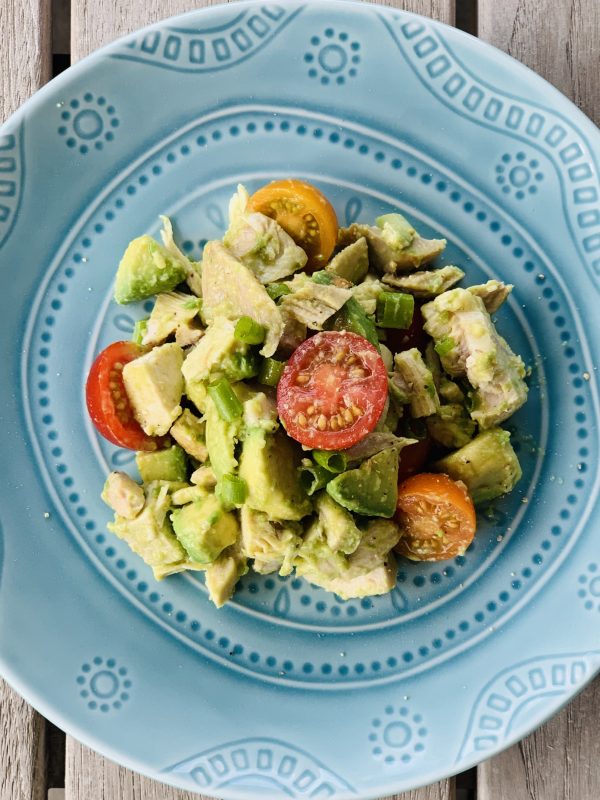 Carolyn says: "This clean chicken salad is quick and satisfying with a subtle Southwestern flavor thanks to cumin and lime -- all reasons why it's often my go-to lunch at the start of the week. Mashed avocado is a nice sub for traditional mayo, and a rotisserie chicken from the market makes this salad a breeze to pull together. I like to save a little avocado to chop ad fold in for texture, and then serve the salad over a bed of baby spinach or greens. Recipe: Courtesy,
Meals That Heal
.
Ingredients
2 cups shredded cooked chicken breast
⅔ cup cherry tomatoes, quartered
⅓ cup chopped scallions
1 ripe avocado
2 tablespoons fresh lime juice
1½ tablespoons extra virgin olive oil
½ teaspoon kosher salt
½ teaspoon ground cumin
Instructions
Place the chicken, tomatoes, and scallions in a large bowl. Coarsely chop three-fourths of the avocado and add the chopped avocado to the chicken mixture.
Place the remaining one-fourth of the avocado in a small bowl; mash with the back of a fork. Add the lime juice, oil, salt, and cumin to the mashed avocado, whisking with the fork to combine.
Pour over the chicken mixture, stirring gently to combine well.
Cover and refrigerate until ready to serve, up to 2 hours.
A word about the anti-inflammatory properties of avocados from Carolyn: She says that avocados sooth inflammation in the body thanks to the monounsaturated fats and antioxidants. And avocado may even counteract eating some inflammatory foods. In one study, people who topped their hamburger with avocado had lower inflammatory markers than those who ate just the burger.
Let me know if you try this recipe. You will not be disappointed. And if you want to learn more about Carolyn, visit her website.