If you're looking for a quick, delicious and comforting meal that's made with not one, not two, but three convenient canned foods, look no further than these cute, fun-to-eat Veggie Bean Cakes with Quick Tomato Basil Sauce. Each crispy-on-the-outside, gooey-on-the-inside cake is made with canned cannellini beans, canned corn, brown rice, shredded cheese, green onion, and fresh basil, and the simple sauce—made with canned crushed tomatoes—is perfect as a topping or dipper.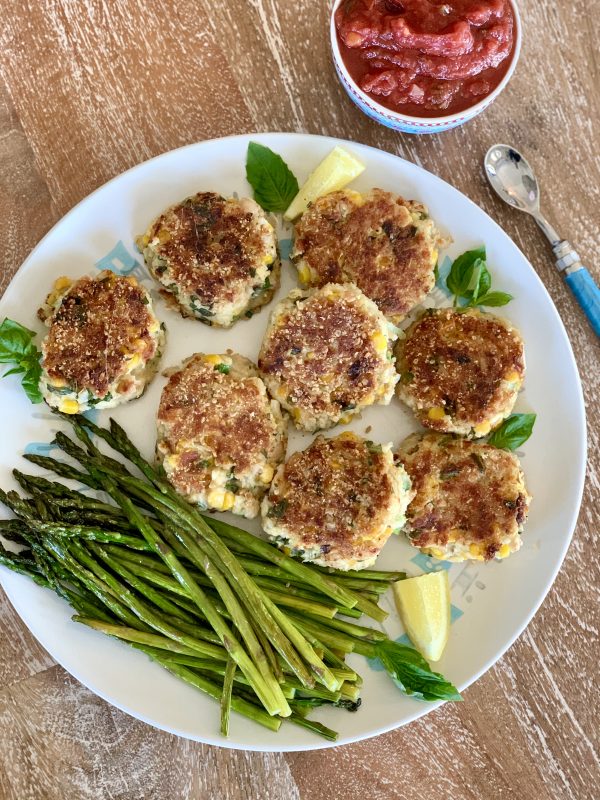 I partnered with Cans Get You Cooking to create this recipe and post. All opinions are my own.
Now that many of us are spending more time at home (okay … a lot more time at home!), family meals have come back into vogue. With less homework and certainly fewer after-school activities and evening work commitments, gathering around the table has gotten easier. But what about all those meals?! Not so easy. Right? If I had to describe my kitchen life over the past few months, it would go like this: Shop. Cook. Eat. Clean. Repeat! It's the new rhythm in our days, but thankfully, my husband, Tim and son, Simon have taken over the "clean" part of that routine. Who can relate? And who secretly worries every day that their dishwasher will break down? I do 🙂
During times of stress, I'm not one of those home cooks who bakes elaborate cakes or pies. For me, it's the stick-to-your ribs comfort foods that calm my nerves. And when those comfort foods are easy to make, well, that's the icing on the cake.
These days, my comfort food kitchen is filled with a wide variety of nourishing shelf-stable canned foods. With fewer trips to the supermarket and more meals prepared and consumed at home, "simple" and "convenient" are my mantras. That's where my well-stock pantry (or CANtry as I like to call it) comes in.
These cute cakes are vegetarian and gluten free.
The canned cannellini beans deliver a nice creamy texture, and the canned corn kernels are naturally sweet and provide a fun little crunch.
The Comfort of Canned Foods: Canned foods offer peace of mind, especially when it's 5 o'clock and the pressure to prepare a mealtime masterpiece (again!) kicks in. Here's how a well-stocked CAN-try can save the day when the dinner bell is about to ring.
Canned foods ease mealtime stress: Stocking your pantry with an assortment of canned foods—things like canned beans, salmon/tuna, tomatoes, corn, pumpkin, pears, peaches—adds ease to meal planning. They are the key to creating comforting recipes like my Corny Salmon Cakes  and Enchilada Casserole with Frozen (or canned) Spinach and a Can of Bean Chili the whole family will want to dig into. And what could be easier than opening up a can of beans, draining and rinsing them, and having your kids help you smash 'em up for these adorable bean cakes?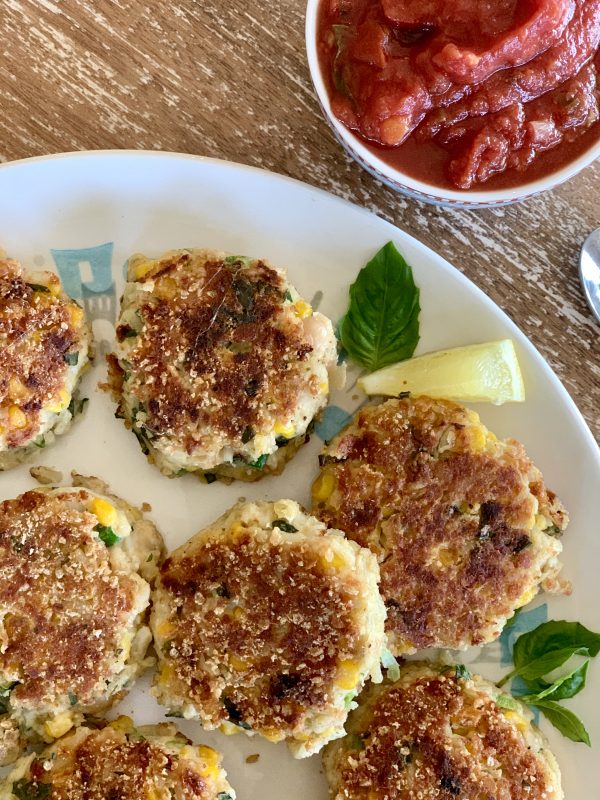 Canned foods nourish the body and the soul: Eating the recommended 42 cups of fruit and 53 cups of vegetables that a family of four needs every week (1) can be a challenge, but it turns out that when canned produce is incorporated into the diet, people tend to eat more fruits and vegetables. (2) And yes, canned foods provide all sorts of nutrients that we all need for good health including fiber, potassium, and choline, a nutrient important for brain health.
Canned foods streamline meal prep: Since most of us are cooking a lot more than usual these days, cutting back on prep time in the kitchen leaves more time for family and more time for self care activities including walking, reading, or doing things like online yoga, which are three things I'm trying to incorporate into my days. With more than 1,500 varieties of canned foods available all year long, use them in your everyday cooking to cut back on prep time.
Canned foods lead to less food waste, so they save you money: I'm always on the lookout for clever ways to reuse and repurpose fresh fruits and veggies. I just posted a roundup of 19 ways to do just that as part of my ongoing series, Reduce Your Kitchen Carbon Footprint. Having canned foods on hand also helps to reduce food waste since they can often serve as a flavorful replacement for more perishable fruits and vegetables. (3) Less food waste means you ultimately spend less money on groceries. Just how much do U.S. consumers waste? Well, a recent study found that on average, U.S. households toss nearly $2,000 worth of food every year. Whether you're on a tight budget or not, knowing you can "save" thousands of dollars—with the help of canned foods, of course—is a big win.
Let me tell you a few things about these Veggie Bean Cakes:
The recipe calls for a can of cannellini beans, but you could certainly use pinto, great northern beans or chickpeas instead.

I used half a (15-ounce) can of corn kernels and a cup of cooked brown rice for the recipe. I made some extra brown rice, and the next day, I placed the leftover corn and brown rice in a bowl, drizzled some olive oil and a pinch of kosher salt on top, heated in the microwave, and served as a side dish with grilled salmon.

The quick tomato sauce yields 3 cups. So use what you want as a topping or dipper for the bean cakes and then a day or two later, use the leftovers as a topping for pizza or pasta. Or label and freeze for later.
Veggie Bean Cakes with Quick Tomato Basil Sauce
Nutrition Information
Serving size:

2 cakes | no sauce

Calories:

310
Fat:

8g

Saturated fat:

3g

Carbohydrates:

43g

Sugar:

2g

Sodium:

520mg

Fiber:

2g

Protein:

17g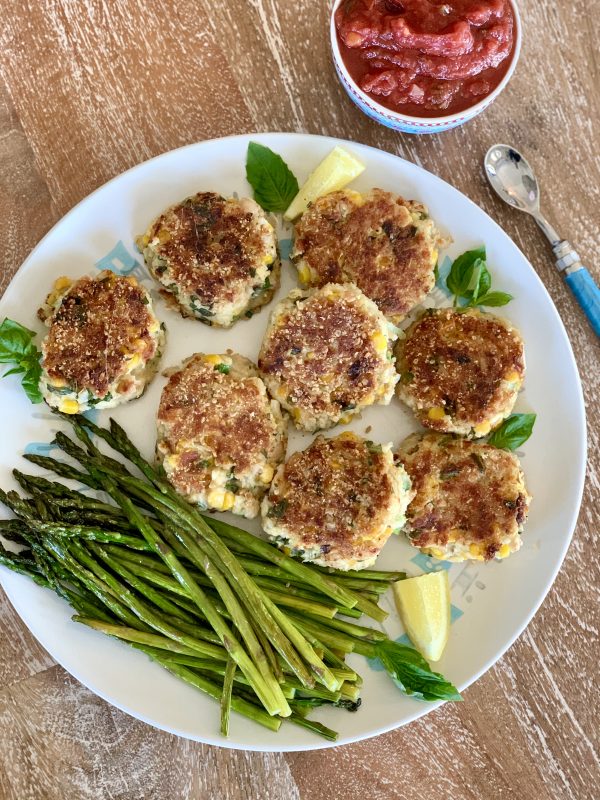 Whether you choose cannellini, black, pinto, kidney, or garbanzo, canned beans work wonders in a variety of easy family recipes. They add a creamy texture to these simple vegetarian bean cakes, but they also work wonders in savory soups—try my
Macaroni Minestrone Soup
—homemade hummus, quesadillas, and even my infamous
black bean brownies
. Half a cup of beans has 120 calories, 4 grams of dietary fiber, and 7 grams of protein.
Ingredients
Tomato Sauce:
1 tablespoon extra virgin olive oil
3 green onions, top and root bottom trimmed, thinly sliced
1 garlic clove, minced
One 28-ounce can crushed tomatoes
¼ cup chopped fresh basil
Kosher salt and black pepper
Bean Cakes:
One 15-ounce can cannellini beans, drained and rinsed
1 cup cooked brown rice
1 cup shredded part-skim mozzarella cheese
¾ cup canned corn kernels, drained
1 green onion, top and root bottom trimmed, thinly sliced
1 large egg, beaten
¼ cup chopped fresh basil
Zest of half a lemon
Kosher salt and black pepper
2 tablespoons gluten-free (or regular) bread crumbs
2 tablespoons grated Parmesan cheese
1½ tablespoons extra virgin olive oil, divided
Instructions
For the tomato sauce, heat 1 tablespoon olive oil in a medium saucepan over medium-low heat. Add the green onions and garlic and cook, stirring often, until golden and fragrant, 3 to 4 minutes. Add the crushed tomatoes, and stir to combine.
Raise the heat and bring to a low boil. Lower the heat and simmer, stirring often, until the sauce thickens a bit, 10 to 12 minutes. Stir in the basil and salt and pepper to taste. Set aside.
For the bean cakes, place the beans in a large bowl and mash using a potato masher or the back of a large fork. Let your kids help. The beans don't have to be perfectly smooth; a few bean pieces here and there are fine.
Add the brown rice, cheese, corn, onion, egg, basil, zest, and a few pinches of salt and pepper. Stir well to combine.
Meanwhile, place the bread crumbs and Parmesan cheese on a plate, and mix together with a fork to combine.
Shape the bean mixture into eight ½-inch-thick patties. You'll want to rinse your hands after forming a few of the patties. (It can get a bit messy). Coat both sides of each patty with the bread crumb mixture.
Heat 1 tablespoon of the oil in a large skillet over medium-high heat. Cook the patties until golden, about 4 minutes. Flip, add the remaining ½ tablespoon oil, and cook until golden, another 4 minutes. Keep an eye on the heat and adjust accordingly. If you have a small skillet, work in batches of four.
Serve with the sauce on the side.
Notes
The sauce makes 3 cups. Save leftovers and use for pasta or pizza.
Let me know how cans are bringing comfort and ease to your kitchen.
References:
(1) Department of Agriculture and U.S. Department of Health and Human Services. Dietary Guidelines for Americans, 2015-2020. 8th Edition, Washington, DC: U.S. Government Printing Office, January 2016.
(2) Comerford, K. B. (2015). Frequent Canned Food Use is Positively Associated with Nutrient-Dense Food Group Consumption and Higher Nutrient Intakes in US Children and Adults. Nutrients, 7(7), 5586–5600. http://doi.org/10.3390/nu7075240
(3) Length of Time Qualitative Audit – Duration and Steps in Processing Canned and Fresh Produce. Can Manufacturers Institute, May 2014.