If you were to peek into your pantry right now, how many cans of beans would you have stacked up in there? How many bags of dried beans? And what sorts of recipes would you make with all of them? Do you have a favorite family bean recipe? Something everyone gobbles up happily? A soup or chili perhaps? A casserole or salad? A bean-based dessert? In this roundup, you'll find 42 delicious and nutritious family-pleasing bean recipes from my kitchen and the kitchens of some of my fellow registered dietitians. If recipes like Fiesta Lime Black Bean Salsa, Cheddar Black Bean Burgers, and Chickpea Chocolate Chip Cookie Dough sound like something your kids and families would love, then read on and enjoy the offerings in this bean-tastic roundup.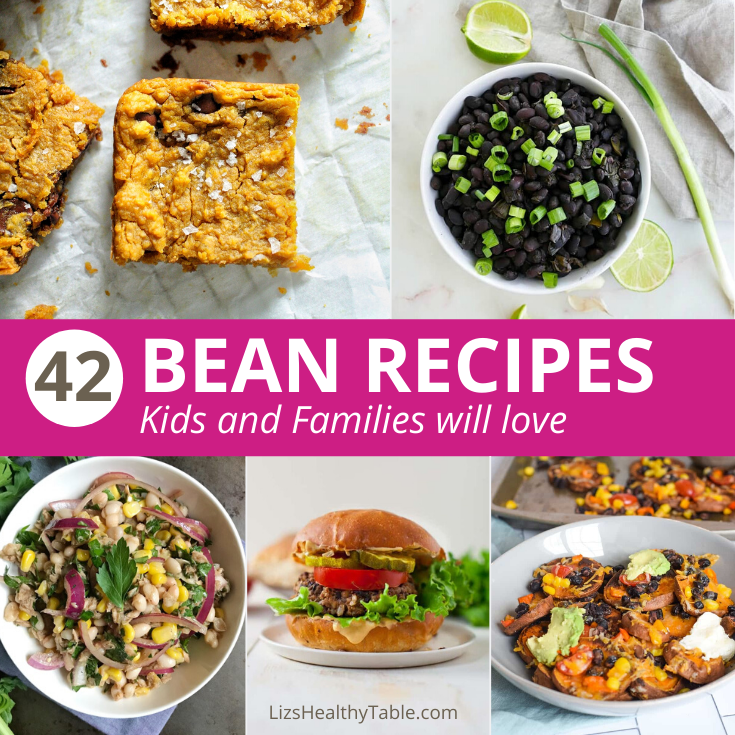 The coronavirus pandemic has changed the way we shop, cook, and eat. Most of us are cooking a lot more at home these days, and the shared family meals we once struggled to schedule each night, have become a new normal in many households. (I see the increase in shared family meals as a silver lining.) People are more focused than ever before on their food budgets, and affordable and accessible pantry staples including beans of every stripe—pinto, chickpea, black, cannellini, kidney—have become the new mealtime superstars.
But we don't want those canned beans collecting dust, so read on for 42 ways you can turn those humble beans into delicious and nutritious (mostly plant-based) food for your family.
Want to learn more about beans? Check out the Liz's Healthy Table podcast for my interview with Washington Post food editor, Joe Yonan. He's the author of Cool Beans, so he knows more than a thing or two about this humble legume.
Click the PLAY button above to listen to the show.
Bean Dips
Fiesta Lime Black Bean Salsa by Josten at Muscle And Manna (shown above)
Roasted Carrot & Ranch Hummus by Jenna Braddock at Make Healthy Easy
Healthy and Simple Black Bean Dip by Melissa Mitri
Homemade Hummus Without Tahini by Melissa at Fad Free Nutrition
Vegan Black-Eyed Pea Dip with Avocado by Ginger at Champagne Nutrition
Tex-Mex Layered Dip by Rosanne at Rust Nutrition
Bean Salads
Super Speedy Bean and Tuna Salad by Liz at Liz's Healthy Table (shown above)
Ensalada de Garbanzo by Sarah at Sarah Pflugradt Nutrition
Mediterranean Quinoa Power Bowl by Judy at Live Best
Bean Chili & Soups
Bean Casseroles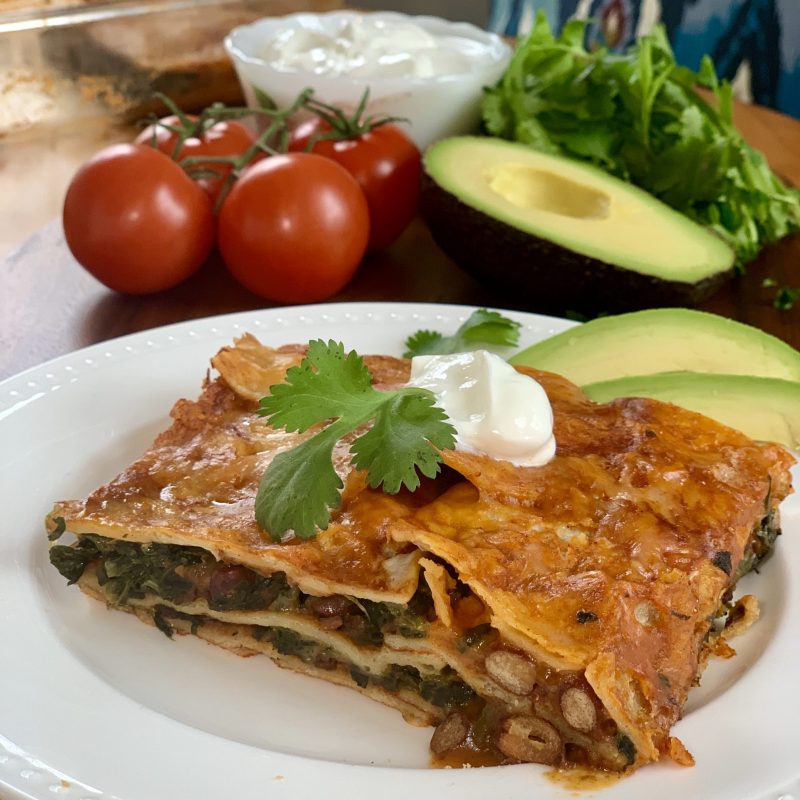 Enchilada Casserole with Frozen Spinach and a Can of Bean Chili from Liz at Liz's Healthy Table (shown above)
Mexican Lasagna by Anne at Fannetastic Food
Vegetarian Southwest Quinoa Casserole by Megan at The Oregon Dietitian
Mexican Lasagna with Black Beans by Melissa at Melissa Traub
Bean Dinners 
Loaded Southwest Sweet Potatoes by Karman at The Nutrition Adventure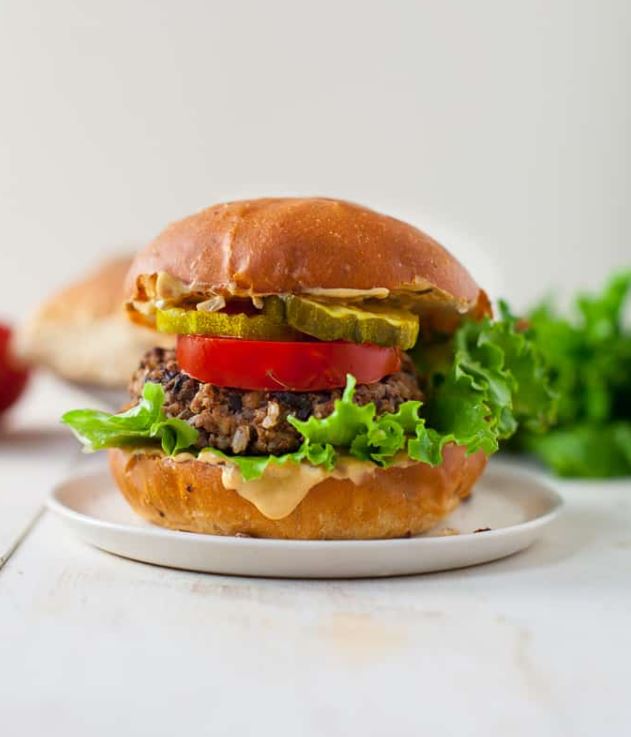 Mushroom Black Bean Veggie Burger by Kara Lydon (shown above)
Instant Pot Chana Masala by Grace at First Bites Nutrition
One-Pan Sweet Potato and Black Bean Quesadillas by Chelsea at Chelsea Dishes (shown above)
Roasted Cauliflower and White Bean Tacos by Jenny at My Cape Cod Kitchen
Vegetarian Tostadas by Lexi at To Taste
Sheet Pan Sweet Potato Nachos by Sarah at Bucketlist Tummy (shown above)
Vegan Butter Chickpeas by Pamela at Pamela Fergusson
Bean Side Dishes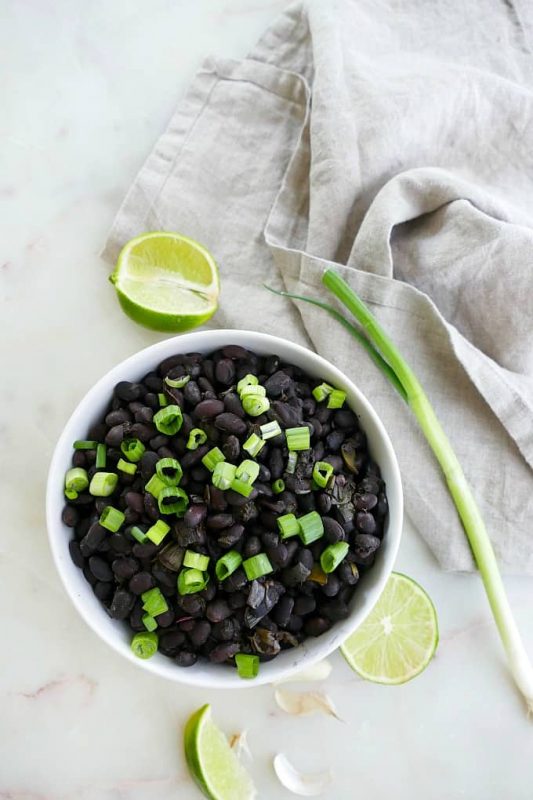 Slow Cooker Black Beans with Scallions by Lizzie at It's A Veg World After All (shown above)
Homemade Healthy Refried Beans by Lindsey at Tasty Balance Nutrition
Italian-Style Romano Beans by Andrea at Dietetic Directions
Balsamic Glazed Onions & Black Beans by Laura at Being Nutritious
Southern Black-Eyed Peas by Stephane at Nutrition Savvy RD
4-Layer Stuffed Avocado by Toby at Toby Amidor Nutrition
Mini Hummus Black Bean Burritos by Karman at The Nutrition Adventure
Loaded Baked Sweet Potato Fries by Melissa at SuperKids Nutrition
Bean Desserts
Gluten Free Pumpkin Chickpea Blondies by Maggie at Once Upon A Pumpkin (shown above)
Chickpea Chocolate Chip Vegan Cookie Dough by Amy at Amy Gorin Nutrition
Garbanzo Bean Chocolate Cake by Lisa at Sound Bites Nutrition
Chickpea Cookie Dough Bites by Leanne Ray (shown above)
Gluten Free Vegan Cookies by EA at The Spicy RD
Tell me what sorts of bean recipes you've been cooking up.