Happy Earth Day. Here in my kitchen, we celebrate Earth Day all year long! Since January, I've been sharing a monthly action to reduce your kitchen carbon footprint, and this month I'm challenging everyone to re-purpose leftover ingredients and food scraps in an effort to reduce food waste. Wasted food ends up in landfills where it gets buried, rots, and emits greenhouse gases.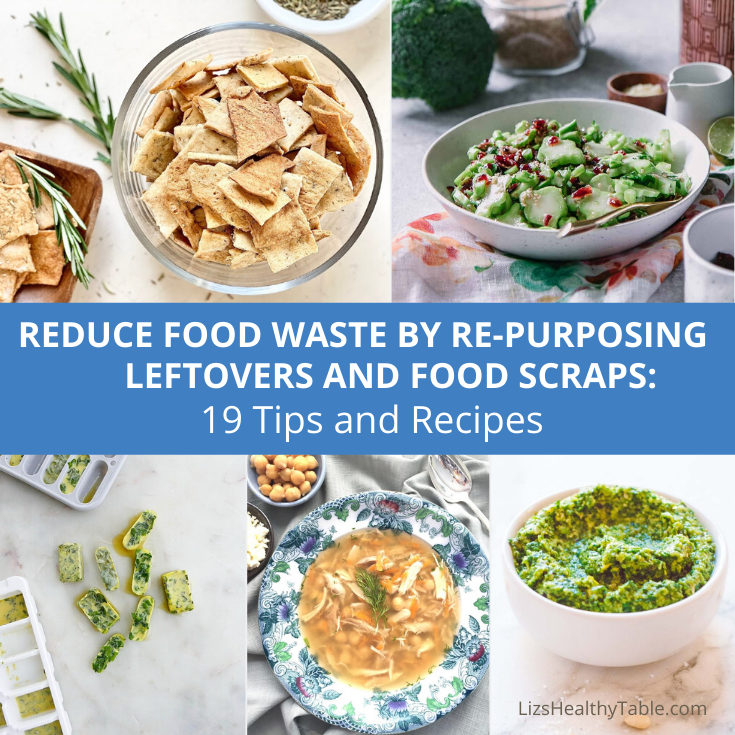 To help me and you turn leftover food scraps into edible creations, I reached out to some of my favorite dietitians on the web. What we came up with are 19 tips and recipes aimed at turning everything from leftover herbs, tired or old veggies, chicken bones, and even sourdough starter into meals and snacks!  Reducing your kitchen carbon footprint has never been so delicious.
Reduce Your Kitchen Carbon Footprint: 19 Tips & Recipes to Help You Re-Purpose Leftover Ingredients and Food Scraps to Slash Food Waste
1. Bake your own bread. "After taking a sourdough baking class earlier this year, I've been making my own fresh bread. I hate food waste and the thought of throwing out all that discarded sourdough starter. Instead, I use it for homemade pancakes, biscuits, pizza dough and my favorite–sourdough discard crackers," says Erin Hendrickson, RDN. Check out her recipe for 5 Ingredient, No Waste Sourdough Crackers (shown above).
2. Don't toss old veggies. "When I have celery, onions, or carrots that are getting a little too old, I chop them up, put them in a freezer-friendly container with water or broth, and add them into the mix the next time I'm making soup," says Kara Holton, RD from The Cheesy RD. Check out her blog for 10 Ways to Use Leftovers to Reduce Waste.
3. Keep the tops. "I love using the tops of radishes in all manner of recipes! They are particularly delicious in pesto or hummus. They add a spunky peppery kick that's outside the box," says Laura Yautz, RDN. Check out her recipe for Radish Green Hummus.
4. Don't toss those stalks. "Repurpose leftover broccoli stems by tossing with dried cranberries, cilantro, and a homemade sesame dressing for a simple food waste recovery salad," says Kristina Todini, RDN. Check out her recipe for Leftover Broccoli Stem Salad (shown above).
5. Embrace kale stems. "I always save kale stems versus throwing them away. My preferred way to enjoy them is finely chopping and sautéing with shallots before incorporating into an omelet with any leftover herbs I've purchased before they spoil, too," says Kelly Jones, RDN. Check out her blog for 7 Realistic Steps to a Sustainable Kitchen.
6. Regrow green onions from scraps. "Simply leave an inch or so of the onion at the root end, place it in water on a sunny windowsill, and watch as new green shoots start to come up in just 24 hours!" says Bri Bell, RD of Frugal Minimalist Kitchen. Check out her blog for How to Regrow Green Onions Indoors.
7. Get creative. "My biggest pet peeve is wasting food at home. If you have a box or bag of salad greens in your fridge and don't feel like making a salad, here are 5 ways to use up your salad greens and reduce food waste," says Samina Qureshi RDN, LD, Owner of Wholesome Start Nutrition Counseling.
8. Leave the skin on. "I usually leave the skins on my root vegetables, because I love them and the extra nutrition they add. But if I'm peeling them, I make sure to save the peels to make these yummy little snacks," says Laura Yautz, RDN. Check out her recipe for Vegetable Skin Crisps.
9. Expand your herb repertoire. "One of my favorite ways to prevent food waste is making frozen herb cubes with fresh herbs that are about to go bad," says Lizzie Streit, RDN. Read her blog on How to Make Frozen Herb Cubes (shown above).
10. Think beyond banana bread. "Most people think of making banana bread with ripe bananas. But you can also make vegan pudding with them. This recipe is so easy to make and literally takes minutes," says Amy Gorin, MS, RDN, a registered dietitian in the New York City area.
11. Turn to cultural dishes. "Borrow upon the classic traditions of borscht making to cook up this completely plant-based (vegan) recipe for Borscht with Beets and Beet Greens. What's especially fabulous about this recipe is that you can use the entire plant, root to stem, to reduce food waste. In my version, I include one of the most nutritious parts of the beet–the greens–to add a touch of pungent, green flavor," says Sharon Palmer, MSFS, RDN.
12. Turn wilted lettuce into pesto. "This super easy pesto uses lettuce in new ways and has lots of ingredient swap suggestions so you can use what you have on hand," says Michele Sidorenkov, RDN. Try her recipe for Lettuce Pesto (shown above).
13. Use your freezer to avoid waste. "Freeze any amount of leftovers or foods that are about to go bad. Freeze ripe bananas to use in banana bread," says Sylvia White, RD. Here's her recipe for Easy Chocolate Chip Banana Muffins.
14. Leftover bones can be used to make bone broth and dog food. Simply soften the bones in a pot with boiling water. Once soft, puree them in a blender and mix the puree with some of the broth leftover from the pot. Now your dogs have a wonderful treat. And humans can also enjoy the bone broth!" says Sarah Koszyk, MA, RDN, author of 365 Snacks for Every Day of the Year. Read her blog post on 7 Creative Ways to Use Food Scraps and Reduce Waste.
15. Cook mindfully to reduce food waste. When you prepare meals and snacks, do it mindfully with the goal of reducing food waste every step of the way. Cooking mindfully encourages you to think about every ingredient and every leftover food scrap. For this Greek Orzo Chicken Soup (shown above), carrot peels and tops and herb stems are placed in a "veggie scraps" resealable bag and frozen for future use in homemade broths, and chicken bones are also frozen and used later for broth.
16. Stale bread isn't a problem anymore. "A good want to re-purpose dried bread is in Panzanella salad. The bread soaks up the vinaigrette to make chewy, flavorful bites," says Judy Barbe, RDN. You're going to love her recipe for Summer Panzanella Salad.
17. Make a homemade vegetable broth. "Save your vegetable scraps and make this homemade vegetable broth recipe in your Crock Pot or slow cooker," says Megan Byrd, RDN. Check out her recipe for How to Make Homemade Vegetable Broth.
18. Make the most of wine. "Don't waste that antioxidant-rich wine on day two of opening the bottle. You can reuse it along with some leftover citrus to create something new," says Ginger Hultin, MS, RDN. Try her innovative recipe for One Glass Sangria for Reducing Food Waste.
19. Reduce waste with broth. "Chicken to leftovers to bone broth = no waste," says Allison Walker, RDN. Here's her blog for Healthy Whole Roasted Chicken Ideas.
How do you re-purpose leftover ingredients and food scraps? I'd love to hear from you, so post a comment below.