As a growing number of people in the U.S. and around the world shelter in place due to the coronavirus, hearty family meals that call for convenient and healthy ingredients from the pantry, fridge and freezer are more important than ever. This vegetarian, veggie-filled recipe for Enchilada Casserole with Frozen Spinach and a Can of Bean Chili hits the spot. It's nourishing, super easy to make, and something everyone at your table will happily devour.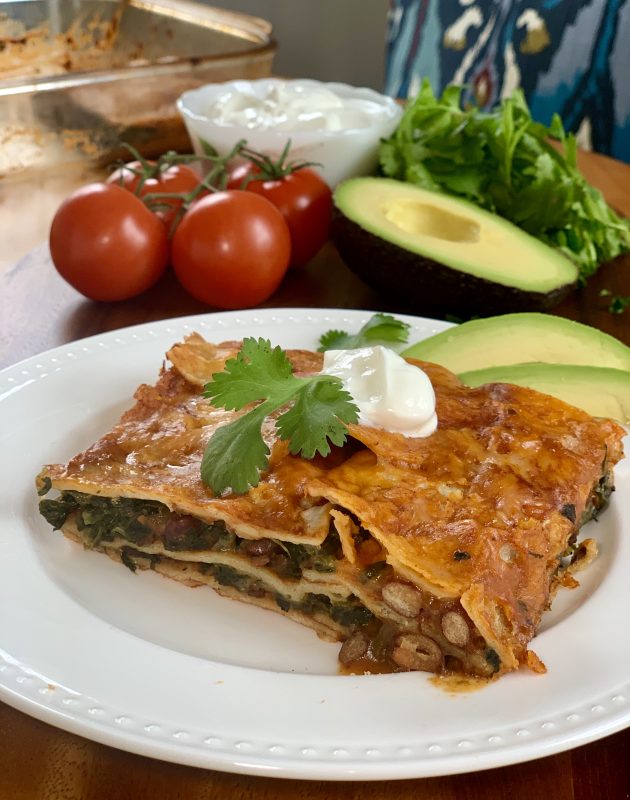 Now that I'm at home sheltering in place with Tim and Simon, I find myself cooking ALL THE TIME. Raise your hand if you can relate. Simon (my 21-year-old college student) offers to help me cook most nights, and he and Tim are always on dish duty, so that helps. But in reality, by the time dinner rolls around, I'm all for EASY PEASY. Raise your hand AGAIN if you can relate!
Lately, I find myself dreaming up dinner "recipes" based solely on what's on hand in my pantry, fridge, and freezer. This past week, I grabbed a bag of corn tortillas and a bottle of enchilada sauce that I'd picked up at Trader Joe's during my big weekly shop, and I used them as the foundation for this easy Enchilada Casserole. From there, I plucked a bag of chopped spinach from the freezer, a can of vegetarian bean chili from the pantry, and a bag of shredded cheese from the fridge. We had a ripe avocado on the kitchen counter and a large tub of plain Greek yogurt and fresh cilantro in the fridge … so I used them for the topping.
We use corn tortillas vs. flour tortillas in my house, because Simon follows a gluten-free diet. I love the flavor of corn tortillas, but you could certainly substitute with flour tortillas if that's what you have on hand.
I don't have a preference for enchilada sauce or canned chili. Use what you have or can find at the supermarket. I've sen enchilada sauce in cans, and canned chili is pretty easy to spot at the market. If you can't find canned chili, use a can of drained and rinsed black or pinto beans and add about  teaspoon each of chili powder and cumin.
Frozen chopped spinach is one of my favorite convenience ingredients on the planet. I found it bagged at Trader Joe's, but you may also see boxed frozen spinach in the supermarket freezer section. Either way, it's best to thaw it out (in the microwave) and then squeeze as much water out as possible. I like to transfer the thawed spinach to a large, fine-mesh strainer and press the liquid out using the back of a large spoon.
Once you assemble your ingredients, simply layer them in a 9 x 13-inch baking dish or pan, and this quick pantry meal will be served in 35 short minutes 🙂

Quick Pantry Meal: Enchilada Casserole with Frozen Spinach and a Can of Bean Chili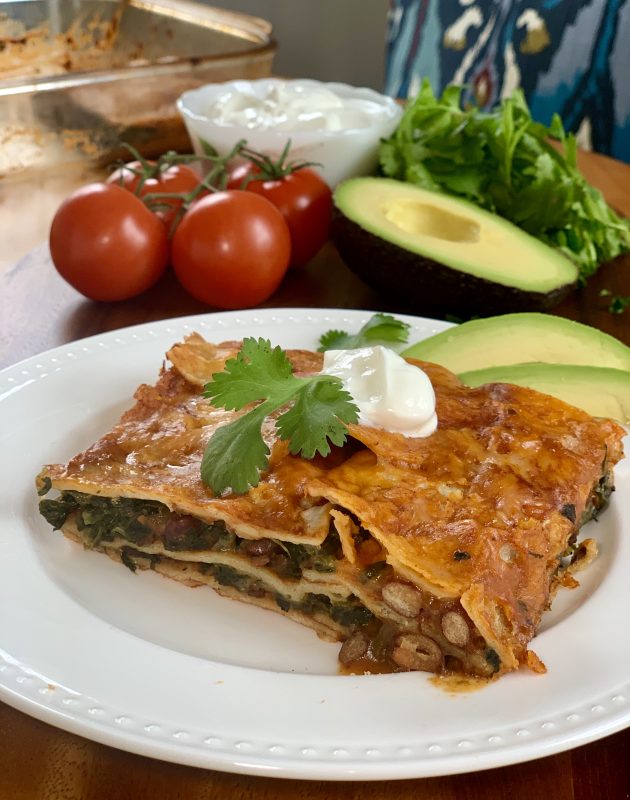 A well stocked pantry is like a treasure trove of mealtime riches. For this easy recipe, I assembled a handful of ingredients from my kitchen and turned into a hearty and healthy dinner for my family. To make this casserole even more fun to eat, set out a bunch of toppings, and let everyone decorate their dinner.
Ingredients
One 12-ounce jar enchilada sauce (or one 15-ounce can)
One package of twelve 6-inch corn tortillas, cut in half
One 15-ounce can of vegetarian bean chili
One 16-ounce bag frozen chopped spinach, thawed (see note re: draining)
1½ to 1¾ cups shredded Cheddar or Monterey Jack cheese (preferably reduced-fat)
Optional toppings: Sliced or diced avocado; fresh cilantro leaves; plain Greek yogurt
Instructions
Preheat the oven to 350. Lightly oil or coat a 9 x 13-inch baking pan or dish with nonstick cooking spray.
Spread ¼ cup enchilada sauce in the bottom of the prepared pan. Arrange 8 tortilla halves over the sauce, allowing them to overlap slightly. Top evenly with another ¼ cup sauce, 1 cup chili, 1 cup spinach, and ½ cup cheese.
Repeat the next layer with 8 tortilla halves, ½ cup sauce, the remaining 1 cup chili, the remaining 1 cup spinach, and ½ cup cheese.
Add the final layer with the remaining 8 tortilla halves, the remaining enchilada sauce, and ½ to ¾ cup cheese.
Cover loosely with aluminum foil, and bake until the casserole is heated through and bubbly, about 35 minutes. Cool slightly, slice, and serve with optional toppings.
Notes
How to drain and remove liquid from thawed frozen spinach:
Drain in a colander or fine mesh strainer.
Press with the back of a large spoon to remove excess moisture.
For more pantry meals and ideas, check out:
How to Stock a Healthy Quarantine Kitchen
Pantry Peanut Butter & Chickpea Soup
40 Homemade Delivery Dinners