I adore pasta, but when I'm looking for new ways to add more produce to my family's diet, I turn to veggie noodles instead of traditional pasta noodles. This recipe for Turkey & Carrot Meatballs with Zucchini Noodles (also known as "zoodles") adds a playful twist—and a serving of vegetables—to dinner.
Most kids adore meatballs, which is why I use them as a vehicle for adding vegetables to the dinner hour. Shredding a carrot on the large holes of a box grater is all it takes to weave all that goodness into each saucy meatball bite. Serving over zucchini noodles, also known as "zoodles," (you will need a spiralizer for this) adds even more produce to the saucy Turkey & Carrot Meatballs.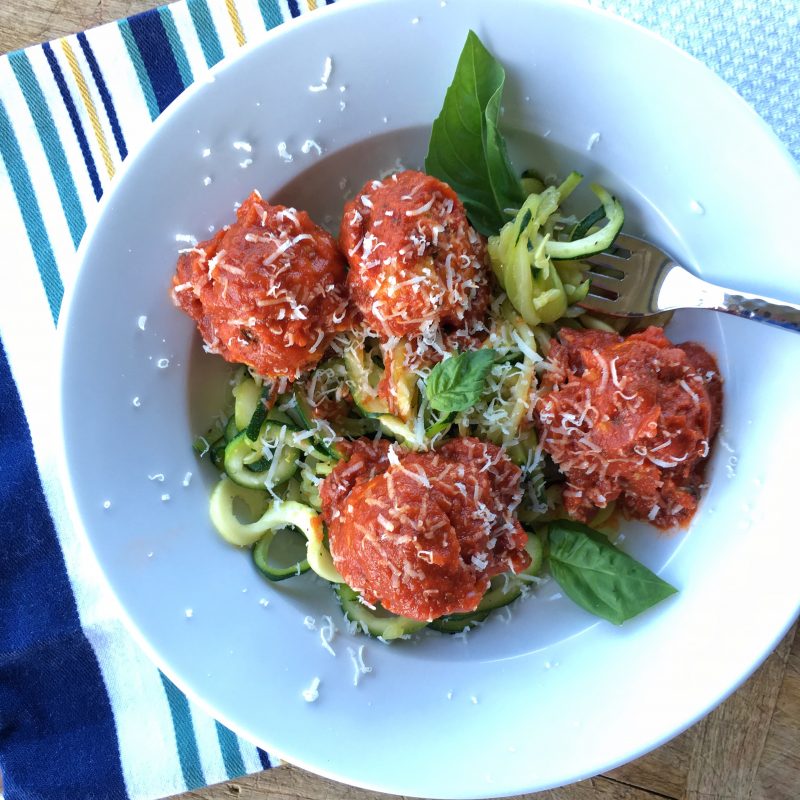 I love this recipe for so many reasons. For starters, it's made with carrots and zucchini, so you get two vegetables in every bite. It's also gluten free, because I use oats instead of bread crumbs. And it's easy peasy thanks to convenience ingredients like garlic powder and jarred pasta sauce.

Turkey & Carrot Meatballs with Zucchini Noodles
Nutrition Information
Fat:

11g

Saturated fat:

3.5g

Carbohydrates:

32g

Sodium:

525mg

Fiber:

7g

Protein:

30g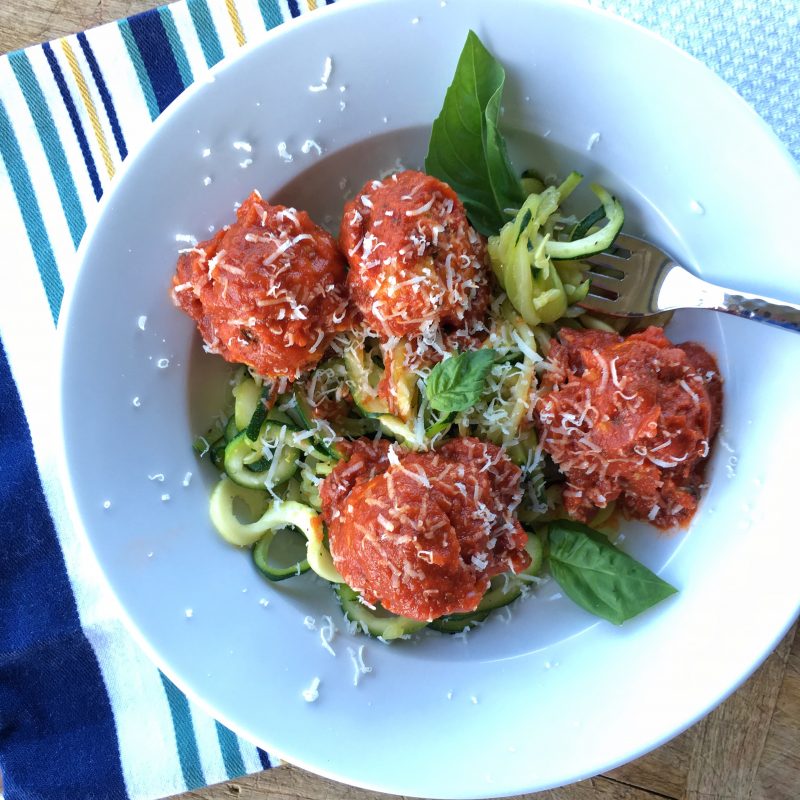 Lean ground turkey, shredded carrot, and zucchini noodles come together quickly for this nutritious weeknight dinner. If you don't have a spiralizer, use a carrot peeler to create ribbons with the zucchini.
Ingredients
1 pound lean ground turkey
1 medium carrot, peeled and shredded on the large holes of a box grater (about ¾ cup)
1 large egg, beaten
½ cup quick-cooking oats
½ cup grated Parmesan cheese
½ cup chopped fresh basil or 1 tablespoon dried basil
½ teaspoon garlic powder
½ teaspoon kosher salt
⅛ teaspoon pepper
One 26-ounce jar pasta sauce
4 medium zucchini, washed and ends trimmed
2 teaspoon extra virgin olive oil
Instructions
Preheat the oven to 400°F. Lightly oil or coat a large rimmed baking sheet with nonstick cooking spray and set aside.
Place the ground turkey, carrot, egg, oats, Parmesan cheese, basil, garlic powder, salt and pepper in a large bowl and mix until just combined.
Shape the meat mixture into twenty-four 1½-inch balls. Place on the prepared baking sheet and cook until lightly browned, 10 minutes.
Meanwhile, place the pasta sauce in a large saucepan over medium heat. Cover and bring to a simmer. When the turkey meatballs come out of the oven, add them to the sauce, reduce the heat, and simmer, covered, until the meatballs are fully cooked and have absorbed some of the sauce flavors, about 20 minutes.
While the turkey meatballs are cooking in the sauce, use a hand-held or countertop spiralizer to cut the zucchini into thin, 8-inch long, noodle-like strands. Heat the oil in a large nonstick skillet over medium-high heat. Add the zucchini noodles and cook, tossing frequently with tongs, until al dente, about 5 minutes.
Transfer the cooked zucchini noodles to individual plates or a large bowl or platter, and serve with the sauce and meatballs on top.
I have a very simple, hand-held spiralizer. It's easy to use, and cleanup is a breeze. I prefer it to the more complex tabletop variety. Here is a link to the Amazon spiralizer page where you'll find every kind of spiralizer imaginable.