If you're looking for a hearty and flavorful vegetable side dish for cold winter nights … or a Thanksgiving side dish or main for the vegans and vegetarians at your table, look no further than this recipe for Honeynut Squash Stuffed with Mushrooms, Chickpeas, Pistachios & Cranberries. Every bite is a little sweet and a little savory, and the seasonings —  garlic, green onion, and fresh thyme — bring all those warming flavors together.
Last November I recorded a podcast with Wilson Farm all about Winter Squash — delicata, butternut, acorn, and a newcomer to the market called, Honeynut.  For the show, I featured a new recipe for Honeynut Squash Stuffed with Caramelized Onion, Cranberries, Spinach and Bacon, and at the time time, the only place I could find it was at Wilson's. Now, however, I'm happy to report that Honeynut is popping up at Trader Joe's and even Stop & Shop.
Do I smell a delicious new food trend here? I hope so!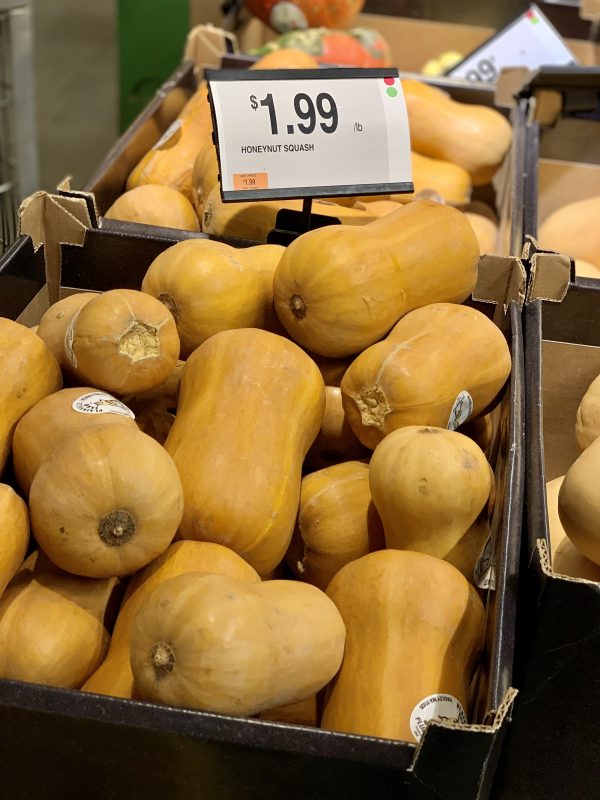 Through traditional plant breeding, Honeynut squash was first introduced to the market about a decade ago. It looks like a mini version of butternut squash, and when it's roasted, the flavor is surprisingly sweet and the flesh an intense bright orange. Honeynut squash is cute, and it's ideal for roasting and stuffing. Worried you'll need a machete to slice it? No problem! it's as easy to slice as delicata, and depending on the size of your Honeynut, the seeded halves take just 25 to 30 minutes to roast.
For my Honeynut Squash Stuffed with Mushrooms, Chickpeas, Pistachios & Cranberries, first slice the squash in half and scoop out the seeds with a spoon.
Brush the cut sides with olive oil, and sprinkle with kosher salt and black pepper. Pop in a 425°F oven and roast until tender, 20 to 30 minutes.
While the squash is roasting, get going on the filling. Roughly chop your mushrooms and slice up a few green onions. Roughly chop the pistachios, and remove the leaves from about 3 fresh thyme sprigs.
Sautee the garlic, green onions, mushrooms, and thyme in olive oil. When tender, mix in the chickpeas, dried cranberries, and pistachios..
Stuff the cooked squash halves with the filling and serve.
Honeynut Squash Stuffed with Mushrooms, Chickpeas, Pistachios & Cranberries
Ingredients
2 Honeynut squash
4 teaspoons extra virgin olive oil, divided
Kosher salt and freshly ground black pepper
1 small clove garlic, minced
8 ounces sliced mushrooms, roughly chopped
4 to 5 green onions, trimmed and cut into thin rounds (1/2 cup chopped)
3 sprigs fresh thyme, leaves removed and roughly chopped
½ cup canned chickpeas, drained and rinsed
¼ cup shelled pistachios, roughly chopped
2 tablespoons dried cranberries
Pinch red pepper flakes, optional
Instructions
Preheat the oven to 425°F and adjust a rack to the center.
Cover a large rimmed baking sheet with aluminum foil and set aside. Wash and dry the squash, and then cut in half, lengthwise. Remove the seeds and any stringy membranes with a spoon, and place the squash, cut side up, on the foil.
Use a pastry brush to brush 1 teaspoon of the olive oil evenly over the squash. Sprinkle lightly with kosher salt and pepper . Turn the squash halves over, cut side down. Roast until the thickest portion of the squash is very tender, 20 to 30 minutes. (A fork should slide in and out very easily.)
While the squash is roasting, heat the remaining 3 teaspoons of oil in a large nonstick skillet over medium low heat. Add the garlic and cook, stirring frequently, until fragrant, 30 seconds to 1 minute. Raise the heat to medium high and add the mushrooms, green onions, and thyme. Cook, stirring frequently, until the vegetables are tender, 6 to 8 minutes.
Stir in the chickpeas, pistachios, dried cranberries, and red pepper flakes as desired and heat through, about 2 minutes. Season with Kosher salt and pepper to taste.
Remove the cooked squash from the oven. Turn the halves over so the cut sides are facing up. Place the mushroom mixture (you'll have a total of 1-1/2 cups) evenly into each of the squash half cavities. Garnish with a few thyme leaves.
Do you have a go-to vegan or vegetarian holiday side dish that you love? Tell me about it.