Today's episode is all about comfort food recipes that are hearty, easy to make, and celebrate what's in season. My guest is cookbook author and blogger, Tieghan Gerard from Half Baked Harvest. Tieghan's new cookbook, Half Baked Harvest Super Simple is hot off the press, and she joins me to talk all about it!
Click the PLAY button above to listen to the show.
Love the LHT podcast?
Subscribe on Apple Podcasts and post a review
Subscribe on Stitcher and post a review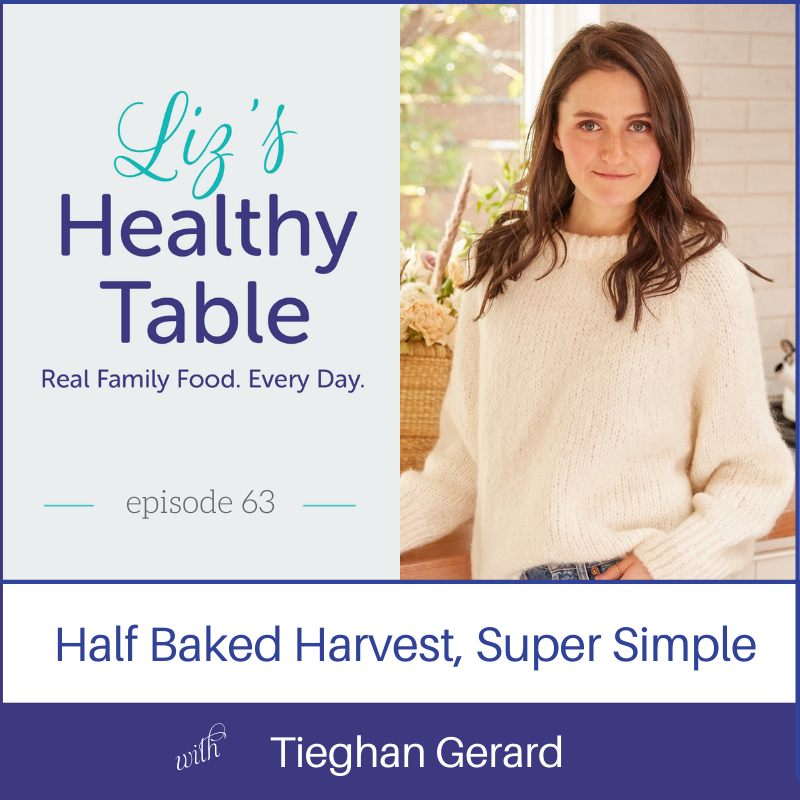 Half Baked Harvest Super Simple features recipes like Cream of Mushroom Soup with Garlic Bread Crumbs, Sesame Orange Chicken, and Harvest Butternut Squash and Apple Pizza, which are all perfect for cozy family dinners or festive gatherings.
Tieghan took time off from her book launch to talk about the new cookbook, her journey into the wild world of food blogging, her Colorado barn where she cooks and photographs her recipes, and why her recipes appeal to even the pickiest of eaters. 
"I wanted the recipes in my book to be able to be created and enjoyed by everyone."
– Tieghan Gerard
Harvest Butternut Squash and Apple Pizza from Half Baked Harvest Super Simple.
It's giveaway time!
Giveaway NEWS: We are giving away a copy of Half Baked Harvest Super Simple by Tieghan Gerard to one lucky US listener/reader. To enter, post a comment in the comments section at the end of this post, and tell me why you'd like to win this cookbook and/or your favorite harvest-inspired family recipe. In other words, tell me about a recipe that celebrates an ingredient that's in season right now (i.e. something with butternut squash, apples, pears, kale, etc).
Giveaway ends on November 15, 2019.
Show Highlights:
Getting to know Tieghan and the food blog that grew out of her "half baked" family of nine!
What family mealtime looked like for Tieghan when she was a kid
How Tieghan began cooking as a young teen to help her dad with the family dinner responsibilities
The broad appeal of Tieghan's blog, with recipes that use whole foods to create approachable recipes for everyday families
How Tieghan makes an effort to stay connected to her blogging community and gives them feedback
A behind-the-scenes look at Tieghan's barn in Colorado, where she lives and cooks – Tieghan's studio barn
Why Tieghan's new cookbook helps people of all stripes create delicious food easily and quickly
Tieghan's Harvest Butternut Squash and Apple Pizza made with butternut squash ribbons, cheddar cheese, sage, thinly-sliced shallots and apples, prosciutto, thyme, honey, and apple butter
Apple butter: a thickened, seasoned applesauce
Swirled Banana Bundt Cake: an easy and delicious concoction of chocolate and bananas with a cream cheese swirl inside
Why Tieghan's favorite recipes in the book revolve around pasta and pizza creations
Tieghan's Pomegranate Braised Short Ribs with Sweet Potato Mash: a one-pot wonder!
What's next for Tieghan? There are exciting projects and new things coming to her ever-expanding blog
A random question from the Mason jar reveals why Tieghan would love to have dinner with Ina Garten
LINKS:
My email: [email protected]
The Parents On Demand Network
Discussed on the show (Pasta & Pizza Dinners e-cookbook)
Follow Tieghan at:
IG: @halfbakedharvest
FB: @hbharvest
Pinterest: @hbharvest
Twitter: @hbharvest
Have a question about the show or a suggestion for a future show? Ask away by posting a comment below or joining my Podcast Posse