This roundup of 20 easy and delicious ways to eat and enjoy prepared meat includes snacks made with pastrami, sandwiches stuffed with roast beef, family-pleasing suppers starring savory sausage and corned beef, and a whole lot more. Read on for mealtime inspiration for you and your family.
If you're like me and your pantry and fridge are filled with things like canned salmon, canned beans, pre-shredded cheese, deli roast beef, and orange juice, then you're a fan of processed foods. The term "processed" gets a bad rap, but what it actually means is, "prepared."
Let's use prepared meats as an example. Processed meats like roast beef, sausage, salami, corned beef, and beef jerky are "prepared" in large-scale kitchens (often referred to as a "plant") in various ways. They are cut, chopped, seasoned and cooked, and they are safe to eat. In fact, every ingredient used is their preparation is approved by the FDA and inspected by the USDA.
Prepared meats were a staple of my diet growing up (read about my favorite roast beef sandwich on rye with Russian and coleslaw here), and they continue to make their way onto our family's table today. And I'm not the only one! What follows are 20 wholesome and mouth-watering recipe ideas from some of my favorite dietitians who also love to cook, share recipes, and write about them.
Snacks and Appetizers with Pizzazz: Whether you're hosting a fancy party, snacking on something substantial to hold you over until lunch, or tossing together an after-school snack, I've got you covered with recipes like Roast Beef Wellington Bites from Emily at Sinful Nutrition and Beef Jerky Snacking Board from Whitney at Sweet Cayenne. And wait until you see all the High-Protein Snack options featuring prepared meats that Liz at Shaw's Simple Swaps is serving up.
Roast Beef Wellington Bites by Emily at Sinful Nutrition: Emily says, "These Mini Roast Beef Wellington Bites are a super easy and impressive appetizer that is perfectly paired with a healthier horseradish dipping sauce."
Mediterranean Picnic Plate Grazing Board by Serena at Teaspoon of Spice: Serena says, "This grazing board is perfect for easy entertaining. Check out my tips for making a sunny Mediterranean Picnic Plate that looks as delicious as it tastes."
Beef Jerky Snack Board and Roast Beef Kebabs from Ann at My Menu Pal. Ann says, "This Beef Jerky Snack Board is the perfect answer to fuel kids after school until dinner combining protein, carbohydrates and good fats. Yes, you have permission to eat processed (prepared) meat."
High-Protein Snacks by Liz at Shaw's Simple Swaps: Liz says, "These simple high protein, lower carb snack options will help to satiate and satisfy you throughout your busy days."
Beef Jerky Snacking Board by Whitney at Sweet Cayenne: Whitney says, "When it comes to choosing a beef jerky, you have SO many options. It's easy to make a choice based on your health goals and nutrition values; whether it be finding a low-sodium option, beef jerky made from lean cuts of beef, and even jerky that has been certified as organic, grass-fed, nitrate and nitrite free, or Kosher."
Al Fresco Snacks by Anne at fANNEtastic Food: Anne says, "In the summer, I pretty much always keep the fridge and pantry stocked with the basics (cheese, cured meat, crackers, sliced veggies and fruit, etc.) in case the opportunity presents itself to host friends or family for snacks + drinks."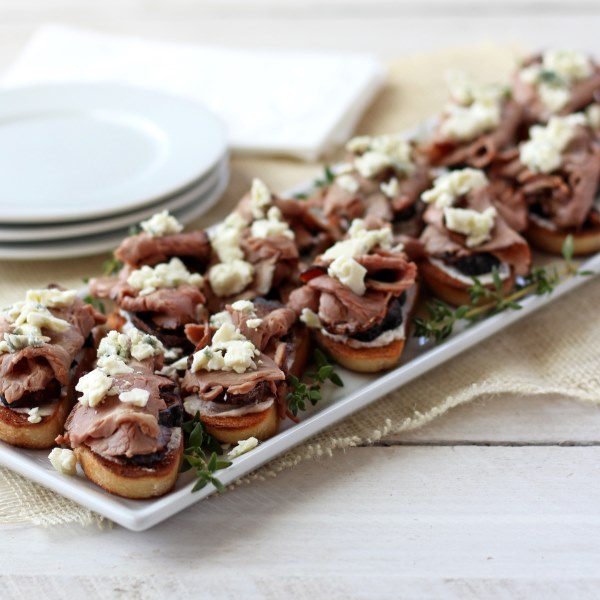 Roast Beef, Fig and Blue Cheese Crostini by Marie at Healthy Idea's Place. Marie says, "I chose roast beef because the flavor pairs so well with figs and blue cheese. And when you take all three and set them on top of crostini spread with ricotta cheese, you have an easy to make, savory-sweet roast beef snack that doubles as an elegant appetizer when needed."
Beef Jerky Nachos
by Meme at Living Well Kitchen. Mimi says, "
Easy Beef Jerky Nachos take less than 35 minutes from start to finish. You will love these satisfying nachos covered in cheese, veggies and beef jerky for a well-balanced dinner
.
"
*****
Let's Do Lunch: Looking for ways to jazz up your child's lunchbox? Check out the "I'll never trade that" Roast Beef, Avocado & Caramelized Onion Sandwich from my blog and the Homemade Pizza Lunchables from Katie at Mom to Mom Nutrition. And if you're wondering how hot dogs fit into a well-balanced lifestyle, Jodi at Create Kids Club and Mary Ellen at Milk and Honey Nutrition explain.
Roast Beef, Avocado & Caramelized Onion Sandwich with Pesto Mayo by Liz at Liz's Healthy Table. Here's what I've got to say about this recipe: "This sandwich can do triple duty as the star of your next picnic, al fresco lunch, or the main attraction in your child's back-to-school lunchbox … or yours."
Mini Corn Dogs
by Jodi at Create Kids Club. Jodi says, "
These Mini Corn Dogs wrapped with a cornmeal crust are baked in the oven for a simple and delicious homemade corn dog recipe your family will love."
Veggie Lovers' Beef Hot Dogs by Mary Ellen at Milk and Honey Nutrition. Mary Ellen says, "I'm a firm believer in enjoying what you like and eating a diet that provides both physical and emotional benefit… and hot dogs are one of those classic nostalgic foods that I love to enjoy from time to time."
Cheesy Roast Beef Pinwheels by Holley Grainger at Cleverful Living. Holley says, "The pinwheels are easy to make and a fun way to involve your children in lunchbox preparation. Allow them to spread any type of special condiment like mustard, mayo, ranch or horseradish and then top with cheese, roast beef and, if desired, veggies. Then just roll up, slice and bake."
Homemade Pizza Lunchables
by Katie at Mom to Mom Nutrition. Katie says, "
Homemade pizza lunchables bring the best of both worlds to your child's lunchbox: PIZZA and fun! Packed with simple ingredients that are good for you and customizable as well!"
Easy Roast Beef Lettuce Wraps
by E.A. with Spicy RD Nutrition. E.A. says, "
These Roast Beef Lettuce Wraps with crisp apples, creamy horseradish mayo, and fresh herbs, are a delicious low carb lunch, dinner, or nutritious snack. If you've got the ingredients on hand, you can be eating these yummy wraps in less than 10 minutes
!"
*****
Main Meals (and other nibbles) with Family Appeal: Every time I ask my readers which meal occasion they struggle with the most, main meals consistently rank number one. To the rescue to solve your daily dinner dilemma are prepared meats. Jenna from Make Healthy Easy uses kielbasa in her recipe for Creamy Tomato Kielbasa Pasta and Gretchen from Kumquat Blog has a breakfast or breakfast-for-dinner recipe that tastes as great as it looks!
Creamy Tomato Kielbasa Pasta by Jenna at Make Healthy Easy. Jenna says, "Creamy Tomato Kielbasa Pasta is a quick and balanced dinner recipe perfect for busy weeknights. This could become your family's next favorite meal."
Corned Beef Hash with Fennel and Fried Eggs by Gretchen at Kumquat Blog. Gretchen says, "One of my favorite things about not having to rush out the door in the morning is to have the opportunity to make a real breakfast that my kids can sit and enjoy. And the favorite breakfast my kids like to eat is always corned beef hash."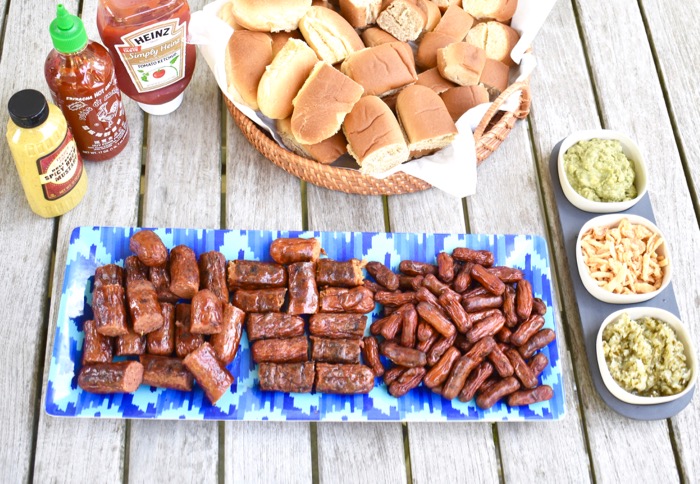 Sausage and Hot Dog Slider Bar by Jessica Levinson. Jessica says, "Have a little DIY fun at your next backyard barbecue by adding a sausage and hot dog slider bar with all the fixings!"
Greek Yogurt Pizza with Pepperoni by Amanda at The Nutritionist Reviews. Amanda says, "This Grilled Greek Yogurt Pizza uses an easy yeast-free 100% whole-wheat and Greek yogurt pizza dough recipe that is super delicious, cooked right on your grill and is ready to eat in 15 minutes."
Roast Beef and Arugula Naan Pizza with Tzatziki Sauce by Sarah at Bucket List Tummy. Sarah says, "This is an easy weeknight meal that the whole family will love, ready in under 30 minutes. The Tzatziki Dipping Sauce provides extra flavor and a creamy topping that sets this apart from any other naan bread pizza you'll have."
Hawaiian Roast Beef Kabobs
by Chelsea LeBlanc. Chelsea says, "
This simple recipe is ready in under 30 minutes and is the perfect appetizer for those back to school parties or football tailgates."
*****
Wow. That's a whole lot of recipe inspiration. Don't you think? Let me know about your favorite ways to include prepared meats into your family's diet. Share in the Comments section below!
"Internal links within this document are funded and maintained by the Beef Checkoff. All other outgoing links are to websites maintained by third parties."
For this post, I partnered with The North American Meat Institute (NAMI), a contractor to the Beef Checkoff. All opinions are my own.