I received compensation from the The Incredible Egg for creating this Scrambled Eggs & Stir-Fried Veggie Lettuce Cups recipe and post. All opinions are my own. 
If getting a wholesome dinner on the table night after night is a mystery, I just cracked the case with this easy-does-it recipe for Scrambled Eggs & Stir-Fried Veggie Lettuce Cups. It's easy peasy, and the star ingredient is eggs.
I don't know about you, but I appreciate recipes with minimal ingredients and maximum flavor. These adorable lettuce cups offer both and call for just a handful of ingredients, including eggs, bell pepper, carrots, scrambled eggs, green onion, teriyaki sauce, and tender Boston Bibb lettuce leaves.
Eggs are having a moment these days … at dinner.
The Incredible Egg just made an incredible discovery: The Dinner Egg. To learn where Dinner Eggs come from, check out their new campaign and this tongue-in-cheek video created by the Incredible Egg. (I crack up every time I watch it.)
Dinner Eggs are flying off the shelves, and I for one, have jumped on the eggs-for-dinner bandwagon. As a busy mom, I've always been a fan of eggs at breakfast, but their versatility and nutrition pair up perfectly at dinnertime too. On busy weeknights when your family is running in all sorts of different directions and you're hungry for fast and easy dinner ideas, my scrambled egg cups will get you to the table in well under 30 minutes. But don't stop there: I have a recipe right here on the blog for Scrambled Egg Tacos and over on the Dinner Eggs website, you can find all sorts of egg-citing recipes like Presto's Surprising Meatloaf, Diver's Below the Sea Salmon with Egg, and Ninja's Egg and Mushroom Pizza by the Slice.
Tim and I are technically empty nesters. Our kids have flown the coop. But this past summer, Simon flew back into our lives and brought his insatiable appetite with him. Since I love to cook, I welcomed back the comfortable routine of family dinners and the challenge of coming up with new, nourishing, and interesting dinner ideas.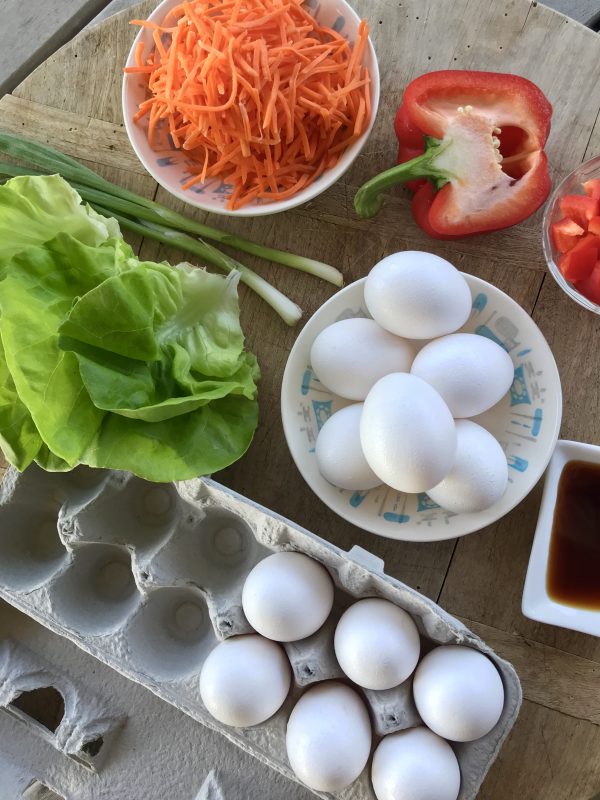 Eggs are nutrient dense and a good or excellent source of eight essential nutrients. One large egg has 6 grams of high quality protein along with nutrients like choline and lutein, important for brain health and cognition. Research shows that choline plays a role in early brain development during pregnancy and infancy. Lutein is a carotenoid that's received considerable attention for eye health, but it may also play a role in cognition as well. Eggs are inexpensive, and they're a naturally nutrient-rich choice to help you and your family thrive. (Learn more about eggs at the Egg Nutrition Center.)
When cooking up new recipes for my husband and kids (I say kids, but they're young adults!), I'm always on a mission to incorporate our favorite protein foods with lots of colorful vegetables. For these scrambled egg cups, I use Boston Bibb lettuce leaves as a "vessel" to hold the mixture, and I add stir-fried bell pepper and carrots to the mix. For convenience, you can buy a bag of matchstick carrots, which cuts back on prep time considerably.
A few insights into the recipe:
Use Romaine lettuce if you can't find Boston Bibb or if you have Romaine in your fridge!
Any color bell pepper would be great, so play around with orange, green, or yellow.
Instead of light teriyaki, you can use hoisin or peanut sauce.
Can't find matchstick carrots? Peel and slice two medium carrots instead.
For little kids who may struggle to pick up the Bibb lettuce leaves, use two leaves for your "vessel" instead of one.
Brown eggs have the same nutritional profile as white, so use either.
When your kids are back in school and you're back in the dinnertime routine, give this recipe for Scrambled Eggs & Stir-Fried Veggie Lettuce Cups a try … and hop on the Dinner Eggs trend while you're at it!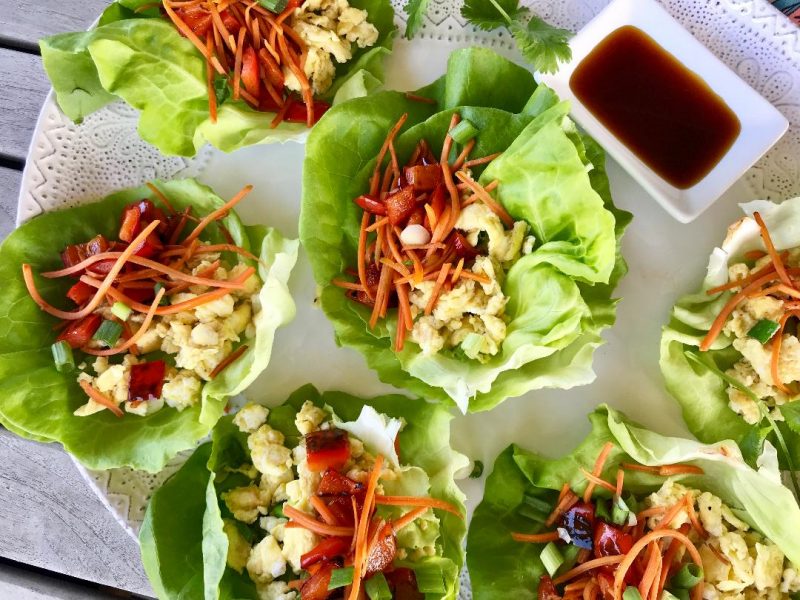 Scrambled Eggs & Stir-Fried Veggie Lettuce Cups: Dinner Eggs are a New Trend!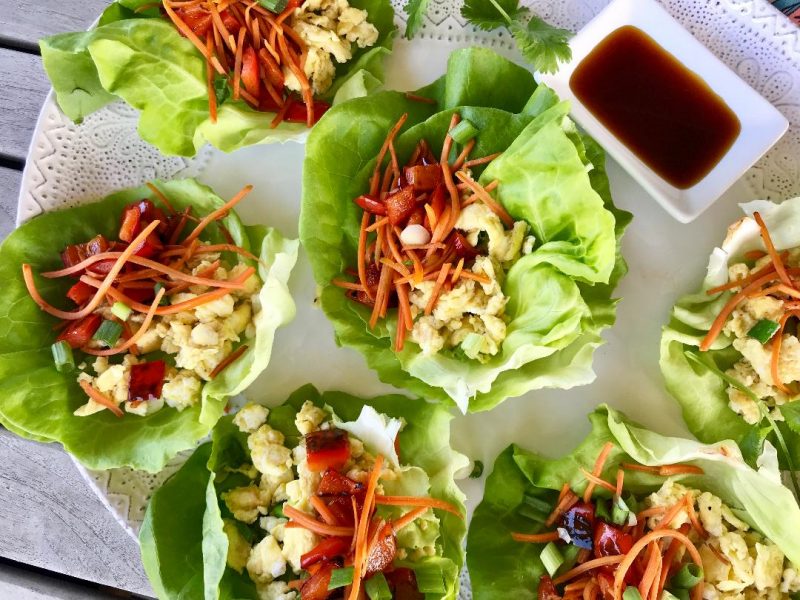 Ninety four percent of U.S. refrigerators have one thing in common: they're all stocked with eggs. Eggs are a breakfast staple in most households, but who ever said they can't be enjoyed at dinner as well? These scrambled eggs and veggie cups are an easy dinner solution, and you can thank that ubiquitous carton of eggs for this 20-minute, start-to-finish meal.
Ingredients
2 tablespoon extra virgin olive oil, divided
1 medium bell pepper, trimmed and diced into ½-inch pieces
2 cups pre-cut matchstick carrots
1 tablespoon less-sodium teriyaki, plus more for drizzling
6 large eggs
2 tablespoons water
2 green onions, trimmed and cut into thin rounds, divided
1 Boston Bibb lettuce, leaves removed, washed, and dried (12 leaves)
A handful of cilantro leaves, optional
Instructions
Heat 1 tablespoon of the oil in a large nonstick skillet over medium-high heat. Add the bell pepper and cook, stirring frequently, until tender, about 5 minutes. Stir in the carrots and continue to cook until tender, 2 more minutes.
Transfer the vegetables to a bowl and stir in the teriyaki sauce until well combined. Set aside.
Break the eggs into a large bowl. Add the water and half the green onions and whisk until well combined. Season with a few cranks of black pepper and a few pinches of kosher salt.
Add the remaining 1 tablespoon of oil to the skillet over medium heat. Pour the egg mixture into the skillet. Let the eggs set for about 1 minute. Use a large spatula to pull the eggs across the skillet, breaking up the cooked egg into small pieces. Continue cooking until the eggs are cooked through, about 1 more minute
Arrange the lettuce leaves on a platter. Let everyone build their own cups with the scrambled eggs and veggies. Garnish with the remaining green onion and the cilantro, as desired.
Tell me about your favorite Dinner Eggs recipe!