Green cabbage is a summertime staple. It makes its way into all sorts of backyard cookouts and picnics in the form of coleslaw, but did you know you can also grill it? Grilling cabbage is easier than you may think, and it turns out tender and sweet every time. I've been grilling cabbage every week this summer and serving it as a side dish with grilled salmon, an element in grain bowls, and diced up with avocado and peaches for salads. If you want to learn how to grill tender, sweet green cabbage, read on!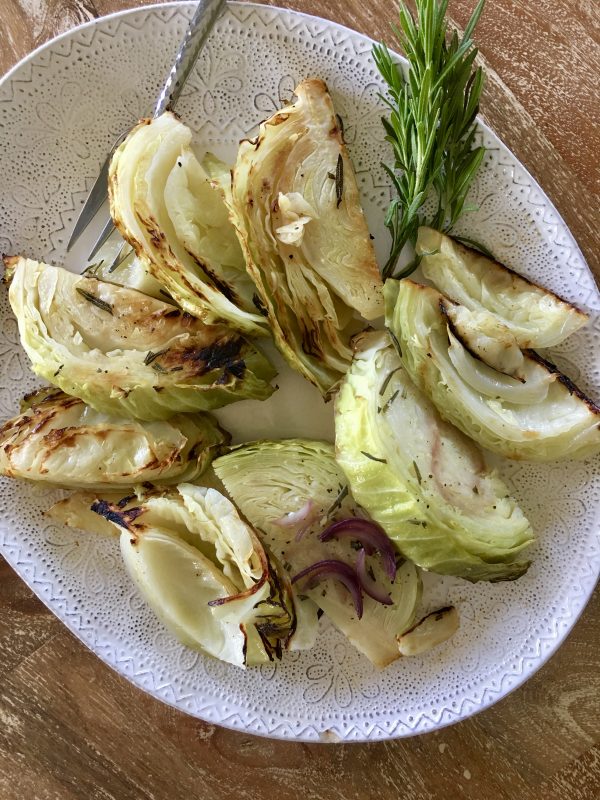 Grilled cabbage is versatile, surprisingly sweet, and nutritious. (Cabbage is a prebiotic , which means it feeds the good bacteria that live in your gut.) The key to grilling it to perfection is a sharp chef's knife, aluminum foil, and a backyard grill that's set to medium. It's that simple.
Want to learn more about fresh summer produce and how to easily add it to your family's diet? Listen to my Summer Produce Celebration podcast this week for recipe inspiration from the Produce for Better Health Foundation:
Click the PLAY button above to listen to the show.
Love the LHT podcast?
Subscribe on Apple Podcasts and post a review
Subscribe on Stitcher and post a review
I have used both cannonball cabbage (that's the green cabbage you probably see most often at the supermarket) and the frillier savoy cabbage on the grill. I buy it from Bartlett Farm out on Nantucket, MA where I spend a lot of time in the summer.
Place the cabbage on a cutting board and use a sharp chef's knife to slice in half. (Cook's Tip: Place a wet paper towel beneath your cutting board to keep it stable. The last thing you need is your cutting board squirming all over the place when you're trying to cut your cabbage in half.)
Cut each cabbage half into four long wedges. Make sure to keep the stem intact. That's what holds the wedges together as they cook.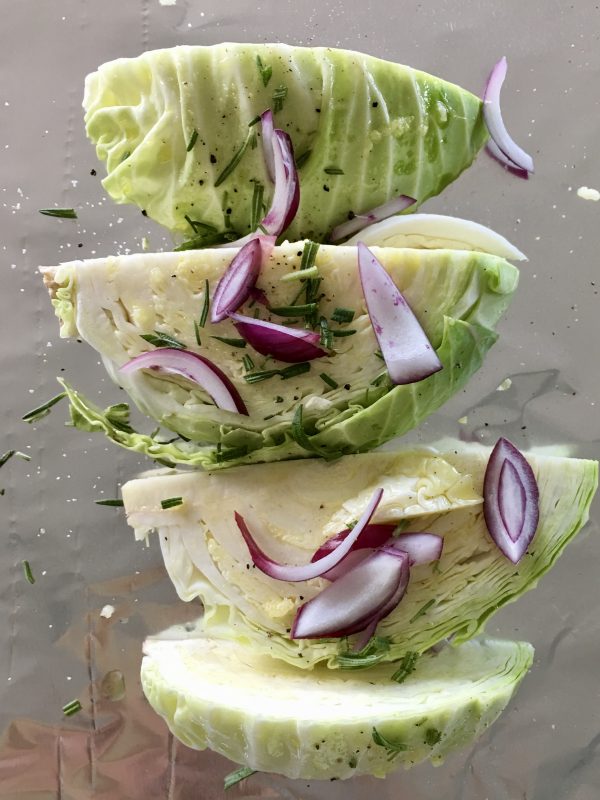 Coat each cabbage wedge with a mix of olive oil and crushed garlic. Sprinkle with kosher salt and pepper and top with a few slivers of red or yellow onion and chopped fresh rosemary. Seal up in foil.
You'll end up with two packets with 4 cabbage wedges inside each. I use two large pieces of aluminum foil for each packet, and I wrap them up good and snug 🙂
The cabbage packets cook on medium for 25 to 28 minutes, and I suggest keeping the grill closed as they cook. The bottoms caramelize and the cabbage gets tender.
Want to learn how to grill green cabbage? Check out my recipe below.

Grilled Green Cabbage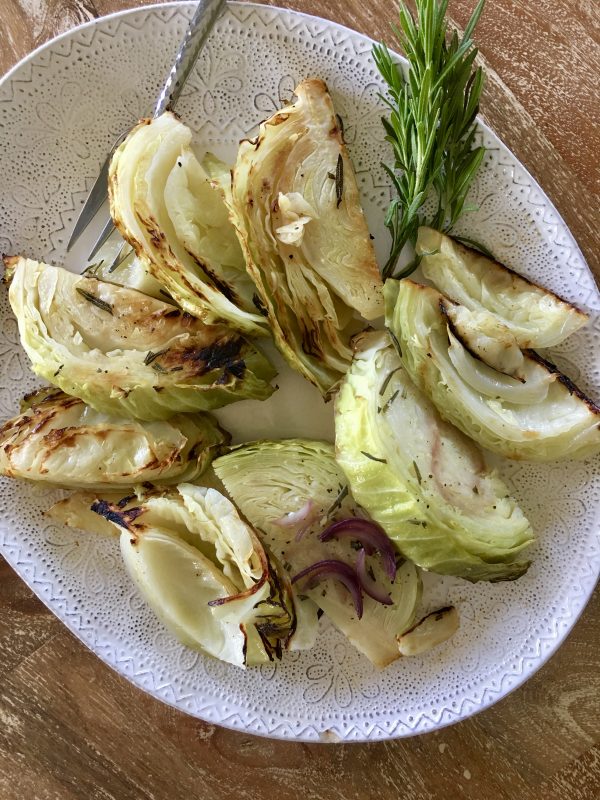 Most Americans (90% to be exact) struggle to eat the recommended servings of fruits and vegetables each day. Barriers to F&V consumption include picky eating, lack of time, and lack of ideas. I solve all three with this recipe. The grilled cabbage turns out sweet every time. It's easy to make, and it's a cool new way to prepare cabbage beyond cole slaw. I hope you get a chance to try it!
Ingredients
1 green cabbage
2 tablespoons extra virgin olive oil
1 clove garlic, minced
Kosher salt
Freshly ground black pepper
¼ small red or yellow onion, peeled and thinly sliced
1 teaspoon chopped fresh rosemary or thyme, optional
Instructions
Preheat the grill to medium heat.
Place the cabbage on a cutting board and carefully cut in half. Keep the core and stem intact. Cut each cabbage half into 4 wedges for a total of 8 wedges.
Place 4 of the wedges on a large piece of aluminum foil (large enough to wrap around the wedges). Place the remaining 4 wedges on another large piece of foil.
Meanwhile, combine the olive oil and garlic in a small bowl. Stir to combine. Use a pastry brush to coat all sides of each wedge with the oil mixture. (Don't be afraid to get your hands a bit messy here.) Sprinkle each wedge with kosher salt and pepper, and top with the onion slivers and rosemary, as desired.
Seal each packet with the foil. Cut two more large pieces of aluminum foil and wrap each packet with a second layer of foil.
Place on the grill and close the lid. Grill until the bottoms caramelize and the cabbage is fork tender, 25 to 28 minutes. (Open carefully.)
What's your favorite fruit or vegetable to cook on the grill?