Whole grains and refined grains can be the foundation for all sorts of healthy and delicious bowl meals. They provide carbohydrate, fiber, protein, and important nutrients like B vitamins, and they bring subtle yet interesting flavors to every bowl.
Start with your favorite grain — farro, quinoa, freekeh, sorghum, spelt, wild rice, couscous — and build your healthy grain bowl from there. These 30-plus healthy grain bowls (AKA power bowls, Buddha bowls, nourish bowls) are easy to make, versatile, and fun for families to build together. Many grains are also gluten free, so people following GF diets can still enjoy a variety of grains.
Before you dig into these 30-plus healthy grain bowl recipes, be sure to tune in to my podcast interview with Christine Cochran from the Grain Foods Foundation to hear about the health benefits of grains, the myths surrounding them, and the role of grains (both whole and refined) in a well-balanced diet. Click the PLAY button below to tune in. And head to the show notes for more information.
Farro
Teriyaki Cauliflower Power Bowls by Jamie at Dishing Out Health (shown above)
Easy White Bean and Farro Bowl by Rebecca at Nourish Nutrition Blog
Mediterranean Farro Salad by Lisa at Sound Bites Nutrition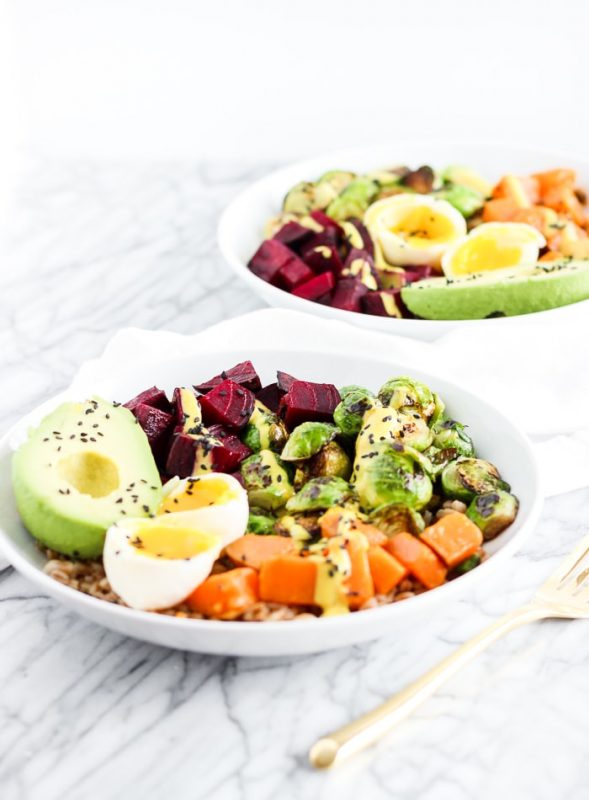 Vegetarian Rainbow Buddha Bowl by Kaleigh at Lively Table (shown above)
Roasted Halloumi, Vegetable and Farro Bowl by Dara at How To Eat
Shrimp, Farro and Avocado Power Bowls by Jenny at My Cape Cod Kitchen
Asian-Style Farro Buddha Bowl with Crispy Baked Tofu by Jessica Levinson, MS, RDN
Quinoa (a gluten-free grain)

20 Minute Vegan Sheet Pan Fajita Bowls by Chelsey Amer, RDN (shown above)
Roasted Veggie Quinoa Bowls With Miso-Turmeric Vinaigrette by Jamie at Dishing Out Health
Orange Quinoa Salad with Pomegranate and Tangy Turmeric Dressing by Patricia Bannan, MS, RDN
Mexican Burrito Power Bowl by Judy at Live Best
Mediterranean Chickpea Quinoa Power Bowl by Rahaf at Olive Tree Nutrition
Caprese Salad Grain Bowl by Emily at Emily Kyle Nutrition (shown above)
Quinoa and Lentil Power Bowl by Chelsey Amer, RDN
Mediterranean Quinoa and Tuna Balanced Bowl by Jessica Ivey, RDN
Summer Vegan Power Bowl with Maple-Dijon Dressing by Amy Gorin MS, RDN
Single Serve Fast Food Power Bowl by Kelly Jones, RDN

Thai Buddha Bowl by Chrissy at Snacking in Sneakers (shown above)
Rainbow Veggie Buddha Bowl by Jodi at Create Kids Club
Instant Pot Greek Chicken Gyro Bowls by Jessica Ivey, RDN
Baja Shrimp Bowl by Jessica Ivey, RND
Mediterranean Plant Protein Power Bowl by Brynn at The Domestic Dietitian
Freekeh
Meal Prep Shrimp Green Goddess Grain Bowls by Kaleigh at Lively Table (shown above)
Addicting Mediterranean Freekeh Salad with Roasted Chickpeas by Kelli at The Healthy Toast
Brown Rice and Wild Rice (gluten-free grains)
Chipotle Inspired Vegan Burrito Bowl by Kara from The Foodie Dietitian (shown above)
Wild Rice Grain Bowls with Roasted Radishes, Carrots, Hard Boiled Eggs and Chickpea Mash by Liz at Liz's Healthy Table
Sorghum (a gluten-free grain)
Grilled Veggie Nourish Bowl by Triad to Wellness (shown above)
Healthy Grain Bowls, Mediterranean Style, With Avocado Tzatziki by EA Stewart from Spicy RD Nutrition
Lentils (OK. Not a grain but I couldn't resist)
Purple Power Bowl with California Prunes and Spiced Vinaigrette Dressing by Patricia Bannan, RDN (shown above)
Quinoa Lentil Salad by Maggi at Meals With Maggie
The PRO Bowl by Mandy at Nutrition Nuptials
Red Rice/Fonio
Ground-Breaking Grain Bowl by Judith at Foods With Judes
Fonio Recipe by Laurel Ann, RDN
Spelt
Teriyaki Chicken Power Bowl with Spelt by Brittany at Your Choice Nutrition (shown above)