Whether you call them Grain Bowls, Nourish Bowls, Buddha Bowls, or Power Bowls, build-your-own bowl meals are a fun, easy, nutritious, and versatile way to get dinner on your family's table. The secret to bowl-meal success is to offer a variety of wholesome, flavorful ingredients and to let everyone pick and choose the ingredients that please their personal palates (like this Wild Rice Grain Bowl).
Vegetables and fruit (avocados are a fruit!) are always the star ingredients in bowl meals.
No two bowl meals should look or taste the same.
The elements in this Wild Rice Grain Bowl include a wild and brown rice blend with shelled pistachios, dried cranberries, and feta tossed in; roasted radishes and carrots; a chickpea mash made with canned chickpeas, diced bell pepper, and green onions; sliced avocado (of course!); hard boiled eggs; arugula; fresh mint; and a vinaigrette made with EVOO, vinegar, lemon juice, Dijon mustard, maple syrup, and garlic. You can sprinkle some sesame seeds or nigella seeds on top.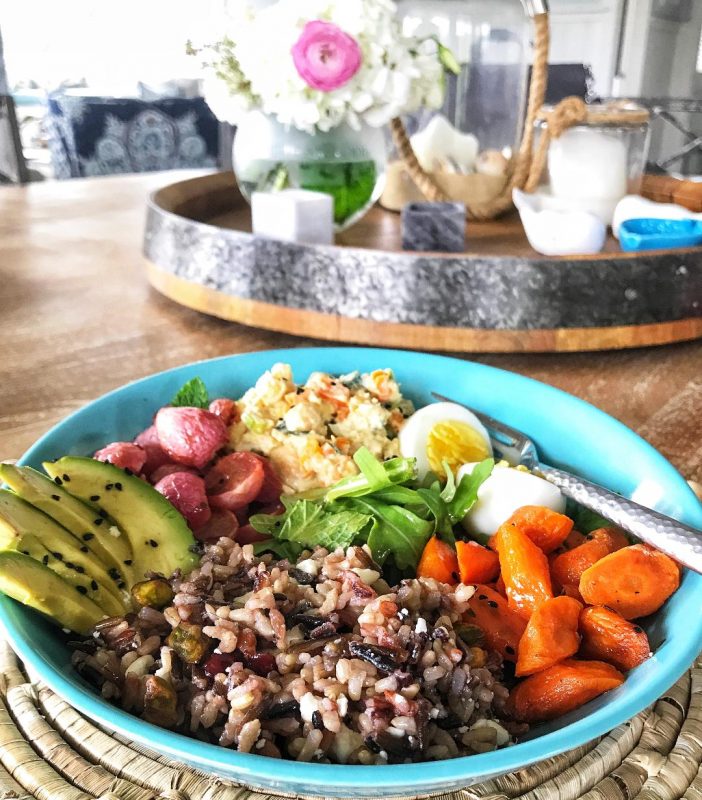 The key components of a bowl meal can include the following:
A grain: This can be a whole grain or a refined grain. Remember, the Dietary Guidelines for Americans recommends making half your grains "whole." The other half can be refined, and refined grains have plenty of health benefits. Refined pasta, bread, and cereal are enriched with iron, B vitamins, and folic acid, and even though they're not "whole," they still provide important fiber, protein, and energy. I have so many favorite grains that I don't even know where to begin. I love wild and brown rice, quinoa, farro, barley, couscous, and bulgur. All work well in bowl meals. (To learn more about how refined grains can fit into a health diet, visit the Grain Foods Foundation.)
A roasted veggie (or two): In the summer, I gravitate to roasted radishes and carrots, but in the winter, my nourish bowl favorites are roasted butternut squash, sweet potatoes, and fingerling potatoes. Go wild with veggies!
A green: Any salad green works wonders in a bowl meal. I use greens as the foundation, and I prefer greens with personality like arugula, baby kale, and radicchio. Other great greens include Boston Bibb lettuce, baby spinach, and romaine.
A protein: Oh, the possibilities here really float my boat. You can grill salmon or shrimp, chicken, or flank steak. You can add rotisserie chicken to a bowl meal or go meat-free with hard-boiled eggs, nuts, cheese, or beans. The chickpea mash in this bowl is my current protein obsession. It's made simply with a can of chickpeas, green onion, diced bell pepper, fresh herbs, light mayo, and a few other tasty additions.
A flavor and texture pop: For added flavor, I adore dried fruit, and for crunch, I add seeds and nuts. For this bowl, I chose shelled pistachios, which are super convenient. Other nourishing nuts include walnuts, pecans, almonds, and cashews.
A vinaigrette: The sky's the limit here, but I kept things simple for this recipe with EVOO, vinegar, lemon juice, garlic, Dijon mustard, and maple syrup.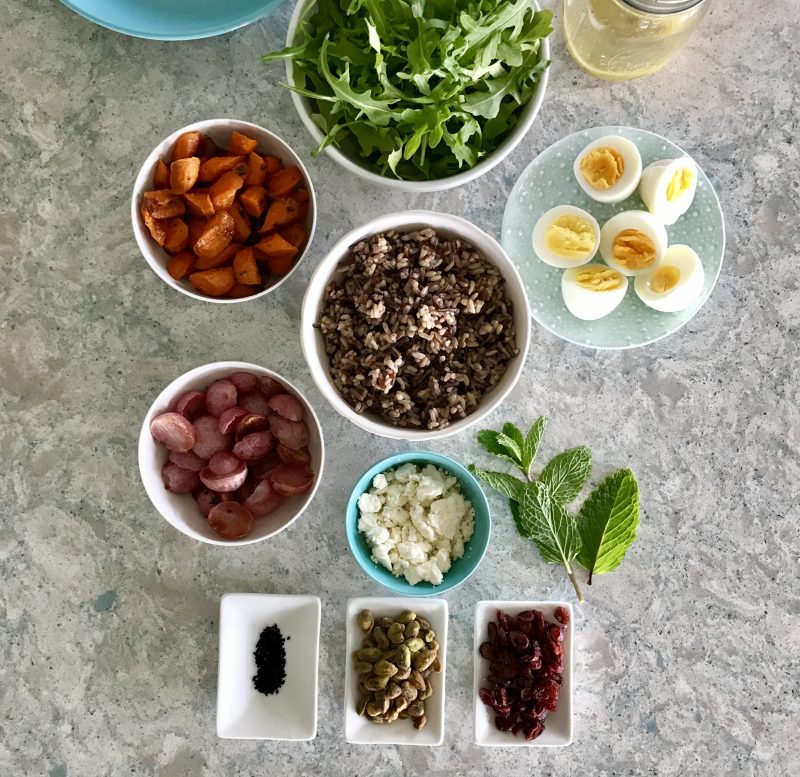 Wild Rice Grain Bowl with Roasted Radishes, Carrots, Hard Boiled Eggs, and Chickpea Mash
OK. This is the longest recipe in the history of Liz's Healthy Table, so I encourage you to pick and choose the elements YOU want to add to your grain bowl. There are plenty of combination options, so go with whatever you have on hand and whets your appetite.
Ingredients
For the Radishes:
1 pound radishes, washed, trimmed and cut in half lengthwise (larger radishes cut into quarters)
1 tablespoon extra virgin olive oil
3 thyme sprigs, leaves removed
A few pinches of kosher salt
A few cranks of pepper
For the Carrots:
1 pound carrots, cut into 1-inch pieces on the diagonal
1 tablespoon extra virgin olive oil
3 thyme sprigs, leaves removed
A few pinches of kosher salt
A few cranks of pepper
For the Vinaigrette:
½ cup extra virgin olive oil
¼ cup apple cider or champagne vinegar
Half a lemon, juiced (about 2 tablespoons)
1 small garlic clove, minced
2 teaspoons Dijon mustard
1 teaspoon maple syrup
Kosher salt and freshly ground pepper to taste
For the Rice:
1½ cups cooked wild rice or wild rice/brown rice blend
¼ cup shelled pistachios
¼ cup dried cranberries
¼ cup crumbled feta cheese
For the Chickpea Mash:
One 15-ounce can chickpeas, drained and rinsed
⅓ cup diced orange or red bell pepper
4 tablespoons chopped fresh parsley or basil
2 green onions, trimmed and sliced thin
2 tablespoons light mayonnaise
1 tablespoon apple cider vinegar
1 tablespoon Dijon mustard
Kosher salt and pepper to taste
Other bowl ingredients:
3 to 4 cups arugula or other favorite salad green
10 mint leaves, ripped
1 avocado, cut into thin slices
4 hard boiled eggs, peeled and sliced in half
Instructions
For the radishes, preheat the oven to 450°F. Line a large rimmed baking sheet with aluminum foil and set aside.
Place the radishes, thyme leaves, oil, salt, and pepper in a mixing bowl and stir to combine. Lay the radishes, cut side down, on the prepared baking sheet. Roast until the bottoms turn golden brown, 15 to 18 minutes. Remove from oven, season with salt and pepper to taste, and place in a serving bowl. Set aside.
When the radishes are done, place the carrots in the same mixing bowl, and toss with the olive oil, thyme, and salt and pepper. Arrange on the same baking sheet. Roast for 12 minutes, remove from the oven and stir a few times, and roast until tender and caramelized, about 8 more minutes. Remove from oven, season with salt and pepper to taste, and place in another serving bowl. Set aside.
To make the vinaigrette, place the olive oil, vinegar, lemon juice, garlic, Dijon, and maple syrup in a pint-size Mason jar with a tight fitting lid, and shake until well combined. Season with salt and pepper to taste. (Re-shake before using, and store any leftovers in the fridge.)
For the rice, place the cooked rice, pistachios, cranberries, and feta cheese in the same mixing bowl. Toss with 2 tablespoons of the vinaigrette. Set aside in a serving bowl.
For the chickpea mash, use that same mixing bowl! Place the chickpeas, in the bowl and use a potato masher or the back of a fork to mash half the chickpeas. Leave the other half intact. Add the bell pepper, parsley, green onion, mayonnaise, vinegar, and mustard, and stir with a spoon to combine. Season with salt and pepper to taste. Set aside in a serving bowl.
For a build-your-own bowl dinner, place the roasted radishes, roasted carrots, vinaigrette, rice, chickpea mash, arugula, mint, avocado, eggs, and sesame or nigella seeds in individual serving bowls on your kitchen counter. Hand everyone a salad bowl and let them pick and choose their favorite ingredients.
Let me know how you liked this recipe. What were your favorite ingredients?