This vegan spring panzanella salad comes straight from the pages of Power Plates: 100 nutritionally balanced, one-dish vegan meals by Gena Hamshaw. It's made simply with asparagus, marinated artichoke hearts, green peas, chickpeas, and mesclun greens, and the lemony dill dressing pulls it all together.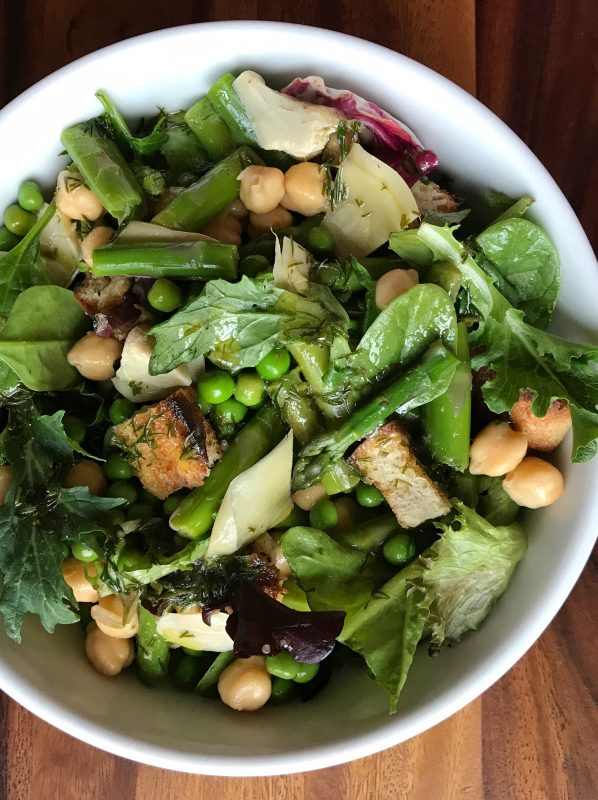 I'm not a vegan nor am I a vegetarian, but if you asked me to describe my style of eating, I'd have to say that it's mostly "plant based." I'm drawn to recipes that feature lots of veggies, bold flavors from citrus and fresh herbs, and fiber-filled protein foods like beans, lentils, and other legumes.
On my podcast this week, I spoke to Gena Hamshaw, author of Power Plates and a dietitian-to-be! After pouring through the pages of her cookbook, I landed on this simple, seasonal salad. The recipe may look fancy, but the convenience of marinated artichoke hearts (from a can or a jar), canned chickpeas, and frozen green peas (I used petite peas) added ease … not to mention a hefty helping of fiber, healthy carbs, plant-based protein, antioxidants, and other important nutrients.
Be sure to tune into the Liz's Healthy Table podcast to hear my interview with Gena. Click the PLAY button above for tips for following a vegan diet, nutrients to pay attention, the scoop on milk alternatives, and lots of recipes including Cauliflower Scramble and Rice, Beans, Tofu, and Greens.
Spring Panzanella with Artichokes, Asparagus, Peas, and Lemon Dill Vinaigrette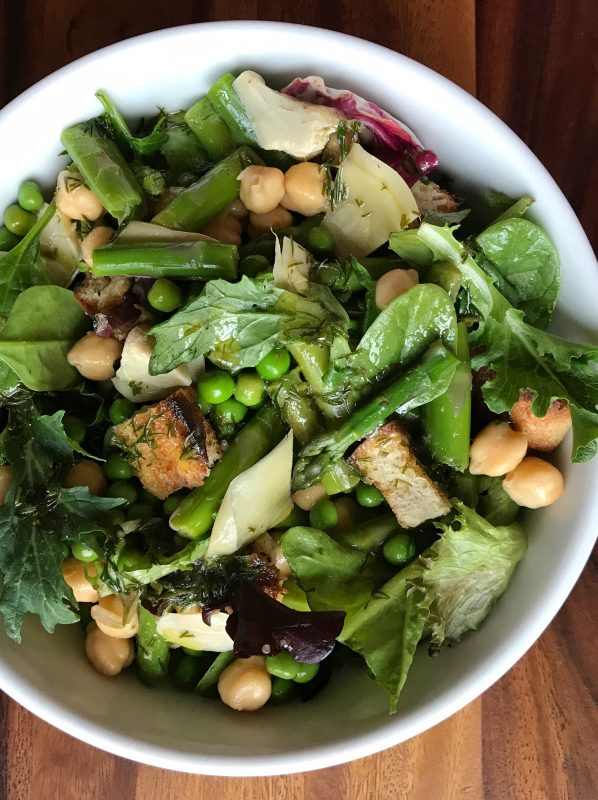 In Power Plates, Gena says she's devoted to using whole grains in her salads, but sometimes bread and only bread will do. That's when panzanella, an Italian bread-based salad, hits the spot. The salad includes rustic pieces of toasted bread, light spring greens, and tender sweet peas. It's easy to throw together at the last moment and enjoy for an impromptu lunch. The dressing is a simple vinaigrette enhanced with finely chopped dill for a fresh touch.
Ingredients
1 bunch asparagus, trimmed and cut into 1-inch (2.5-cm) pieces
1 cup (140 g) fresh or frozen green peas
4 to 5 cups (120 to 150 g) firmly packed mesclun or baby arugula
1 (6-ounce, or 170 g) jar marinated artichoke hearts drained and chopped
1½ cups (250 g) cooked chickpeas or 1 (15-oz, or 425 g) can, drained and rinsed
4 slices whole grain bread, preferably whole wheat sourdough, toasted and cubed
5 tablespoons (75 ml) olive oil
2 heaping tablespoons finely chopped fresh dill, or 2 teaspoons dried dill weed
1 scant teaspoon Dijon mustard
2 tablespoons freshly squeezed lemon juice
¼ teaspoon salt
Freshly ground black pepper
Instructions
To make the salad, bring a medium pot of water to a boil. Add the asparagus and blanch for 2 to 3 minutes (less if the spears are very thin), until just tender. Add the peas and blanch for 1 to 2 minutes, until the peas are bright green. Drain immediately.
Put the greens, artichoke hearts, chickpeas, and bread cubes in a large bowl.
To make the vinaigrette, combine all the ingredients in a small bowl or measuring cup and whisk until evenly blended.
Pat the asparagus and peas dry with paper towel and add to the greens. Toss gently, then pour in the dressing and toss again until well combined. Taste and adjust the seasoning if desired. Serve right away.
Notes
Reprinted with permission from Power Plates, copyright © 2018by Gena Hamshaw. Published by Ten Speed Press, an imprint of Penguin Random House LLC.
What's your favorite spring salad? Need more ideas? Check out my recipe for
Wild Rice and Kale Salad
and Gena's blog,
The Full Helping
.